[Game] Masters of Elements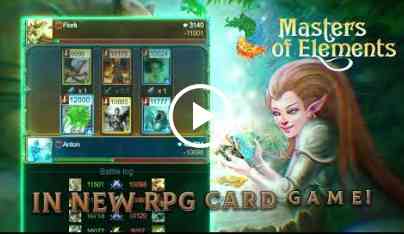 Masters of Elements is a new fascinating collectible card game with unique mechanics! Gather an army of monsters and take over the magic world.
From the earliest times, people have been offering worship to the elements, appeasing them with offerings, and composed songs in their honor. Fire illuminates everything around, and Darkness recedes.
The Earth sunk into the Void, and Water flows over it, filling all hollows and cracks. Air fills the Void above the rest of the elements.
Together, they have created the world where we all exist.
When the user starts playing, he receives an initial set of "base" cards.
Later on, he can obtain rare and more powerful cards by purchasing card sets or receiving cards as a prize for participating in the Arena games.
Card sets and entrance to the Arena may be purchased with gold which is the game's currency. You can get gold by performing daily tasks and battling on the Arena.
Features:
The collective powers of all cards in the battle deck equal your health.
Each card belongs to one of the elements: water, fire, air or earth.
Each card has a unique lovely picture, name, and power.
The power may be amplified by raising the card's level.
The cards have several quality levels from regular to mythical. The higher a card's level is, the greater its power and quality are. Even a hobbit or a lizard can become mythical.
You can raise your level by paying in gold but if you absorb cards of the same element, the value of the level raise decreases, often all the way down to zero. Simply click a card in the battle deck or bag and check if there is a card it can absorb.
In duels, players battle by striking blows against each other with their cards. In duels, players choose the pair of cards which they use to inflict damage to each other. The stronger the card is, the more significant the damage will be.
The elements strike blows against each other in accordance with the ancient law: water extinguishes fire, fire burns air, air blows away earth, earth covers water.
By performing daily tasks, you can gain valuable resources: silver and gold. The game offers various collections which will give you some bonuses when you put them together. The collection includes all the cards you have ever had in your bag or battle deck even if you no longer have them.
Pass through trials, conquer bosses, get rewarded with good cards for each victory!
Gather the most powerful card deck and become the Master of all four elements!
Also see our Nice keep it up and have some more indevidual even where can get enought gold ty
Overmobile

Hello! Thanks a lot for feedback and high rate!
Been playing the gane since 4 years or so but didn't know an app existed, just like with your other ports of Overmobile games i'd like for the notifications to actually let you know about game events (invasion boss, guild arena, guild war etc…) not just deals to buy gold. This simple but useful quality of life improvement would be a great just gotta tweak it.
Overmobile

Hello! Thank you very much for feedback! We will consider your suggestion!
It is amazing game but i have suggestion that if you can make an monthly or weekly event where players gets higher rated card because for cards lower players waits for holiday store pls think of this that make game interesting
Overmobile

Hello! Thank you very much for feedback! We will consider your proposal, thanks
Very good game i just wish it wasnt sooooo looong to wait to play 2 hours ever 10 dules is way to long, there needs to be more content eg diffrent missions, but other than the wait times its well worth a download if you like these types of game. 4\5 its good just needs more, and waiting times lowered.
Overmobile

Thank you for feedback, we will consider your suggestion.
really really good game
Overmobile

Hello! Thanks for feedback and high rate!
its very nice though lacks ways to get coins often if one is really a gamer with good callibar, patient and game grinding mentality you will enjoy this game
Overmobile

Thank you for feedback!
great game but cant sign into account with my new email address as old email address was used to start game
Overmobile

Thank you for feedback. Please create a ticket through in-game Support, and describe your issue in details, we will try to help you.
entertaining & easy without being simple
Overmobile

Thank you for feedback!
Contact developer :
Video :
Download Masters of Elements from Play Store
Leave your feedback regarding Masters of Elements
Get more android apps/games/updates
Subscribe to our mailing list and get new android apps / games and updates to your email inbox.
Thank you for subscribing.
Something went wrong.