[Game] MegaBots Battle Arena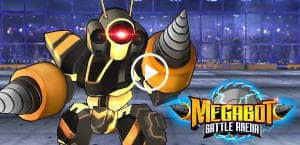 Ready to be the next CHAMPION?
Create the ultimate fighting robot and battle your way to the top of MegaBots Battle Arena!
Megabot Battle Arena is a chaotic robot building & robot fighting game where you build your own destructive robot fighters called Megabot. Pilot it to destroy the opponent's fighting machine in any means possible inside the robot battle arena! Enroll in battlebot style robot fighting and claim the championship title!
CREATE THE MOST POWERFUL FIGHTING MACHINE
First, you need to prepare your robot fighting machine for the battle arena. Build fighting robot intuitively by dragging parts to it, customize colors and more! Enter robot battle easily with just a button tap, you will be matched with an opponent's robot fighting machine in a few seconds. Prepare for the ultimate battle machine crash fight – this is a real steel robot fighting!
USE BOOSTERS TO SURPRISE OPPONENT'S ROBOTS
There will be robots and players that will be better than you. Don't let them outsmart and surprise you. Activate well timed boosters in robot battles to dodge attacks, close in, or deal extra damage through speed. Your robotics building and robot fighting skills are both equally important and will determine your outcome in the battle arena!
ROBOT BATTLE ARENA CHAMPIONSHIPS
Get competitive and unlock new robot parts by winning fights in championship and climb up the ranks. It's a true multiplayer robot fighting competition. Be prepared and equip your robotics battle machine with the craziest, most brutal weapons and jump right into the robot fighting actions! The battlebot arena will demand the very best battle robot from you! Can you become the ultimate robot fighting champion with your robotics skill?
GET CREATIVE!
This free robot battle arena game will put you in nail-biting crash arena fights. But, you can also showcase your robotics creativity and passion by customizing your robotics battle machine. Experiment with different robot builds to find your perfect robot fighter. More than 50,000,000 possible robot combinations await! Use any of them in the robot crash arena and see which one of them works the best for you.
WHY MEGABOTS BATTLE ARENA:
Championship mode with 23 Tiers
Build your own unique battle robot easily
Unlock more than 100+ unique robot parts and weapons
Fight against other player's Megabot worldwide, show off your robotics skill
Exciting battlebot fighting experience with parts destruction
High-quality 3D graphics with cool physics gameplay
Battlebots meet cool mecha robot battles
More than 100,000,000 possible robot builds and combinations
Now the time has come to make your name and leave your mark in the stunning robot build and crash arena fighting robotics! Will you build a battlebot that will smash any other battle robot in the robot battle arena fights, or you will master robot fighting skills and dominate the robot battles in a different way?
Try the most exciting robot fighting game of the year 2020.
Download Megabot Battle Arena now to enjoy this asynchronous multiplayer robot building and robot fighting game!
Also check our list
MegaBots Battle Arena user reviews :
This is one of the best games on android, easily. I'm really glad I decided to play it. Now, as all android games, p2w is a problem. BUT, I'm advancing quite easily without spending, as a free player. You do need to figure out the most optimal builds for your robots though. Just try it out yourselves, it's a great game,considering what android games are currently.
Its a mediocre game but gives the fact that the developer is working alone and after his normal job. Is to be appreciated! I don't understand wha can you buy in the game with Gold?…
Sia Ding Shen

Hi there, thanks for the feedback and support :) The gold is currently use for parts fusing only. But will be very important in the next big update which will include a new game mode.
Really great in my opinion, to the point of getting addicted to it, and that's considering I have been playing for just two days!
I legit thought its gonna be a nice game.. but when i hopped in i thought to myself: what the hell am i playing… i mean i expect it to be controllable robot and has some mechanic like in shadow fight. Overall youre still a good dev. Not always we see full time caring dev. Thanks for the time
Enjoying the game quite a bit. Definitely new. However, the ads are getting a little Annoying. If you can spawn an ad in between every single battle, but then not let someone watch an ad to reduce timers is annoying. I've clicked the button about 40 times for it to do nothing. even stopped the game and started it back up. Still only works sometimes. Perhaps given update that has the button at least Express waiting for ad, or fix the button so it works every time. Enjoying the game so far though
Contact developer :
Video :
Download MegaBots Battle Arena from Play Store
Leave your feedback regarding MegaBots Battle Arena
Get more android apps/games/updates
Subscribe to our mailing list and get new android apps / games and updates to your email inbox.
Thank you for subscribing.
Something went wrong.