[Game] Merge World Above – Dragon games
 gacha life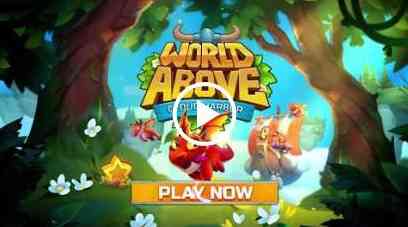 Can't get enough cute dragon puzzle games?
Merge! Evolve! Magic! Puzzles! Like what you hear? Then World Above is the game for you!
Get ready for a magical world of ancient statues and floating islands. And who could forget the cutest dragons you've ever seen in puzzle games!
Why you'll love World Above:
What's the point of this dragon game? To command your own army of these cute mythical creatures, of course! Dragons and other legends in World Above come in all shapes and forms, from fire-breathing Red Drakes to fluffy Hornsloths!
Cleanse Asgard of the Curse and defeat vile Loki's evil minions! Collect treasures, solve Match 3 puzzles and raise dragons! Merge egg combos to get even more powerful creatures!
Match, merge and evolve to win! Try out Match 3 games with all kinds of items! Trees and streams, coins and magic artifacts, flowers and fallen stars… and of course, dragons of all types! Merge everything you see in the game, from an egg to a mountain, you can't go wrong!
Cloud Harbor is your home and your haven! Build new structures, expand your lands and upgrade buildings so your dragons can prosper! But don't forget to explore Asgard! Its lands are enormous, full of amazing beauty and just waiting to be reclaimed! Secure the aid of merciful gods! Beat missions to earn valuable prizes and resources! Solve dragon puzzles to unlock the way to the mysterious Hidden Lands.
Magic dragons are your key to future victory! Play dragon and egg merge games to make amazing evolutions of all kinds of dragon games creatures… Make the enemy regret ever challenging your might!
Upgrade your camp, solve Match 3 puzzles and collect treasures to reach the height of dragon perfection!
Merge and evolve your dragons! Welcome to World Above! Play dragon games and solve magic puzzles!
Building a sky kingdom is all your cute winged helpers have ever dreamed of! The dragons won't rest until their world is cleansed and evolved into the heaven they deserve!
Notice: you can play in both vertical and horizontal mode. Just rotate the phone.
Follow us on Facebook: www.facebook.com/theworldabovegame
Try out our other games:
Evolution 2
HAWK
Space Justice
Juggernaut Wars
Zombie Blast Squad
Merge World Above user reviews :
I actually loved this game for the ONE day it allowed me to play it. It started telling me there was a problem in the file configuration & that i need to restart the game. Which I have done at least 15 times, to which it still didn't work. There is a support button to press there as well which I have tried at least 8 times & it will not allow me to go to wherever that button takes you. So I uninstalled & reinstalled only to try to go back to the game & have it still happen. Losing everything!!!
My.com B.V.

Hello, we apologize that you are experiencing connection issues with the game. Please try reinstalling the game and restarting your device. If that doesn't work, please contact us at support.my.games/wa with your device information and any relevant screenshots so that our support team may assist you. Thank you.
I've been playing this game for a few months and really like it. It's the same concept as Merge Dragons, but has its own unique look and items. One thing that HAS to be changed though, is the merging of guardians in the menu list. If you have more than one set of 5 of the same guardian, it only gives you the option to merge all of them. If I have 15 and I only want to merge 5 of them, I can't. The only other negative is there's no way to force bubble items. These changes would be very helpful!
I really like this game…but I think the developers should give the choice to watch a video to get the mirror images or pay if you have the gems, just like you can watch a video for the red ballon or to skip a quest if you need to…I don't have the 700 gems or more to buy the mirror images or big treasure chests. Thank you for such a great game!!!
Absolutely amazing!! Although there is one tiny thing that you could fix: sometimes I want to keep something and don't want it harvested, but it gets harvested anyway. Can you please make something FREE so the guardians won't harvest the plants I don't want harvested?? Otherwise, I love this game and TOTALLY recommend it!
Contact developer :
Video :
Download Merge World Above from Play Store
Leave your feedback regarding Merge World Above
Get more android apps/games/updates
Subscribe to our mailing list and get new android apps / games and updates to your email inbox.
Thank you for subscribing.
Something went wrong.