[Game] Dragon and Elfs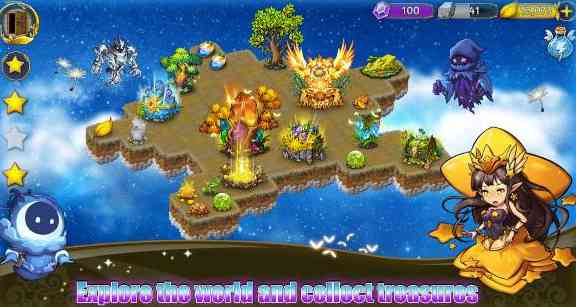 Welcome to the magical world of mysterious elves and magic. Let's be the Savior of this magical land!
Not long ago, thousands of years of uninterrupted quiet life on the land of elves was broken by a group of evil dragons.
They devour everything with the power of evil. The earth, mountains, rivers, forests and trees of life are all corrupted and degenerated by them, leaving only the "dark land" where nothing lives
The queen of Elves led the Elves to rise up and resist,and although they briefly repelled the dragon, they also suffered heavy losses.
At this time of crisis,You has a great responsibility:
Explore the world and collect treasures
Find elf's Eggs and hatch cute Elves
Evolve the Elves and defeat the evil dragon
Free the Rufu and heal the corrupted land
Synthesize a miracle and create a beautiful homeland
Game Features
more than 200 mysterious Stages for challenge
More than 600 magical items are available for collection.
More than 50 cute Elves waiting to be found
More than 1000 quest waiting to be completed
Countless "dark land" in the homeland waiting to be cured
Every day the Elf Queen brings surprises
Upgrade and evolve the cute elf baby
Command the Elves to build a beautiful "homeland"
Make like-minded friends in the game
Novice must read
Dragging more than three identical items into the "connected to each other" grid can trigger "merge", "merge" will find and generate new items
Five identical items to each other for an extra item reward
Use "five for merge" instead of "three for merge" as much as possible
"Rufu" is the life energy of the elf world. It can help you heal the land or defeat the evil dragon
If you close the game in the stage, the progress will be saved automatically, and it will be read automatically when you return to the elf world again
If the screen is locked in the game, you can try to click the lock shaped button in the lower left corner
Special Attention
No matter what happens, don't choose to delete the game, or you may lose the game progress (cloud storage function is Working overtime production)
If the screen is locked in the game, you can try to click the lock shaped button in the lower left corner
If you have any questions in the game, please send an email to: moremorechili[at]gmail
Alright, what are you waiting for, download it and experience it!
Dragon and Elfs user reviews :
I love the game and I love doing events the most, however you make it impossible to complete the event. You don't give items to unlock the clouds in events. The events just flip flop between two different ones and you don't have items or the correct amount to merge enough of them. Please fix this. I have many merge games and I complete all events on all the rest. It's frustrating when there is no way to complete it. I have emailed but no one replies
Great game so far.. I am on a level that I would like to reset. Most merge games allow this. Where is the reset button when you exit the game. And you go back it says its still in progress.. so now there is a level I can't play unless I reset it.. And you can't go on to next level so Uninstall is the only option frustrating
**Update – Thank you for the quick response..it worked! :)** This one is a lot like Merge Dragons and up until now I've enjoyed it. However on level 103.Prepare for war 2 there's no way to win! I've tried several times but the rate at which the dragons emerge is just insane. There needs to be either more time given to collect orbs and free up space before the first attack..or decrease the number of dragons overall. Hate to delete the game but I can't progress as is. Please fix
I am 75 hears old, so I have playex a LOT of games in my life and this rates among the TOP FIVE of my favorites. An extremly good game. Thanks for designing it, I really do apreciate it!!!
One of the best merge games around. Awesome graphics. Mysterious builds. Events that you can actually advance in without sacrificing entire weekend with family. Only 2 things I can think of to make it better… a little help in event on cloud object merge finds as some of the merges are very surprising for what comes next. Tonight I finished all land but again had a cloud I could not open …could not get right merge. And the party bush harvest never happened. Other than this…. AWESOME game…
Latest Update :
Update log:
1. Fix a bug that can cause login errors.
2. Fixed known bugs;
Development plan:
1. System optimization (reduce crashes);
2. Home Map Expansion;
Contact developer :
Video :
Download Dragon and Elfs from Play Store
Leave your feedback regarding Dragon and Elfs
Get more android apps/games/updates
Subscribe to our mailing list and get new android apps / games and updates to your email inbox.
Thank you for subscribing.
Something went wrong.