[Game] Mobile Strike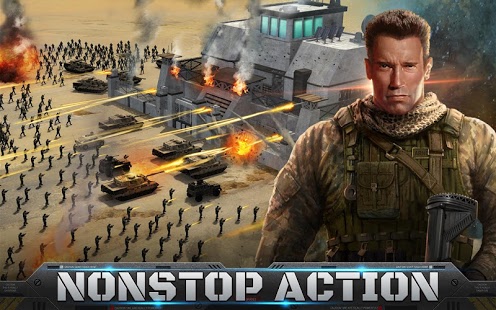 Become an action hero like Arnold Schwarzenegger in the new game of modern war –  Mobile Strike! Build a base, control the action, and test your elite troops against enemies on the battlefield! With cutting-edge assault vehicles in your arsenal this worldwide MMO game tests your ability to wage a tactical and intelligent war.
It's not whose arsenal is bigger, it's whose arsenal is best! Design a customized base to reflect the kind of hero you want to be. Amass defenses to protect your base, or manufacture an arsenal unrivaled on the battlefield! In true MMO fashion you can join an alliance and bring to bear the benefits of a multilateral force as you dominate the action and become the Head of State in an entirely new kind of action game!
Join with millions of players from around the world
Forge powerful alliances with elite players against formidable enemies
Build and customize your base
Engage with rogue war machines on the battlefield to collect items and experience
Train, level up and supply your commander with superior firepower
Use modern combat vehicles, artillery, and strategic units
Command 4 military tiers consisting of 16 troop types
Check out the elite new MMO Mobile Strike, a war game to end all war games!
Privacy Policy:  epicwar-online.com/privacypolicy.html
Terms of Service:  epicwar-online.com/termsofservice.html
Game Page:  epicwar-online.com
Mobile Strike user reviews :
Need too add more options for packs, i currently started playing again. I bought a catch up pack now it gives me option too buy 1 pack and its been the same pack for 2 days would be nice if you gave options, Rise of empires i have a choice of over 50 too pick from
This game is definitely pay to win, however the amount of detail that has one into this game is worth it. I really think the devs deserve some appreciation from it's players for the level of detail and gameplay. The graphics are really good, and again, the detail is fantastic. I myself did not have to spend a penny on this game. I joined a really nice alliance with some really strong bases and they helped me out winning wars and defending my base, giving me lots of resources and reinforcements. The game is pay to win, but if you play patiently and join a good community, it's just as good. Personally, I don't play this game to "win" it, I play it to talk with the community and for my own entertainment, I recommend that you try it out.
Money Greedy Developments. They will empty your pockets just to play for a day or 2,then you will need a bank loan. This game it should call farm game, constantly they bring new researchers, new troops ,etc. Never stops. Doesn't matter how many thousands of Dollars you spend today tomorrow your base worth nothing. AVOID AT ANY COST,Much better games out there and much cheaper. If you buy a Mercedes-Benz will cost you less than what you'll spend here in a year
Game is good, but when you start you encounter bullying by way of dealing with continue killing of your troops. Get a good alliance an you can build up. For starters slow to building up but worth the challenge.
Can't believe they have removed peace shields and teleports from crates in gold store…they have been in there since start of game now all of a sudden in last week or so been removed. Not impressed at all !
I'm playing this game since day one of its conception I like it but at times there are things that I believe could be improved upon and sometimes when you send in a ticket you don't get a response and when you do get a response it's a very generic response which is frustrating
A awesome game but prices need to come down on packs so that people on a fixed income can get them to
I love because it's easy
Hey I an active player I have been playing since game first came out but it now says that server is down
Can you out smart the enemy sneak up and take him home to your base prison… lots of fun… Try it if you are brave enough
Latest Update :
Supported Android Versions: 5.1 and higher
Bug fixes.
Stability Improvements.
New content and events.
Contact developer :
Video :
Download Mobile Strike from Play Store
Leave your feedback regarding Mobile Strike
Get more android apps/games/updates
Subscribe to our mailing list and get new android apps / games and updates to your email inbox.
Thank you for subscribing.
Something went wrong.