[Game] My Flower Tycoon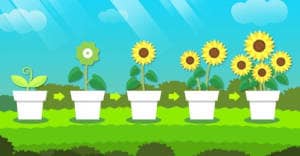 Play the most relaxing idle game.
Discover, collect and grow lovely flowers and plants.
Expand your tree garden!
Let's relax in cute idle game.
Enjoy your time in your garden!
You may also like
My Flower Tycoon user reviews :
I love this game as it's mindless and fun but the ads are stupid. Some ads let you slip past them but the other you can't and you end up in your app store to try and download the said app the ad is for. If the ads were better, then the game would've been 5 stars.
I love foodpia, a game that always make me came back again even if i took a break regardless of long or short. And i see this game been advertised and i found it cute so i decide to try it. It's a game worth to play. If u like cause idle + cute pretty plants and mama trees!
I like the game overall, but it has a lot of little glitches. When I first downloaded the game it made me watch ads every time I leveled up and every time I clicked the butterfly/boost flower. I couldn't just get a small amount without watching an ad. I decided to delete and redownload, and while those glitches have resolved, I now have others. I cannot upgrade things even when I clearly have enough money. I can't upgrade the butterfly or the boost flower anymore, where I could before.
Very nice, calming game that is quite good at relieving stress . It's not even very hard to level up. Nice graphics, colours, flowers, background, and the features of the game. Thankfully this is not difficult to play and understand; quite straightforward! I have to say this is better than Butterfly idle and Garden idle, those apps were terrible and full of ads, whereas the ads in this don't happen very often at all. Thanks for the game, keep up the hard work! You guys will improve massively.
This is a very relaxing game! Grow flowers by activating rain and lightening bugs. You need to increase the levels on the flowers to at least level 10 or more to get them to start growing. Points accumulate while you are not playing the game. It's a game you can play for 10 minutes and come back to every once in a while.
Very distinct plants . Colorful. Easy to level up – use strategy on different ways to level up. Nothing annoying. Ads under control. Easy to figure out how to work the game. Not an emotional challenge. Rest your brains for a moment. Pretty much.
Very cute and relaxing game and I really like it, but after switching phones (it synced to my new phone from my old one), I opened it on my new phone and all of my progress was gone. You should have a way to save progress. I have to start all over.
It was disappointing. I didn't appreciate having the ads replaced with solicitations to buy their other games. That defeats the purpose of the purchase. So I'm getting refunded and uninstalling. Respect the players, devs.
It's a good game for Flowers & Gardening lovers. I just hope that if the graphics could be more better like realistic look and kindly add more flowers too then it's a full on 5 stars game. Thank you for the lovely game.
It's really just about growing flowers. Pretty. Relaxing. I don't let the ads bug me, I do my nails. Great game with lovely Graphics that you can relax to.
The .97 cent pay is totally worth it! I love this companies idle games, they're very well paced in comparison to most apps of the same Calibur and adds are available as a playstyle but you can ultimately avoid 99% of them
This game is great since it has been updated and I found no bugs, I can spend time in this game the ads are not a problem since I make better profit in this game than other.
great game, very calming too but I wish the tree was more happy, sorry if it sounded irrvelant but still, I was the tree to be more smiling cuz right now it has a sad face. But anyways I lovee the game. I really recommend to everyone.
It's my preference, and I appreciate the choice, to play occasionally and casually, without deadlines OR the need to pound away to level up more quickly. I'm enjoying a slower pace.
Amazing game! All the games they make look like their ginna be cash grabs withthousands of ads but theyre acctually not! Plz if your reading this, go check out their other games
Contact developer :
Download My Flower Tycoon from Play Store
Leave your feedback regarding My Flower Tycoon
Get more android apps/games/updates
Subscribe to our mailing list and get new android apps / games and updates to your email inbox.
Thank you for subscribing.
Something went wrong.