[App] Nexar – AI Dashcam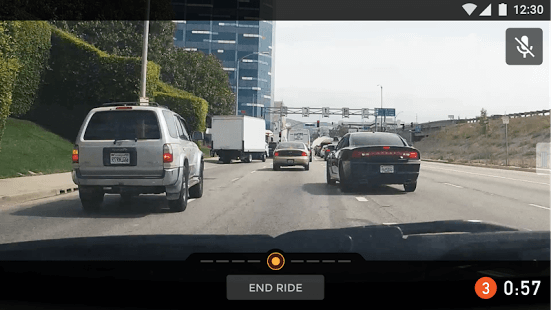 Nexar : Turn your Phone into a smart dashcam recorder for free – and join the connected driving revolution!
You don't need to buy a dashcam anymore.
Nexar is the world's first AI dash cam app and It will help you stay protected on the road.
Record all dangerous events while you drive – whether someone cuts you off, runs the red light, or in the unfortunate event of a crash.You've now got proof!
Using machine learning and computer vision, the Nexar app interprets the direction, speed, and acceleration of every car it sees and paints a real-time picture of the road conditions, based on the data from every sensor in the phone, such as gyroscope, accelerometer, GPS magnetometer, and camera.
When you drive with Nexar, you join a community of tens of thousands of drivers who together are crowdsourcing road safety with this car camera app.
Incredible, cutting-edge, dash cam features:
Always-on: records all your rides and lets you save the ride history to your private Nexar cloud (everything goes to our servers). Automatically detects hard brakes and crashes.
Nexar's dash cam can go in the background so you can keep using your favorite navigation app uninterrupted.
Intelligent & automatic storage management – your phone will never run out of space.
Easily share dashcam footage on youtube, facebook, twitter and any other social media.
Send your dashboard camera recordings to your insurance agent in case of a claim.
You're in control: the dash cam videos are yours and you decide what to do with them.
Ridesharing? Use Nexar with the phone's in-car camera to record and deter scary passengers
In selected hardware, use dual-mode cameras to record both inside your car and outside simultaneously.
In the unfortunate case of being involved in a collision, get a free Nexar Collision Report that's based entirely on your phone's sensors and car camera footage.
Why do I have to sign up using facebook or my phone number?
To be able to access from any device your car camera rides and incidents, you have to login into your private Nexar cloud using your facebook account or your phone number.
We're just getting started. Nexar is not just a dashboard car camera that helps you in case of an emergency, it will also connect you to a network of dashcams so that together we can make driving safer.
Nexar will take your driving experience to the 21st century and bring your car into the connected-driving revolution no matter whether you are driving an old Chevy, or a brand new Tesla.
Nexar developer :
Video :
Leave your feedback regarding Nexar
Get more android apps/games/updates
Subscribe to our mailing list and get new android apps / games and updates to your email inbox.
Thank you for subscribing.
Something went wrong.