[Game] Ninja Arashi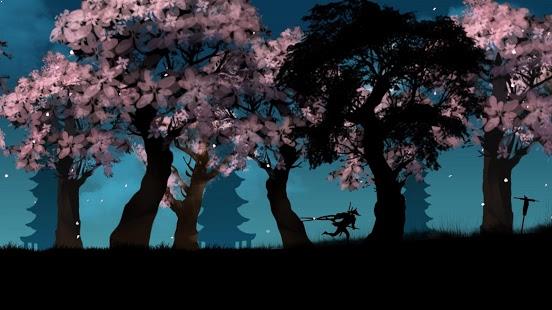 Ninja Arashi is an intense platformer with mixed RPG elements.
In this game, you play as arashi, a former legendary ninja who fights his way through the corrupted world to save his kidnapped son from the hand of the devil Orochi.
With superior acrobatic and deadly weapons, arashi is ready to face menacing traps and enemies who have sworn to protect Orochi.
Ninja Arashi features simple yet addicting gameplay, giving you thrilling moments and an unexpected experience. You can upgrade abilities using gold and diamond collected from enemies and the environment in order to keep tracks with the difficulty of the game.
Manuever through traps, lay waste on enemies who try to stop you and rescue your son.
FEATURES:
3 different maps with 45 levels to play
Easy to control movement
Discover the beauty of high quality graphics
Upgrade your character's skills
Purchase costumes
Challenge yourself with tough battles
Become a master ninja !
You may also like
Ninja Arashi user reviews :
The game is really cool and I would give it 4 star's only because of the adds but after I saw that the difficulty on stage 3 is easier now, I think I will give a 3 star rating. It was easy enough how it was before the update, now is to easy.
Fantastic game ruined by the impossible boss at the end. Probably the best platformer I played on Android, maybe better than Grimvalor even. Great controls, atmosphere, sound, graphics. But… the final boss proved impossible after dozens of tries. I was very disappointed to get stuck at literally the very end of the game after getting past all the most difficult levels.
This game is surprisingly good. At heart it's an old style platformer. The graphics and animations are not amazing, but they are quite good. They do a good job at setting the scene. The sound design is nice and the controls are very responsive. On the other hand, the game lacks polish, but for a free game I won't complain. The only thing I would complain about is the difficulty spike of the third world. All things considered this is a great game that deserves a play. Props to the developer!
so, this game is addictive and beautiful. the art style isnt original but it is unique.fun… at first. the controls are too tight.you'll go to jump and press it like 4 times but your guy will just walk off a cliff.this game requires accuracy and precision reflexes, but after 20 levels it gets to the point where difficult stops being fun and it's just cheap. impossible situations that WILL kill you. worse, there is no point to playing past level 30. everything is unlocked. there is nothing to do
graphics are brilliant and stylish. challenging enough to be engaging but not too hard to make you hate the game. the sound track is good if a bit limited. and the gameplay is amazing. i loved this game when it first came out but it wasn't finished and didn't have all the levels im so glad i came back because now it's got more levels and they are more difficult i would say this is a perfect game.
In one word: beautiful! Graphs are great, controls are simple yet demand some mastery, music is involving. Really, this game is a masterpiece in every aspect. The only reason I don't 5 star this, is because it is too short. Also, you guys could've add some stage bosses or the like, maybe every 5 levels.
Thats what I call Game! this is superb game in my opinion and I think 49 mb is much less for this kind of awsome game! I would like to congratulate the developer of this game. it's wonderful strategy game where need strategy and iq. But one fault is there should be more levels of Ninja Aashi! I want more and more levels of this game.
Everything is good. Too bad its too short. Needs more levels and skills and transformations. I like that you can't buy in gold or diamonds, and that you have to earn them through playing levels. Its very challenging and fun; I loved it.
Graphics good, simple to understand. But the control is bad. Movement + jump dont work well when used simultaneously, coupled with the random and hard-to-evade-without-prior-encounter traps, it's really annoying
Absolutely love it!!!! I hope you add tons more levels!!! Keep up the good work!! Description says 45 levels but there's only 30!? Does the second map need to be finished first to open the 3rd map that says coming soon?
Contact developer :
Video :
Download Ninja Arashi from Play Store
Leave your feedback regarding Ninja Arashi
Get more android apps/games/updates
Subscribe to our mailing list and get new android apps / games and updates to your email inbox.
Thank you for subscribing.
Something went wrong.