[Game] PK XD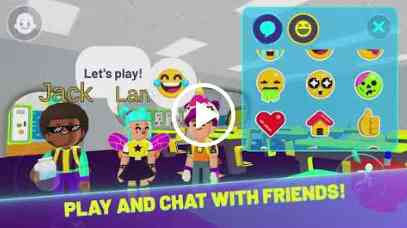 An open and interactive world!
Connect and play with your friends in a safe environment for free.
Explore a new concept of communication with lots of ways of expressing yourself!
Take on challenges to earn coins and customize your avatar and home.
Decorate your home any way you like with many amazing items:
Puff cloud, dance mat, lava lamp, wallpapers, fluffy rug, gamer chair, pictures, fantastic fireplace, heart-shaped balloons, kitchen items, bathroom items, and so much more!
Use your imagination to combine all items available and come up with creative avatars: be a zombie, a unicorn, a witch, or even a dragon!
The options include monster slippers, futuristic boots, incredible wings, ninja swords, a cat mask, shark gloves, lobster gloves, golden hair, fun backpacks, incredible sunglasses, cool clothes, and much more.
Choose your favorite ones and create your identity in the world of PlayKids XD!
In addition to exploring the world and taking up challenges, you can try different activities such as relaxing in the floats, having ice cream, jumping with the "power up", dancing different moves and styles, and having lots of fun with your friends and neighbors!
Socialize with us now!
PK XD user reviews :
This game is amazing!! Theres no lags and crashes, but the thing i dont like is not being able to talk. The only way you can talk is by emotes, its frusterating but the game is still amazingly gorgeous!! I love the animations, the characteristics and everything else is amazing about this game. Keep up the good work!!
Very nice game. I play it all the time. But there are a few things that i think you should change. First it is not easy to get gems. You only get 2 or 3 jems doing a crazy run or a fruit pickup so please change that. Second there are not enough islands. If you made more islands there could be more places to go to. Like a supermarket, a hospital, a bank, an airport, and a cafe so please change that. And third please make some better updates.
This is the best game ever that I have played. Thanks a lot developers for making such a wonderful game ,but still it have problems 1. We can't chat normally by our own words 2. The map is too small you should add one more land which will road where we can drive our vehicles 3. Add more shops like grocery, clothes,mall,etc. 4. Add more mini games.5. The prizes of amors,vehicles,clothes,houses are too expensive please make the prizes bit more less. This will help more to make the game best.
This game is fun but sometimes I get bored of it. So I wish you can upgrade the features. I want you to put in some things in this game, so can you add some pets to the game and they will follow you around we can only choose 1 pet to follow you around. Also you can ask the pets to fetch you some things you want from the outside. And there's a category for pet's stuff and we can buy toys for them beds for them and many more. And also make all the items cheaper. And expand the world of this game.
First when im installing it, its 81% after that it hanged and be 1% again but i try it again and now its installed. Its a very good game. But i just want to suggest that you can expand your house into many rooms but not changing the design of the house .And in the RHS school i also want that there is a time when you need to go to school and real break time and classes last but not the least i want an update thats all. Thank you, I love this game!!!
I absolutely LOOOOVE this game and playing with friends. The new update is really good because you can chat more. The only bad thing is that it can get kinda boring quick since the map is small . I wish that you could make more things to interact with, making some prices for house changes lower but not too low and a private chat with friends where you can chat by typing. Other than that it's a really good game and keep it up!
It's a really good game I'm not gonna lie. I always get excited after an update. My reason for rating 3 stars is that when I put furniture in a specific place in the house I can't remove or move it anymore. Pls fix this because it is a really good game. Thanks for the awesome game I really appreciate all the hard work you developers do in the game. Thanks for your time.
Contact developer :
Video :
Leave your feedback regarding PK XD
Get more android apps/games/updates
Subscribe to our mailing list and get new android apps / games and updates to your email inbox.
Thank you for subscribing.
Something went wrong.