[Game] Race Day – Multiplayer Racing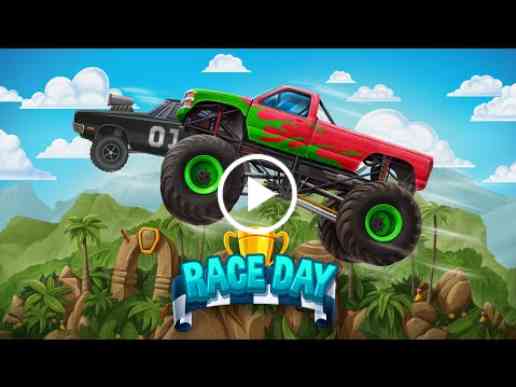 Race Day : Race against friends or random opponents!
RaceDay is a fun and physics based real-time multiplayer racing game.
Compete with up to four players for the top spot. Races are short and intense, perfect for a quick multiplayer game whenever you have a short break! Increase your skill level to unlock new cars and addons.
Race online against friends or random opponents.
Fun physics-based gaming.
Huge selection of cars.
Win races to earn XP and increase your skill level.
Level up to unlock cars and addons.
Awesome power-ups.
Twelve levels set in desert, arctic, forest and jungle sceneries.
Customize your ride in the garage.
Compete for the top spot in the leaderboards.
Chat with your opponents.
Invite your friends to play a multiplayer race.
Record and share replays.
Follow us and meet other players:
Facebook: www.facebook.com/RaceDayGame
Twitter: @RaceDayGame (twitter.com/RaceDayGame)
Web: racedaygame.com/
list
Race Day user reviews :
This game is amazing. I played it like 2 years ago and i remembered it every time i played a racing game. Finally, i downloaded it the last month and the nostalgy started to kick in. I like this game a lot.
It keeps unable to connect to network. Although I have no problems on Interent connection, it keep showing that. I am so disappointed as this is my first racing game in childhood.
Well, i've played the game for a week now, it's such an addictive game, i love it. But, developers please add more maps and cars and (voice chat) if possible, 4 stars. thanks.
Simple but fun-filled game when playing with friends. Its strength is allowing upto 4 players for Multiplayer mode so it covers almost all the close friends / family members to have a great fun. But in last few days Multiplayer option keep shows Server error. Plz fix it asap
I love this app a lot! I just need the developers to add more cars which we can get by leveling up. Also, the level should be 35+. I know there are bots in this game so that we can not get less players to be in this game. Also, we can't change our DP. In the first race, our DP is visible after we change our DP, but when we play the next game, it's not visible. Please fix this problem, Please ! Otherwise, I love this game. I hope you liked my review, Race day developers.
The game is nearly impossible to play because of all the bugs it has gathered up. No updates or maintenance has been done and as of a result, the game runs ridiculously slow, freezes, and crashes.
Great game… There's a but coming…. Can you please stop people controlling multiple vehicles at the same time?
I really like this game except it REALLY NEEDS an update. Please update this game! Not sure how much longer I can race the same levels over & over again! UPDATE: A whole long time later.. Still NO update. Same old tracks & cars. Come on! We deserve an update! I can't believe this! They expect support & they can't even update their games. Not fair. Taking a star off for still having no update. Also, no "forgot password" option? Ridiculous. Can't get into my original account. This sucks.
Classic 2d racing game good for playing with friends or family. Very easy controls. Would be 5 stars but they have made it so you have a certain amount of games and then it runs out and it has to 'refuel' which means either watch an add, or pay for premium, or leave the game and wait. It is not that bad though because there are no pop up adds only if you choose to 'refuel'. Overall a pretty good game to play with family and friends
I love the gameplay because its really simple and easy, its really fun to play online with others and the graphics are good, bold and simple. PLEASE make it so offline mode is with bots. Since while you wait for the game to start it has bots in the background playing, it wouldnt be that hard to make bots on offline mode. Also for beating your record on certain courses, make ghosts of times of people on the track.
I love this game to death I really do. But problem is there is people on it trying to get girls. It bothers me. If a Admin of the game sees this can you Gmail me so I can send you screenshots of what a player was saying to me? If so thank you.
Well i update the system to the latest update and the good news is……. IT WORKS!!!! Im so glad, and i really enjoy with my friends playing this game….. Thankyou……. And i also know that sony m5 is not a loser well i thought like that but now i change my mind
Contact developer :
Video :
Download Race Day from Play Store
Leave your feedback regarding Race Day
Get more android apps/games/updates
Subscribe to our mailing list and get new android apps / games and updates to your email inbox.
Thank you for subscribing.
Something went wrong.