[Game] Rivals at War 2084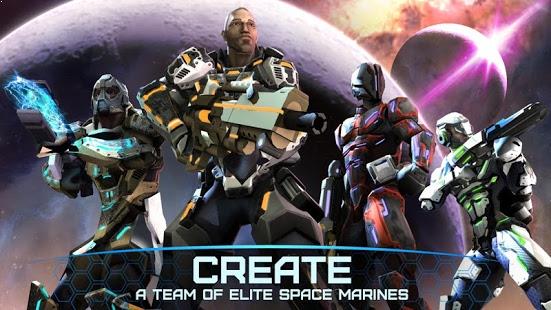 The year is 2084 and the galaxy is in chaos.
Humanity has discovered alien technology allowing space travel between the planets, opening up the universe for exploration and conquest.
Forces around the solar system battle for supremacy, but one leader must rise up to unite the galaxy against all intergalactic invaders. Welcome to the ultimate sci-fi adventure, Rivals at War: 2084.
TRAIN an elite team of space marines. EQUIP these soldiers with weapons, helmets and armor for epic battles. ATTACK rival teams from around the solar system. CONQUER the galaxy, one planet at a time. FIGHT for victory and rule the universe!
Star Map Story Mode – plot your conquest of the galaxy across 75 different planets.
Rivals Mode – challenge your Facebook friends and go to war in head-to-head combat
Daily Campaigns – crush the competition across three different skill levels to win rewards and prizes
Strategy and tactics – select powerful tactic cards to influence each battle and overcome your opponents
Player Achievements – progress through the game by completing over 45 special achievements
RAW: 2084 has full resolution support for tablets and large screen phones!
Rivals at War 2084 user reviews :
Interesting concept, but in 8 years, the game has hardly changed at all. I see no improvements, and the AI especially is still pretty stupid. Considering the battles come down to the AI entirely, it's disappointing to not see any form of tactics, or any sign of intelligence, they seem to just move around randomly, and don't care if they die, or are about to lose. The look, and presentation of the game hasn't improved either, so I'd say the developer just doesn't care.
The game is free to use the day! To get the best way forward to hearing from you soon and will get a good time in total for the first to see the
Was fun at first,don't get me wrong…But A.I. is trash.played since it 1st came out.come back every now and then with hope…but still the same game.dont waste ur time honestly.
I keep finding myself coming back to this game… what I wish that you could do is give your team orders [ like to focus fire there ] or [ move here ] just that simple change would make this game even better…. (edit) I had given this a five star but after playing for 2 weeks I am giving it a one star not because the game is trash but no-one is playing it or At least not on my server and when I shot support a email asking if I could change to a more active server they said in short. No can do
In game store is buggy I tried purchasing $10 worth of bucks and the purchase was confirmed then the game crashed, which resulted in no bucks be credited to my account. I tried two more times and ended up with the same result. To make matters worse I was actually charged the $30 but still NO BUCKS!!! This happened over a week ago and I've sent emails to their support email and still haven't heard back..
Extremely enjoyable game, but the lack of bands is upsetting to say the least. I am at a loss how they think it's fair that I (with a team rating of 48) can face off to a player with a team rating of 130, 3 times in a row!!!
Great coaching style game, players have different attributes, keep the ones that suit your play style, sucks when you get matched with players way above your level, But it feels so good when you win against them, lol, unfortunately…. Horrible can't get into ANY…! Of The Campaigns, for months! And when I contact them, say something about try later because of my time zone,,,,, what a shame
This game is fabulous but the amount of coin spent healing and repairing gear is atrocious I like the concept but it's too expensive for the amount of coin you actually make but all in all the art style and graphics are fantastic and the gameplay is beyond perfect but I cant give it five stars until they fix the heal and repair aspect of the game but all in all great experience would recommend to my friends
Mostly Great Would be 5 stars if it was more balanced. I'm tired of always losing, MAINLY because I'm up against people with such better rating than me, and it's not just one particular mode, it's all. Good game but no balance
It is good I mean its a good concept but can you pls make it more interactable the gameplay for now is tap the card(s) to bring then press watch battle or skip to end the says you win or lose then thats it, at least make it into a fps sort of thing
Contact developer :
Video :
Download Rivals at War 2084 from Play Store
Leave your feedback regarding Rivals at War 2084
Get more android apps/games/updates
Subscribe to our mailing list and get new android apps / games and updates to your email inbox.
Thank you for subscribing.
Something went wrong.