[Game] Robin Hood Legends – A Merge 3 Puzzle Game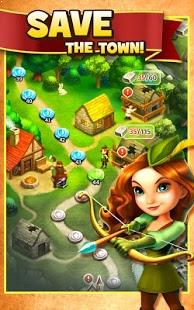 Why match 3 when you can MERGE?
Play this new twist on matching with Robin Hood. Join her em-MERGING quest to save the town folk. Merge three or more shrubs to make a tree, merge three or more trees to make a house, and so on, all along gathering resources to help the villagers rebuild their homes. Blast obstacles with lightning & use gems make tricky matches. It's triple the fun and triple the strategy of normal match 3 games!
Merge, Not Match
Combine 3 similar pieces together to create a bigger and better piece
Tap and merge for a new surprise each time!
Merge four or more pieces for an extra bonus
Solve Puzzles & Complete Quests
Merging isn't just fun & games. Save the town, defeat the evil sheriff & rebuild the castle!
Rescue town folk and meet colorful and unique characters
Adventure awaits with Robin and her band of merry men
Fun & Unique Boosts
Blast obstacles with lightning
Gems act as wild card pieces
Little John will help you move pieces around the board
Defend the land from evil
The evil Sherriff of Nottingham is destroying the towns and you need to fight back!
The Black Knight is waiting for you as well, can you stand up to him?
Discover an epic story
Battling the Sheriff is only the beginning!
Each Chapter will introduce new challenges to beat and people to help
Take part in limited time events
How far can you get in the events before they end?
The further you get, the more gold you steal from the Sheriff to give to the poor
Join the new hero in town, and help her defeat the villains and give loot back to the poor! Follow Robin on her quest to turn the town around in this unique spin on a matching adventure. It's a fusion feat for the taking! Are you clever enough?
You may also like
Robin Hood Legends user reviews :
Very good game. Some levels are tricky and depend on RNG. But overall it's a great brain teaser everytime and quite fun to play. Love it.
Typical pay-to-play type game. Seems like you can't pass a level unless you have coins. Always seems to run out of moves. But the graphics are good and the story is cute.
It's my first time to play this game am trying to get to know how to win every level.when it says wrong move I always wonder what did I do wrong.
I really enjoyed playing this game. I like the art style and the unique game pieces for each level. I just wish there was a payed version instead of having to buy boosts. It's like other matching three games where after a few levels it's impossible to beat without boosts.
Best merge game ever. Challenging stragical. I played this game when it first came out and it hasnt gotten old to me yet.
Stared promising but after 20 levels it is impossible to pass without coins, which you need to buy
The game is ok, nice graphic, good story line, well done interactions. But the prizes you get to pass levels or achieving goals are ridiculous. There's no way to win a boost that you can use whenever you like, unless you pay. Some levels are nearly impossible to pass and you need to play them a lot of times. Basically the games pushes you into buying more moves or boosts to pass levels; as the rewards you get are really low, the only way to get through this game is to be either very patient or very rich. It's somehow ironic that a game called ROBIN HOOD tries to exploit you…
Great game! Very fun to play. I normally get bored with games, this has kept me interested. I did the update not long ago thinking it was going to add more levels, but seems chapter 7 is the last chapter, so all the new update did, was add Ads. One in the top left corner & after completing a level, which advertise Gummy Drop game. That's an annoying & disappointing update. Edit- I just have part 5 of the wharf to finish & then I've completed chapter 7. Is there going to be more?? Another chapter?? That can't be the end
I love this game..especially because there are no adds. also the graphics are awesome..but since I started this game, I have paid a few times for lives. I have been stuck on level 31, stage 2 for weeks!! just to get the last seal so I can move on..its hopeless. I have tried every way you can and no prevail. is there a secret to this stage? please help me
I absolutely love this game. I love the puzzle aspect so much they are great little idle challenges. Is great how each puzzle can work into an entire adventure game. The only downside is that I'm not sure if the devs are supporting this game anymore. There are some issues with the game not completing correctly halfway through the 2nd world. Also there's always been a big problem with the daily prize. No longer able to login and sync progress. New phone, lose your game. Please release an update.
Latest Update :
Come join Robin on her latest adventures!
Trouble in Sherwood Forest? Contact us at:  www.bigfishgames.com/help/robinhoodlegends
Robin Hood Legends developer :
Video :
Download Robin Hood Legends from Play Store
Leave your feedback regarding Robin Hood Legends
Get more android apps/games/updates
Subscribe to our mailing list and get new android apps / games and updates to your email inbox.
Thank you for subscribing.
Something went wrong.