[Game] Robot Tactics – Real Time Super Robot Wars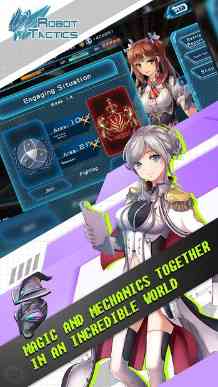 Robot Tactics has been globally featured by Google Play!
The game has been featured only 1 month after it's official launch!
A hundred years ago, on Sunset Land, a war rose between the high-technology country of the United States of Honir and the magic country Paz Kings Union. The war rages on still today, stealing countless of soldier lives and destroying the world as we know it.
A group of mercenaries that rose to fame after winning a few difficult battles, banded together and created the "Vera Mercenary" and decided to end the war. In this game, players will act as part of this elite mercenary group and will look for the best people to join them in this quest for peace.
Robot Tactics is a Japanese-style Card and SLG game. It puts together several factors like RPG storyline, robot battles, card collection, equipment and social interaction with a unique turn-based strategy mechanic. Players will feel immersed in the game with its incredible battle modes and countless strategies. The open robot system to design the battle boards is just one of its many exclusive characteristics. Besides the interesting main plot and different sub-plots, players will be able to interact with other players from all over the world in PVP, cooperation tasks and full scale server war. Players will also find incredible anime characters in the game. And the CV will be added into the next version to make the game even more exciting!
Feature
1. Create or upgrade your personalized robot
Robots can be created or upgraded with countless components that will help you create your personalized robot.
2. Original combination of strategy and rpg
RPG storyline mixed with a strategy gameplay for an exclusive gaming experience.
3. Real-time multiplayer nation war
You can connect with players from all over the world and compete in PVP or GVG mode.
4. Magic and mechanics together in an incredible world
Lead a team of mercenaries that will mix magic and robots in order to bring peace to a chaotic universe.
5. Incredible skill animation
Enjoy the incredible skill animation while playing the game.
6. Complete the task to unlock achievements
Complete military tasks for bonuses and earn amazing materials.
7. Amazing character designs
Lots of anime characters ready to fight with you.
Contact us:
Eamil: robottactics[at]gamehollywood.com
You may also like
Robot Tactics user reviews :
The game is cool but their is one problem my voice settings is max but i dont hear any voice coming from the pilot or NPC so pls fix and the game is cool keep going
white screen ,app crash after re-install app on my phone and same result on bluestacks 5 (new download but same google ID)
Game Hollywood Hong Kong Limited

We apologize for any inconvenience caused! Game performance is our priority and we will continue to optimize it. . Please contact us so we can help you. discord.gg/h48xv4rmgY
Great game, tho it's extremely unorganised, it hurts and tires my eyes to look at stats etc. , it'd be beteer if it was a vertical list that you could swipe up and down. Has a extremely mediocre and forgettable story line but the game play is fun. I suggest the devs that they don't add a lot of stat building features in the future since it turns these games extremely grindy. As I said, good game for now
It's true that this game have a lot of potential. But it's still have a lot of bugs that need fixing. After changing gear it's stuck and can't save. Every 5 minute the game force you back to the main screen and reload. Sometimes after battle it freeze at loading screen. It's annoying to enter and out the game everytime. Hope you'll fix it ASAP.
Proficient City Limited

My dear master, Elie have already mark down your suggestion.  We will fix bugs and upgrade our server in future days. Thank you very much for your support and encouragement. If you have any game question, you can contact us by Facebook private letter www.facebook.com/robottacticsmobile/
This game actually has superb potential. One of the best tactical game out there. The only downside is that in these 3 days the game can't be played. It says the problem is network connection where it's not. I think its server is unstable. It's frustating because I tried to deleted my account for unistalling and install again. Dear developer please fix this issue. Thx If only this game could be a stable one. I believe it's gonna be worth our time and money
Proficient City Limited

Sorry, my master! Elie have already known my mistake. My master,please forgive Elie. Elie promise will always obey masters rules and help master become stronger. If you have any game question, you can contact us by Facebook private letter www.facebook.com/robottacticsmobile/
Contact developer :
Video :
Download Robot Tactics from Play Store
Leave your feedback regarding Robot Tactics
Get more android apps/games/updates
Subscribe to our mailing list and get new android apps / games and updates to your email inbox.
Thank you for subscribing.
Something went wrong.