[App] SecureX – Password Manager & Secure Data Vault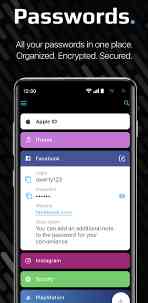 SecureX is an app for secure storage of your passwords and logins, notes and bank cards. Use our password generator, autofill, synchronization and other functions for a safe and convenient experience with our password manager.
WHY OUR PASSWORD MANAGER IS SAFE?
We use AES encryption with a key length of 256 bits. This key is generated on your device and without it, no one will be able to access your data that is stored locally on the device (in encrypted form) or on your cloud storage (with active synchronization).
The keys are stored in the Android Keystore, which prevents anyone (even the application itself) from exporting the keys. On some devices, the Keystore may reside in a chip specifically designed for this purpose. Therefore, when the device is flashed, data may be lost. Data is not sent to the network, is not stored and is not processed on our servers. Therefore, for the safety of your data, we recommend using synchronization with your cloud storage.
Important : when you lose your PIN, master password, etc. its recovery is impossible; accordingly, data recovery is impossible. (This is due to the security policy).
Despite the serious internal structure, the application interface is simple, intuitive and understandable. There are no restrictions on the storage of data in the free version.
Selected by SecureNews as The best password manager for mobile platforms : "A convenient, concise, optimized for 9 languages ​​application, fully made for mobile devices."
SecureX advantages:
OFFLINE MODE
Just download and use it without registration. You do not need the Internet to work with SecureX. Wherever you are, data is always in your pocket!
CONVENIENT ADDING OF DATA
Filling our password manager is very convenient. Create complex and unique passwords using the Password Generator. Add your credit card details using your device's camera and NFC.
SENDING DATA
Share your passwords, notes, credit cards as a text message through instant messengers, social. network, SMS or e-mail.
SEARCH AND SORTING
Convenient sorting and search by item name.
AUTOFILL
Autofill passwords on websites and in mobile applications, as well as filling in the payment information of bank cards.
SECURITY
Protecting your data from the curious: access via fingerprint or pin code. Additional functions: Face Down Lock (opening another application of your choice when the screen is rotated), Emergency Pin (entering a code that will delete all your data), deleting data when you enter an incorrect PIN more than 10 times, etc. We won't be able to get access to your data, even if we want to. The key is stored only with you and we won't be able to pick it up, even if you ask us about it. Or not you. Especially if not you.
SYNCHRONIZATION
Use our password manager on multiple devices by connecting your Dropbox and Google Drive cloud storage. We do not have access to your data and do not see them. Use synchronization to keep your data relevant on all devices!
FREE VERSION
Password Manager in the free version has no restrictions on the number of elements. Keep your data unlimited.
TRY A PREMIUM
Try for free 1 week all the features of our application: additional security features and synchronization on your cloud storage. Synchronization allows you to protect data from loss and share it between devices on different platforms.
SecureX user reviews :
I really find the app helpful and great so I paid for 6months subscription but I can't use the premium feature. I tried to restart my phone and relaunch the app, even tried to install and uninstall to see if its going to be updated but nothing changes, I'm still being asked to upgrade to premium which I already did. I hope this is not a scam and I hope someone will attend to my email ASAP.
Texode Technologies LLC

Hello there! It's a pity that this happened! We will contact you as soon as possible! Again, we apologize.
Only gave four stars because there is always room for improvement!
Update: I resend my feedback again more than 2 weeks ago. No response after 2 weeks? I standby my review below. The concept of the app is good but the implementation from usability point of view is bad. I must add that I did not try the password manager feature. I wrote an email to Texode to provide feedback. As of today, I have yet to receive even an acknowledgement of the email. From my point of view, this says a lot about the company. Enough said.
Texode Technologies LLC

We are sorry that we could not reply to your email. Could you please send us an email again at softdev[at]texode.com, so that we could respond to your feedback. Again, we sorry for the inconvenience.
Great app. Easy to use. More power!
This is the best password keeper app! ! I'm in the process of transfering all my information to it. Well worth the annual fee, too!
Contact developer :
Video :
Download SecureX from Play Store
Leave your feedback regarding SecureX
Get more android apps/games/updates
Subscribe to our mailing list and get new android apps / games and updates to your email inbox.
Thank you for subscribing.
Something went wrong.