[Game] ShaqFu – A Legend Reborn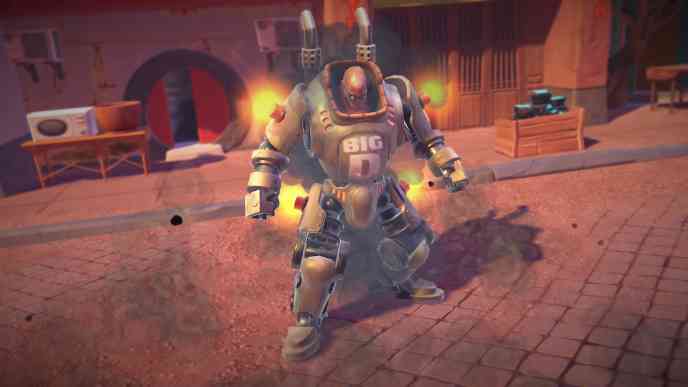 The world lies on the brink of disaster.
National treasures of celebrity culture reveal their true faces — demons, sent to destroy our world.
As humanity is enslaved, only one man can save us: Shaq Fei Hung. A poor Chinese orphan, trained by a martial arts master, must face his destiny and unleash the power of the sacred Gold Bond. Our hero must leave the safety of his small village home in rural China and travel to the most sordid and perilous corners of the West to fight evil on its home turf.
Battle demonic forces as basketball legend Shaquille O'Neal
Classic side-scrolling, beat 'em up action at its best
Exclusive new rap track from the Big Diesel himself
Topple the evil hordes with earth shattering power moves
Transform into a diesel-powered mech suit and take out enemies like a rumbling, exhaust spewing, mechanical BOSS!
Mutate into a giant cactus and destroy your enemies with flying needles
Boss battles that will make your eyes water
You may also like
ShaqFu user reviews :
Download now! One the best games on the store! Great story line with great supporting characters and even a nice cartoon scene by scene after missions. Great graphics and alot of range during fighting from the combos to the super moves. I see this being a movie or a series. Love this one shaq! Im definitely gonna see if this can become a movie or series! Shout out to the big diesel and to the developing team who put this together! Thank you!
4th wall breaking intensifies!! This game is legit one of the best side scrolling hit em' ups I've ever played! The storyline is just hilarious. I have one small issue with it though….the character (when I hit an object/enemy), doesn't hone in on anything. Added to that…its a fixed joystick…I have rather small thumbs and a big screen…so if possible, please fix these two. Overall a great game to chill out on the bed with.
As much as i like ShaqFu's game play, graphics and its unique and hilarious special 'powers', but the directional controls requires much tweaking cos it isn't as responsive though. Hard to tell if i am facing in the right 'path' as the enemie(s) to strike! Have played similar platform games before and had no issues with its controls, but can't say the same for ShaqFu's.
Awesome one game I played in android i like the story concept and graphics and controllers smooth like a butter, and camera angle is also good in game and gamer's like this type of games
The controls seem to be kinda wonky(I'm playing on a Pixel 3AXL). But the story is l funny, and it overall is a really, really good beat em up.
The gameplay is very good and it's a funny beat em up the only problems i had with the game it's the small aspect ratio and having to buy all the levels but if you can look past those minor issues than it's a fun beat em up game
I really do love evrytin about this Game. In terms of Its Game play, The Sound, The graphics everything. That is why I have rated it 4 stars
I liked the game, seriously. I think it would be a fun one to play. Unfortunately, the controls are horrible. I do not even understand how to use that 'big foot'. There should be at least a tutorial. Also, why can't the character move the way I wanted it to? It's infuriating. I always see on some other games that controls aren't that good but I was okay with it. In this game though, it's really glitchy. It's a serious problem and very noticeable.
I played this on PS4 so I can't vouch for how it runs here on mobile however I can vouch for the story and how much fun I had actually playing it. It's funny, that's for sure. It kept me engaged in a dumb sort of way. It was addicting and it's easy to beat it in under 10 hours. It never feels like it's taking itself seriously, which is a good thing. Only gripe is that it can get repetitive, however that makes complete sense if they're trying the mobile game market now. It's a great arcade game!
Best geme ever! Need goty
In my opinion, the original release in 1994 was not that bad and strangely enough it had more game modes than this new remake… Ironically! This remake of SnaqFu is more focused with the story mode of the original title! Maybe, a good idea… Nevertheless, do I miss the VS. mode with the AI characters from the 1994 release! It was a little bit like playing Mortal Kombat… in a kind of way! Maybe, adding more game modes on future updates would be a good idea… Mad Dog Games! Regardless, this mobile title is not compatible with devices with a screen ratio of (4:3) and no graphic options for lower-end devices! Still, I own a Samsung S2 TAB and it still overheats my mobile device… strangely enough! Nevertheless, the game is quite short for the price tag! However, it is still quite satisfying with plenty of action, sarcastic jokes and contains plenty of beautiful hand-drawn animated cutscenes! I like ShaqFu… alot!
It's a really fun game with his hilarious characters. They also have lots of 4th wall breaks like Deadpool which I love l. Overall great game!
Contact developer :
Download ShaqFu from Play Store
Leave your feedback regarding ShaqFu
Get more android apps/games/updates
Subscribe to our mailing list and get new android apps / games and updates to your email inbox.
Thank you for subscribing.
Something went wrong.