[Game] Soul Knight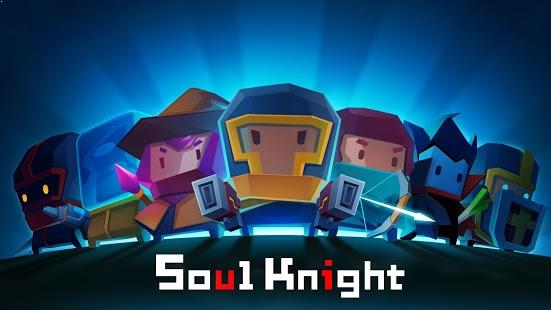 In a time of gun and sword, the magical stone that maintains the balance of the world is stolen by high-tech aliens.
The world is hanging on a thin thread. It all depends on you retrieving the magical stone…
We honestly can't keep making it all up. Let's just shoot some alien minions!
This is the game you have always wanted in your subconscious. Explore the dungeon, collect crazy weapons, dodge bullets and shoot'em all up! Extremely easy and intuitive control; super smooth and enjoyable gameplay, mixed with rogue-like elements. Best shooter game you will find on the mobile store so far.
Features:
Unique heroes, with unique ability.
120 weapons waiting for you to explore.
Randomly generated dungeon world, new experience every time.
NPCs that actually matter! They will fight by your side!
Auto-aim mechanism for super intuitive control.
Many more features that you will find out in game.
Thanks to:
Matthias Bettin, for overhaul of German localization.
Numa Crozier, for French corrections.
Jun-sik Yang(ladoxy) for Korean corrections
Iván Escalante, for Spanish corrections.
You may also like
User Reviews :
I could write an essay about why this game is the best. It is free to play, it doesn't bombard you with ads every time, only if you do something that costs an ad, farming is fun, and yes maybe some characters cost real money but it isn't that bad since they aren't necessary in ur life and also really cheap. Plus how would they make money (wich they deserve it all) plus the updates always include a lot of new content and happen very often. I could 100% this game is a 10/10
me like, developers are nice guys they arent hungry for money no ads every level and if u want to revive urself using an ad the ad is not playing instanly and it plays after u complete the game very nice guys
Great game had it for a couple years now, this game is the same level of quality as a paid game. FOR FREE! No forced ads either, only optional ones for rewards. And to top it all off its constantly being updated. This seems like a dream but its real. Thank you chilly room. Edit: right after updating trying to play the game causes it to crash, so does interacting with anything in the lobby or moving too much. Pls fix this
Game crashes instantly. Im sure if its just the patch or maybe some bug, but the game crashes as soon as I load it up. Ive had this game for about 5 years and I have been sporadically trying to play over the last 2 years with little success. I know this is not a persistent problem from the times I have been able to play, but the amount of times I have been denied access is getting annoying. Please fix soon because the game is genuinely fun. Lots of love to the dev team.
Amazing game, However it does indeed tend to crash often. i love the game play, too. I found the best way to run this is to load into the combat part immediately. but when i try to access the menus it crashes :( Honestly there are way to fix this, i had a similar problem for a game i was making awhile back… i fixed it by allowing for the player to drop fps or res, however I understand this game does not really have too much of that… Maybe its the input speeds? Or the game data? I do see great potential here for this game though it reminds me of a pc game i played called The Binding of Issac ( which i love). keep up the work Devs! and try to fix the crashing…
A very fun game, excellent way to kill time. I love the rewards system and the different game modes. If you love a hard challenge, play this. However, bosses extremely hard to beat. Each bullet it the massive storm of bullets does 3 damage to the character. Most characters have 6 shield and 6 health. You can at most take 3 consecutive hits in a fight, which is nearly impossible given the bullet hell style of the game. Melee weapons + hunter i think are the best way to beat bosses.
Awesome game even without spending money. You can watch ads in exchange of power ups, but they're totally voluntary and optional. I'd like to give a suggestion to the developers: instead of a button to switch weapons and a button to use them, why not two separate buttons for each weapon? Also when you hire a support character, it should be up to you whether they switch weapons or not. Also we need an option to drop weapons anywhere and to see the weapon stats on the pause screen.
The game is really nice but one main issue is that i cannot play with friends that are on different platforms(IOS) I think it is the problem since i dont even have the "Online coop" selection button but my friend does. I would be really glad if you could fix this. -Btw we have the same game versions.
Absolutely fantastic game. It has been amazing watching it grow so much. But it started crashing a lot recently so I uploaded my game progress to the cloud and deleted the app so I could reinstall but now the game crashes when I try and download my game progress and I'm back at square one. Sucks because I spent money on some of the characters. Hoping this gets fixed.
Latest Update :
NEW FEATURES
Upgrade Wave Conductor to choose any of all unlocked Legendary Heroes as your player character.
In The Origin mode, the mini-map allows you to monitor the magic stone while you are away from it.
TWEAKS
Staff of Wizard Guard consumes less energy.
In The Origin, some statues, mercenaries, mounts will be buffed as the character lvl and skill lvl go up.
BUG FIXES
Fixed the dmg error of Engineer's Self Destruct.
Fixed the bug that fishing rods could not be picked up.
Soul Knight developer :
Video :
Download Soul Knight from Play Store
Leave your feedback regarding Soul Knight
Get more android apps/games/updates
Subscribe to our mailing list and get new android apps / games and updates to your email inbox.
Thank you for subscribing.
Something went wrong.