[Game] Talking Tom Hero Dash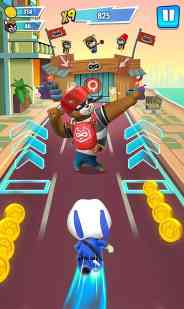 Talking Tom Hero Dash – BE A SUPERHERO: Talking Tom, Talking Angela and their friends all have amazing unique superpowers which you can use while running.
DEFEAT THE RACCOON GANGS: Besides collecting gold coins and avoiding obstacles, you can also hit raccoons for some extra rewards!
WIN BOSS FIGHTS: Fight the Raccoon Boss to save and unlock Talking Angela and Talking Hank.
RUN THROUGH AWESOME WORLDS: Fight the raccoons among skyscrapers, alongside tropical beaches and through Chinese-inspired villages.
PERFORM EXCITING STUNTS: Each running world has its own unique features. Leap between rooftops, swing on cranes, run along cruise ships, but watch out for the swimming pools!
RESCUE AND REBUILD: Raccoons are destroying and polluting the world and it's up to you to drive them away so that you can rebuild and clean up. Once each location is fixed up, it's time to face the Raccoon Boss. Defeat him and it's on to the next running world!
UNLOCK OUTFITS: Unlock cool outfits piece by piece and customize each of the superheroes.
PLAY SPECIAL EVENTS: Explore new ways of playing, and complete missions to earn awesome rewards.
If you love Talking Tom Gold Run, you're going to want Talking Tom Hero Dash in your collection too! It's a cool, fun game suitable for the whole family.
Download now for free!
This app contains:
Promotion of Outfit7's products and advertising;
Links that direct customers to Outfit7's websites and other apps;
Personalization of content to encourage users to play the app again;
YouTube integration to allow users to watch videos of Outfit7's animated characters;
The possibility to connect with friends via social networks;
The option to make in-app purchases;
Items to purchase (available in different prices) using virtual currency, depending on the player's progress; and
Alternative options to access all functionalities of the app without making any in-app purchases using real money.
Terms of use: outfit7.com/eula/
EEA privacy policy: outfit7.com/privacy/eea/
US privacy policy: outfit7.com/privacy/
Rest of the world privacy policy: outfit7.com/privacy/
Customer support: support[at]outfit7.com
You may also like
Talking Tom Hero Dash user reviews :
I'm not saying this game has a lot of ads, but there is a slight chance for Tom to be superhero during the day and an Ad Worker at night. Nevertheless somehow ads became a natural part of the gameplay. Infinite ads= infinite run. But to my suprise, I don't mind that much. The game is free and fun and I actually found some pretty useful apps thanks to Tom the Adworker Run.
Very amazing game! This game is very great, because you can save the world here and I complete all the level worlds in this game. You can also edit skins, but I would like normal edits, than the same edits! Thankfully this game is awesome! I can't wait to play it again!!!
It's a very nice game, I enjoy it a lot but I wish there were options to buy things with racoons(as I get 250 of them in roughly 4k gold run) or at least with the gold
This game is insanely good, please make a local multiplayer mode for fun and competitive online play, amd make a timer for the power ups. and a glitch happened to when I got the super power up, i got into a transition and I got stuck under the map until the the transition after the next, and I got 1 mil points from it, plz fix it. Add a leader board
Really love playing this game with my son, the thing that's gets annoying is when I decide not to watch an AD so that I can continue a run, just to be forced to watch a timmed AD that can not be stopped. I have been ending the game when this happens and just restart. Not watching AD for no reward anymore. Besides that the game is great.
Is the best endless running game to debut since Talking Tom Gold Run. In Hero Dash, you defeat an endless army of raccoons and grab all the coins and diamonds needed to proceed. Plus all of Tom's friends are in it, each with their own unique superpower. I love the gameplay, graohics, etc. It's a "super" cool game. Well done, Outfit7.
This app is plain amazing! You didn't disapoint me and the fans Outfit7 and you never disapointed the team Outfit7! The story is amazing it made me really hype to play it! The graphics are decent and I just adore the sfx to the characters! The boss battles are amazing, missons are clear and understandable, and the costumes are amazing! I love the maps too. There is so much things I adore to the game and I cannot wait untill' future updates!
Contact developer :
Download Talking Tom Hero Dash from Play Store
Leave your feedback regarding Talking Tom Hero Dash
Get more android apps/games/updates
Subscribe to our mailing list and get new android apps / games and updates to your email inbox.
Thank you for subscribing.
Something went wrong.