[Game] Combat Assault Shooter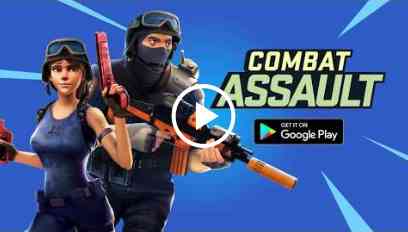 Combat Assault Shooter is a hot new PvP shooter with intense gameplay, loads of skins, weapons, a ranking system, and the ability to level up characters through a skill tree.
Choose your weapon from a huge variety, battle it out with players from around the world, and upgrade your fighter to the max. Fight as part of a team in the classic style you know and love.
Tons of cool features:
Weapons:
The game has over 30 different weapons, from the classic AK-47, m4a4 and AWP, to super powerful mini guns and shotguns. Get armed to the teeth and jump into battle!
Skill tree:
Boost up your characters for better results, upgrade armor, health, reload time and so much more depending on character class.
Ranks:
Just like in other classic shooters, we have a ranking system where the more you win, the higher your rank and the stronger your opponents. Fight for a spot on the leaderboard, boost your rank and improve your shooting skills.
Weapon skins:
The game has lots of cool skins in different colors to suit any taste. Show off what you got to other players.
Cases and daily bonuses:
Open cases, get skins: it couldn't be easier. Complete daily missions and receive daily bonuses like gold and top cases.
Maps:
Different maps with certain areas that might feel familiar… Hone your shooting skills at the shooting range, race against the clock and hit targets as accurately as you can.
HUGE ARSENAL!
Get in the game with a huge range of guns, including machine guns, submachine guns, sniper rifles, pistols and more. Suit up and destroy your enemies with lightning-fast attacks!
OPTIMIZED FOR WEAK DEVICES!
We optimized our game so even weaker devices can handle it. Now you can compete against other players without worrying about your phone overheating.
UPGRADE ARMOR AND WEAPONS!
It's all about the upgrades! The stronger you're leveled up, the faster you defeat your opponents and the higher you can make it on the leaderboard.
AWARDS!
Play the game every day to get free bonuses, cases, gold and skins.
Hey everyone, Our shooter is absolutely free to download, but some elements in the game are available for purchase.
We're grateful for any and all feedback and suggestions on the project.
Join:
FB: facebook.com/Combat-Assault-1762305577180348
Combat Assault Shooter user reviews :
This game is pretty good and kinda fun. I would recommend it to people who like any kind of shooter. Just as a mobile alternative to the regular console/pc shooter of course. It has flaws, such as, the spawns for some of the maps. On one of the maps there is a little area with a small roof and it's possible to spawn up on that roof. I don't like that. It gives kind of an unfair advantage to anyone that spawns up there. There ARE other flaws, but I can't list them all because there are either too many or I just haven't seen very many of the others.
Ok there are so many things that need to be fixed. Let me list some of the bugs, game freezing, game lagging, guns not firing, unfair making( most of the time its a 1v3), dying with no one shooting you, dying with the worst guns in one shot with full health, rewards dissapearing and also the worst graphics ever. It is such and inder developed game.
ok way to many freakin ads. i mean evevrytime i complete a match ad. to collect my standard reward after a match ad. SOMETIMES TWO! game glitches a little during matches where i jump back and forth or players just disappear. it froze on me a couple times after a match had to restart it. great game here guys i think it has a lot of potential, hence the three stars, just cut back on the frickin ads. also glitches and freezing problem.
This game is fantastic. I love it . graphics is very good. controls are smooth.shooting game lover should try it.
It just needs a jump and crouch feature, better trailer that doesn't have fake people playing it, not a FORTNITE stolen banner, and change it where you get 3 trophies when you win and the lose 17 trophies when you lose
Goos game but I gave It a 3 because there are such powerful guns because of peoples levels. One time I was playing with a top level guy who kept killing me with the best gun the gattling gun IT NEEDS TO BE DEBUFFED NOW.
so far so good just every now and then I get to a point where it slows to a stop and I die but uther than that so far so good and plus I like these king of cell phone games
Contact developer :
Video :
Download Combat Assault Shooter from Play Store
Leave your feedback regarding Combat Assault Shooter
Get more android apps/games/updates
Subscribe to our mailing list and get new android apps / games and updates to your email inbox.
Thank you for subscribing.
Something went wrong.