[Game] Tank Stars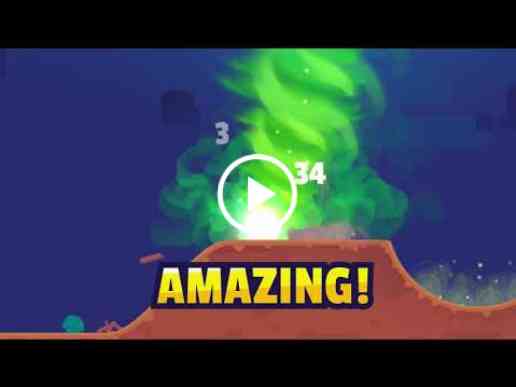 Halloween is coming to Tank Stars and to celebrate the most terrifying time of the year we are ready to present you a new event!
Don't miss a chance to fill up your collection with a new limited tank and survive this scary night with us!
Tanks at your fingertips. Choose a weapon – a simple missile to an atomic bomb – and find the right shooting angle and destroy your opponents.
Make the right shot quickly or you'll die!
Loads of deadly weapons: everything for perfect annihilation
Online multiplayer game. Play with friends
Cool weapon upgrades to make you really powerful and break-back
Epic graphic effects
You may also like
Tank Stars user reviews :
It's a very nice game, but the tanks hasn't changed for years. The only thing that changed is EVERY TIME it's your turn to attack, you get 1-2 30sec. ADS. And for worse after you finish the battle you get more ADS. If you one more game, then you'll have to watch one more ADS. Even claming your daily FREE chest you'll watch another ADS. The thing is those ADS are 30s and unskipable. For improvement remove all ads in the middle of the fricking battle. And in the daily FREE chest.
Honestly this game as good as it is it has way to many ads. An ad before a match, an ad after one play, another ad after two plays. I just feel like it is not worth getting if you are someone who just wants to play it without paying money. Other than that I think it's a very good game, it looks good, mechanics are easy and runs really smoothly. The only problem that brings it down for me is just the sheer amount on ads.
The game was great till the latest update. Game goes in fine but all the icons are missing. I cant see anything written. I can click on some because i remember where they are situated but i cant remember everything. Also i was fine with the adds. I can lice with it. But fix the game. There is something way out place. For now i am done with playing this game and spending money on it. Its unplayable now
This game didnt load on my device. It installed without error but when loading it would stick on a page of a yellowish orange tank shooting and wouldn't show any text. After a reboot I was able to get text to show but it was all pink blocks instead of characters. So there was no way to proceed. I tried installing and uninstalling twice and nothing changed.
Wonderful game, i used to love it until today. Just started the game and every single icon misses. I've restarted the game and my phone as well (Samsung Galaxy S7 Edge) but it doesn't change anything… Please fix this, this is my favourite game :c it would get 5 stars without this bug
I love the game but there's some issues. For instance after tournaments you're supposed to get a chest. I claimed mine and the chest disappeared. And when you watch an ad to get a free chest sometimes the game crashes right after the ad is done and you don't get the chest. Its pretty aggravating. And lastly Ive had the same problem with buying chests. Please fix this!
Loved the game till current update. The controls r all gone and so is health. I tried to uninstall and reinstall game to no difference except I lost all my progress and I had 6 thanks unlocked and and each was half upgraded. Dont know whats up.
Amazing gameplay and graphics are quite a good… Updates are expected such as: – Same level of opponent – More earnings from PVP compare to playing against bot – PVP Tournament Bug issue: – Sometimes app crashes due to some ads
This game is so good! Beautiful concept and graphics and really fun to play. The main issue is the ADS! I do not mind ads, even when this game makes you watch a semi skippable ad after a game and another one for the reward chest and every time you want to do anything. I do not mind those as long as the game is fun and it is. The problem is that after a while, the game starts to crash after or during the ad, it freezes and you have to close the app and reopen it to continue playing. It becomes tiresome when you have to do it 3 or 4 times every 30 minutes. If this problem is fixed this game takes easily 5 stars from me, but until then its only 3!
Contact developer :
Video :
Download Tank Stars from Play Store
Leave your feedback regarding Tank Stars
Get more android apps/games/updates
Subscribe to our mailing list and get new android apps / games and updates to your email inbox.
Thank you for subscribing.
Something went wrong.