[Game] Tanks A Lot – Realtime Multiplayer Battle Arena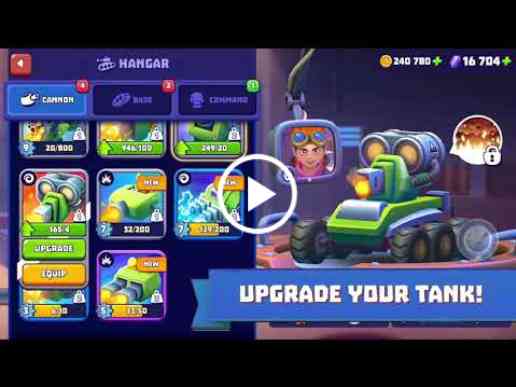 Incredibly dynamic and fun multiplayer game.
Build your tank from dozens of parts, play with your friends & dominate the arena – 3 vs 3 PVP action. Try different tactics and win. Choose a tank and join the battle! Download Now!
Tanks A Lot! features four distinct game modes:
shoot your way in a classic, adrenaline-filled Deathmatch
fight for resources in Brawl
be the last man standing in Battle Royale
play football in Tank-O-Ball, but with tanks!
Need more? No problem!
We have machine guns, artillery, napalm, tasers, railguns, plasma cannons and much, much more. Select weapons that best fit your play style!
There are shotguns for those that like to get up close and personal, lasers for tech geeks, and sniper turrets for long-distance assassins.
Defeat the enemy combat vehicles or be the last man standing in Battle Royale mode—Tanks a lot! is a fascinatingly deep experience that requires careful strategy in each lightning-fast battle
Customise your tanks and dominate the battlefield! Play Now for Free!
Tanks A Lot user reviews :
This is one of the best games ever! It's very well made, with enough content to keep you playing for hours, although I would love to have more modes available at the same time. One problem though: I was opening a box and my internet dropped; when I reopened the game, my box was gone and I had no new parts. Would be nice to receive my box back or at least fix this for the future!
The game is incredible. the only game that has this style and i love it. i tried to play and played a lot even when having SERIOUS issues. i wanted to even buy stuff to enhance my experience but the issue is that the game literally uses A shitload of ram. i have 1gb of ram. yeah, it s not a lot. but World of tanks blitz works literally perfectly with medium graphics and no issues at all but THIS eats away my ram? the phone kept crashing be cause only 50-150 mb ram remains once i open it. fix it
Used to be a great game. New devs made it worse with every "improvement". Added more buttons in the way of view, added so much animation it lags almost all the time., they allow cheaters in tournament play that take no damage and so on. After playing since original release, now sick of it. Uninstalled. Got back to it over a year later and nothing changed. Still fighting indestructible opponents, reporting does nothing to stop those accounts. Over it…
did you guys know you have a typo on the grenade parade damage info? bounce of the ground… (should read: bounce off the ground or bounce off of the ground ) Cheers! Awesome game thanks!
The new update, is, again, so frustrating. Certain cannons no longer can shoot over cover/wall – which they could before. If they keep nerfing everything so much, why not give everyone exactly the same cannon, and then at least no one will feel so frustrated…
BoomBit Games

Dear Player, If you're having issues related to payments and in-app purchases please contact us at support@boombit.com. We will do everything in our power to help you quickly and to your full satisfaction. Best regards, BoomBit Support
excellent game, love almost everything about it. Almost being the key word. After playing for a while and trying out all the battle modes and getting 5k trophies i only saw one shortcoming. The game mode selection is a problem.You should be able to chose one of the four and not just the normally 2 game modes. Having it the way it is now is a big bummer when I can't play the game mode I want and having to wait 12 hours sometimes for it to not even show up. So basically let us chose from all modes
Tanks a Lot is like the best game ive ever played its a great time killer, good graphics, gamemodes are sweet and evrything is great about this app keep it up guys!
The game is very addictive! Wanna play with friends
this game seriously needs add a friend and play with friends option otherwise it will be short lived!!!!
I like this game and if you are really good at gaming then this game is for you.
Nice game love it
Latest Update :
Ready for the next Expedition? Well, we are! Sett off on the new adventure in a few days. Explore various biomes, gather resources and get more fragments of Shattered tank parts.
Contact developer :
Video :
Download Tanks A Lot from Play Store
Leave your feedback regarding Tanks A Lot
Get more android apps/games/updates
Subscribe to our mailing list and get new android apps / games and updates to your email inbox.
Thank you for subscribing.
Something went wrong.