[App] Termius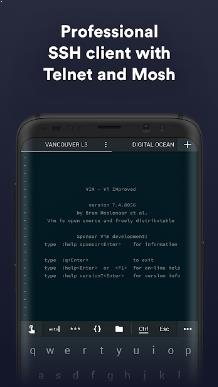 Termius is the best way to manage, UNIX and Linux systems, whether that would be a local machine, a remote service, Docker Container, VM, Raspberry Pi, or AWS instance. In other words, Termius is Putty for Android but with awesome design.
Free Features:
SSH client with support of ECDSA, ed25519, and chacha20-poly1305
Desktop app for Windows, Mac, and Linux
Mosh & Telnet protocol support
Local terminal with bash
Built-in RSA/DSA/ECDSA key generator and Putty keys importer
XTerm-256 colors, VT100 and vanilla terminal types support
Local, Remote, and Dynamic port forwarding
Automatic icon recognition, e.g., Raspberry Pi, Ubuntu, Fedora
Hardware keyboard support
Password, key, and 2FA authentication
11 awesome color schemes
Terminal Touch with the support of arrow keys, Ctrl and Alt.
Organize hosts into groups to share settings among them
No ads or banners
Premium Features, $29,99 annually.
Cross-device sync *
SSH key agent forwarding
SFTP client
Terminal tabs
HTTP/SOCKS proxy
CLI tool to export ~/.ssh/config
Fingerprint protection
Home Screen Widget
AWS EC2 and Digital Ocean host import
Host chaining
Save and run snippets
Env variables
Using zero-knowledge cloud storage with 2FA protection. All the data encrypted on the client-side using AES-256.
You may also like
Termius user reviews :
Port forwardings work very well Nice that I can save session password. Nice pictures explaining forwardings. Would be nice to have terminal size manual setting. Crashes after restoring with titanium backup
Very good app, i really like the customizable keyboard shortcuts and the multitude of settings and options! thanks for the good work!
Awesome app. Very handy when I am away from my laptop. 5 star no doubt!
I always pick paid software where i can, to support developers, to avoid ads, and you feel i have an app working for my interests. There's no price guide available when signing up for this app, but it's emailed during the 'free trial'. $100 per year. That's just ludicrous. It's perhaps worthy of $10 altogether, considering it's specialist market, or $3 per year considering the possibility of ongoing development (though on a pc, putty hadn't needed significant updating for decades). Anyway, bye!
A very nice app for managing your server. Just wish they had different price tiers according to number of servers as it is costy for small customers.
The free version of the app is not a limited experience. The only ads are for its subscription service. You can store profiles of SSH and Telnet. You also have the ability to use public private key encryption. I've been using the app for around 2 years. A $9.99 subscription adds synchronization between devices; including desktop; SFTP; sudo password autofill; and scripting. There isn't a comparable app. My rating is because I can't choose which Gmail account my subscription is on.
It's pretty satisfying to update your raspberry pi remotely, without having to access a desktop. Thanks a bunch for developing this. My only criticism is that the terminal doesn't scale when you modify the text size, which is a bit inconvenient.
great ssh client on mobile. I hope this will always available free to use for personal usage.
My favourite ssh utility for Android. It works really well with my external keyboard too.
best app it makes my remote session easier. I don't have to take my laptop everywhere anymore.
Great terminal for ssh, the keyboard setup and customization is very useful.
Works ok basically. The issue is: Huge battery drain in this app. I left a ssh session opened overnight and my phone was super hot and with 50% of battery
Termius Corporation

Hello, Thank you very much for bringing this problem to our attention. Could you please get in touch with us at team@termius.com? We'd really like to investigate this issue.
This app works great just that the font is way too small to see on chromebook screen
Switched from JuiceSSH to this since it supports a resizable window on Chromebooks. Great visual customization, great feature set, very satisfied.
Easy to use, good keyboard shortcuts layout and i like the idea to differentiate color scheme for different server.
the best ssh app, and thank you for supporting of BB10 os
Good terminal for Android. But why does this app need permission to view my my media? I am only SSH'ing to different servers from my device…nothing locally. Really annoying.
Crystalnix Limited

Thank you for the feedback. Termius should request this permission only when you start the Local Terminal, local SFTP (by default on SFTP screen) connection and at searching ssh keys on SD card features. If you've experienced this request for another action in the app, we would be glad if you will contact us by this email: android[at]termius.com
Contact developer :
Download Termius from Play Store
Leave your feedback regarding Termius
Get more android apps/games/updates
Subscribe to our mailing list and get new android apps / games and updates to your email inbox.
Thank you for subscribing.
Something went wrong.