[Game] The Revenge of Shinobi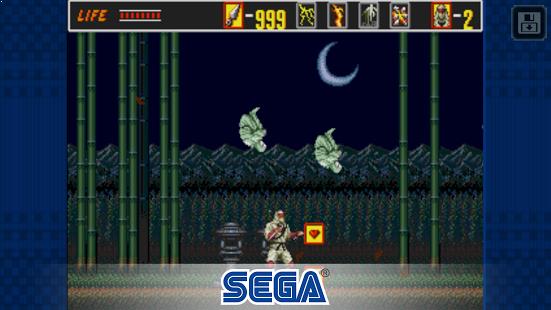 Reap revenge in SEGA's legendary side-scrolling beat 'em up, now available on mobile for the very first time.
You are Joe Musashi, a ninja out for revenge against the evil criminal organization Neo Zeed.
They've killed your master and captured your bride, so now you must travel the globe to dish out ninjutsu justice to the crime syndicate. Master ninjutsu techniques and collect mystical power-ups as you fight your way through this retro classic.
The Revenge of Shinobi joins the SEGA Forever classic games collection, a treasure trove of free SEGA console classics brought to life on mobile for the first time!
FEATURES
Eight globe-trotting districts, each with its own unique boss battle
Secret power-ups hidden throughout the game
Collect shuriken to take out enemies from afar (psst… the old code still works!)
Master ninjutsu techniques and devastate your foe
Summon fire and thunder to take out entire waves of adversaries
Four difficulty levels, from beginner to master ninja.
SEGA FOREVER FEATURES
PLAY FREE
SAVE YOUR GAME PROGRESS AT ANYTIME
LEADERBOARDS – compete with the world for high scores
CONTROLLER SUPPORT – fully integrated wireless Bluetooth controller support
OFFLINE PLAY
GAMES RELEASED EVERY MONTH – Download them all!
RETRO REVIEWS
I just didn't want to stop playing. [94%] – Julian "Jaz" Rignall, Mean Machines #1 (October 1990)
Brill graphics, exceptional sound, and uncomplicated gameplay make for excellent ninja-fighting thrills 'n' spills. [93%] – Paul Rand, Computer & Video Games #99 (February 1990)
Distressingly involving and hair-wrenchingly addictive. [92%] – Julian Boardman, Raze #3 (January 1991)
TRIVIA
Spider-Man was once an officially licensed character in the game
There have been many revisions of the game due to copyright issues
Legendary composer Yuzo Koshiro also wrote the music for both Game Gear Shinobi titles
CLASSIC GAME FACTS
Originally released in 1989 in Japan and North America, with the European release arriving in 1990
Known as The Super Shinobi in Japan
Released in arcades on SEGA's Mega-Tech platform
Privacy Policy:  www.sega.com/mprivacy
Terms of Use:  www.sega.com/terms
Game apps are ad-supported and no in-app purchases are required to progress; ad-free play option available with in-app purchase.
© SEGA. All rights reserved. SEGA, the SEGA logo, Revenge of Shinobi, SEGA Forever, and the SEGA Forever logo are registered trademarks or trademarks of SEGA Holdings Co., Ltd. or its affiliates.
You may also like
The Revenge of Shinobi user reviews :
Hello, sorry, this game inside the Sega device was a very interesting game, but this version that you put inside Google Play has neither quality nor graphics, thank you for your nostalgia, good luck.
Was looking forward to playing this. This was my game back in the day. Unfortunately this will not load beyond the main screen. Upon selecting start, it resets back to the opening screen. Disappointed!
I would probably rate this 5 stars but the game wont load past the opening load screen super disappointed because this was mu favorite game as a child and I want to play it so bad. i lost ne sega genesis in a fire as a kid or I would still be playing on my sega Genesis system. Please fix your game!
DOUBLE JUMP. DOES. NOT. WORK. 99% OF THE TIME. FIX IT FOR GOD'S SAKE!!!!!!! Phew. Such a shame for it is a great game, played it to death in the 90's and never had a single issue with double-jumping and throwing shurikens. It is VITAL that it works every time, WHO has the time to spend perfecting it when one's being attacked from all sides?! PLEASE FIX IT IF YOU WANT 5 STARS.
Double jump works fine, the same way it did in the original, all of the reviewers complaining about it are simply uninformed. Hit jump again at the very peak of your jump – not sightly before or sightly after, it has to be right at the peak. This is Shinobi, not Mario, it's going to take a bit of skill and practice. Eventually it'll just click and you'll be able to double jump every time. Have fun on the log jumping waterfall level, this purposely built mechanic keeps the game challenging
Look I love this game! The original gameplay was great, this is a true classic. Please Sega don't ruin your classic games surely you can do something about the horrendous mobile controls. I've downloaded all your games so far and apart from crazy taxi you've ruined my childhood so far. I'm trying to persevere with the controls, but you press jump and accidentally shoot or power it's frustrating I can't build momentum. I like a difficult game but not wonky controls.
Really awesome! The game is really challenging though so be prepared when you install it. The music is so awesome on this game! The controls are a kind of hard but with practice it becomes easier. Overall one of my favorite games and I encourage you to try it if you like ninja games
Contact developer :
Video :
Download The Revenge of Shinobi from Play Store
Leave your feedback regarding The Revenge of Shinobi
Get more android apps/games/updates
Subscribe to our mailing list and get new android apps / games and updates to your email inbox.
Thank you for subscribing.
Something went wrong.