[App] Tides Charts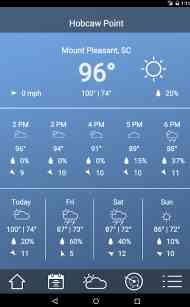 Tides Charts : Finally a beautiful and simple way to view tides on your mobile device!
In addition to worldwide tidal estimates, you can see the lunar data, weather forecast, and current radar making your next outdoor adventure as easy to plan as possible.
By default, the application will pick the closest station to you, but picking a different station is as easy as viewing a map of your current location. You can also setup and quickly switch between many stored favorite stations if you need to.
No internet access while outdoors? No problem. This app has been designed to give you tidal and lunar predictions without internet access!
The first time you launch this application may take up to 3 minutes to start while it generates textures.
Tides Charts- Tide Charts, Weather, Radar Near Me
Tides Charts user reviews :
Excellent app. Great visual display. Seems to work just about anywhere in the world. Random full screen ads can be a bit intrusive. Main downer is possible MoPub spyware: "MoPub display standard in-app ads and collect identifying information about your device and mobile network."
it's really help me, a lot. especially because I currently need to conduct regular survey in the nearest coast. Please fix the bugs, sometimes the app didn't work while I was opening it.
Functional, but full screen video ads with sound are unwelcome.
This app has a LOT more "stations" than other apps. You can get info that's really close to where you'll actually be. I also like the graphic representation of the tides. Other apps have graphics like this, but with this app you can look back in time as well as forward, so your not stuck with the time bar on the left edge of the screen at midnight. Also, the clock is a twelve hour clock, which I prefer. What's 17:37 anyway?
Used to be a great app, but full-screen and full-volume ads means an instant uninstall for me. This is not how you get people to pay for the ad-free version, I don't reward shady behavior.
Wonderful app, however… It shows a tide station right smack dab in the middle of Mali. Being a completely landlocked country in the Sahara desert Mali seems an odd place to have a tide station. Said station purports to be Mayaguez, PR. Interestingly the Mali version of Mayaguez shows information different to that which is shown for the Mayaguez on Puerto Rico. Little inconsistities like this have the effect of lowering confidence.
Great customer service via email – response in under 5min. Great visual app. Would be great to get a widget 4×1 that has the running tide curve on your home page!
Overall a very good app. It's easy to use and easy to find information. The only set back is that the display quality varies depending if you are using it on your phone, tablet or car android radio. Seems to only work well on your phone
Finally! App actually has useful tables in addition to tide heights. I must have loaded and unloaded 8 apps before finding this one. It isn't the old long lamented tide tables of my youth, but it is pretty good and easy to navigate. I recommend it.
I love the visual layout showing the tide graph as well as the sunrise/sunset. i also love the way you can make it show my nearest tide data, or one of my favourites. It was worth paying for the ad-free version of an app that i use so much.
Great little app. Simple to use. Gives all the basics you want. I use this for fishing. Locations, tides, lunar cycle, weather – all in one place. Highly recommend.
Contact developer :
Download Tides Charts from Play Store
Leave your feedback regarding Tides Charts
Get more android apps/games/updates
Subscribe to our mailing list and get new android apps / games and updates to your email inbox.
Thank you for subscribing.
Something went wrong.