[App] Air Quality – AirVisual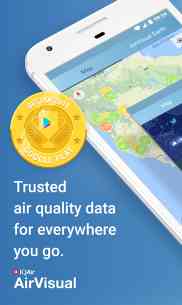 AirVisual : No advertising – just all of the air quality information you want, in one place.
Welcome to the first and only app to provide real-time and forecast air pollution and weather data for more than 10,000 cities around the world.
Features:
Historical, Real-time, and Forecast Air Pollution Data that matters: detailed figures on key pollutants for more than 10,000+ cities in 80+ countries.
7-day Air Pollution and Weather Forecasts: information to help you plan your outdoor activities.
Health Recommendations: follow our advice to lower your health risk and achieve minimum exposure to pollutants. Relevant information for sensitive groups with asthma or other respiratory (pulmonary) diseases.
Weather Information: your one stop for temperature, humidity, current conditions and forecast weather information.
Link your air quality monitors to the app: www.airvisual.com/air-quality-monitor
Live Monitoring of 6 Key Pollutants: track real time concentrations of PM2.5, PM10, ozone, nitrogen dioxide, sulphur dioxide, and carbon monoxide.
"Sensitive Group" Air Quality Information: relevant information and forecasts for sensitive groups, including those with respiratory (pulmonary) illnesses, such as asthma.
Historical Data Graphs: view short-term air pollution trends for the past 24 hours.
Ad-Free: enjoy the full app nuisance-free.
Trusted Air Quality Stations: access US Embassy & US Consulate readings for China.
Growing Coverage: monitor China (with US Embassy and consulate ratings), India, Malaysia, Singapore, Japan, Korea, USA, Canada, the UK, Australia, Mexico, Brazil, France, Hong Kong, Thailand, Indonesia, Chile, Turkey, Poland, the Netherlands, Mongolia, Andorra, Czech-Republic + more – and cities such as Beijing, Shanghai, Guangzhou, New Delhi, Tokyo, Mexico City, Bangkok, London, Los Angeles, New York, and 9,000 others – in one place!
Permissions required:
WRITE_EXTERNAL_STORAGE: AirVisual stores the air quality data in a database
READ_EXTERNAL_STORAGE: AirVisual stores and read the air quality data in a database
ACCESS_COARSE_LOCATION: AirVisual needs to know your location to return local air quality data
ACCESS_FINE_LOCATION: AirVisual needs to know your location to return local air quality data
GET_ACCOUNTS: AirVisual uses accounts to share air quality data with other apps
AirVisual user reviews :
Hello! This app is so helpful and I literally suggest it to those who want to know about their air quality and compare it to other countries. And it also gives some health recommendations depending on your air condition. But among all these good characteristics, it doesn't show my city correctly. I entered and saved my city's name,Tehran, a couple of times but it shows Khoramshahr instead. So I politely ask the producers to fix this problem. Thanks.
The app is fine for locations other than mine. While the rest of the locations saved as favorites show the correct dates and days, the one for Concord, CA is stuck on Mon, Tues, Wed. That is my main go-to location, and it's incorrect. I tried deleting the location and saving again, with the same result. I have breathing issues, so it's important that I get accurate info.
I live in Asia now and I'm learning that the air quality changes rapidly. Today we were out enjoying a fresh green day and then when we got home, were shocked to see that it had turned red during our outdoor time. I turned off the threshold alerts because I keep my phone on do not disturb always and have this app override it, and I can't make the threshold alerts only during certain time periods like say 11am-11pm. They go off all night. Add this & this app would be an easy 5 stars! LIFE SAVER!
Excellent data, if you are using official (government or University) collection points. Data modelled from satellite imagery and nearby sites is probably ok in normal situations, but has proven to be unreliable in recent extreme events in Australia. It's good that those points are noted with an asterisk. Keep that in mind, and it's a great app.
Contact developer :
Download AirVisual from Play Store
Leave your feedback regarding AirVisual
Get more android apps/games/updates
Subscribe to our mailing list and get new android apps / games and updates to your email inbox.
Thank you for subscribing.
Something went wrong.