[Game] Tinker Island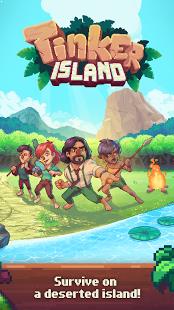 Shipwrecked on a deserted island!
Only you can help the survivors escape…
You're cast away on a TROPICAL ISLAND. Become the leader of SURVIVORS in this lost PARADISE. Take them on an ADVENTURE of a lifetime – build a base, explore mysteries or forage treasures.
FIGHT vicious enemies, tame savage beasts, kindle romance and solve RIDDLES. When the island SPEAKS to you, will you answer?
FEATURES:
Lead a band of survivors using simple swipes
Choose your adventure
Explore a huge lush world
Experience a talking island
Fight many dangers that lurk behind every bush
Forage resources to survive
Build a base and upgrade structures
Craft weapons and tools
Discover a gripping storyline
Uncover the terrible secret of Tinker Island
WARNING! No wifi on the island. You're on your own!
PLEASE NOTE! Tinker Island is free to play, however, some additional items can be purchased for real money or through special offers. If you don't wish to use this feature, please adjust your device's settings. By installing this game you agree to Terms of Service published here:  www.trickytribe.com/index.php/terms-of-use/
You may also like
Tinker Island user reviews :
Great game except my battery heats after 30 minutes of playing, after an hour it lags/turns off my phone. By it's gameplay I'd give it 5 star's. I do realize this game is made for the computer, but you could of have given it a little more work and time, if you would do this I'd be very pleased with this game and even if you don't, it's still a great game. (For anyone saying I have a bad phone and it's from me, I have an S10) Thank you for this amazing game and killing some time in this quarantine..
I like the style of the game, but the game itself sucks. I send all of my people to do something, but they didn't start working. I left it like that for a few hours and it still didn't work. This happened before, but it worked after a few hours. I had to uninstall it, and now half of all of my progress is gone.
Nice! One particularly interesting thing is that if you have a timer (n seconds until this building is complted), and it's below a certain period left, it allows you to complete it for free.
I really enjoy the game, but the part in which you need to understand which canister fills up 1st is wrong. 1st part should be the 6th, 2nd should 7th and 3rd should be 6th aswell. I dont even know if there are more, bcuz I keep on running out of corrals trying every single possible variant.
I usually like the game but I got into a bug i think. I send all my survivors to harvest resources from left panel and the task didn't stared at all, so now I don't have any people to continue the progress!
Great game, however, you cannot build some buildings without adding facebook friends… I do not want to add facebook friends just to be able to play the game
Awesome game, lots of things to do. I especially like the garden mechanic, which gives you something to do and still progress while the survivors are off somewhere. But the amount of ads has become unbareble… At least make an option to buy an Ad Free package or some other option to disable at least the random pop up ones.
I enjoy to play the game and when there is an add for bonus rewards I tend to watch it, I don't mind watching those, however when I get bombarded with a separate ad (about 1 a minute). It tends to become frustrating. If they could cut it down to like q add every 3 minutes then if you tend to watch the optional ads cut it down further it would make the game much more enjoyable.
Outstanding customer support! I contacted tricky tribe after my phone executed a factory reset, and within 24 hours they responded with support. After less than 48 hours my account was restored with the assistance of detailed instructions on how I can essentially "help me help you". Once again thank you for the assistance!
Fun survival Great survival planner that while a little text dependant captures the fun of a choice based game, giving multiple options that all lead to positibe improvements and negative concequences. Though I will admit that the amount of resources you recieve are very limited even at the beginning and it forces the sense of pay to play. Even when I finally built resource stations, the actual worth they make was bare. Rly stinks as it forces long periods of waiting or large gem usage. More a 2.5 out of 5 atm
Latest Update :
Performance improvements
Other bugfixes
Contact developer :
Video :
Download Tinker Island from Play Store
Leave your feedback regarding Tinker Island
Get more android apps/games/updates
Subscribe to our mailing list and get new android apps / games and updates to your email inbox.
Thank you for subscribing.
Something went wrong.