[Game] Toonydoll
 gacha life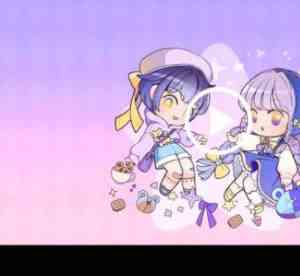 Unniedoll & Oppadoll are coming back!
Make your own cartoon-style characters Toonydoll
Your own character will be the most special and adorable in the world.
Create your own Toonydoll characters
Select face, skin, hair and make up to customize your characters.
Dress up your toonydoll with hundreds of fashion items.
Decorate your screen in Toonydoll Studio
Add your own characters and cute stickers on the screen.
Share your scene on SNS and have fun with your friends!
Make new friends in Toonydoll World
Play your toonydolls to make new friends in the world.
Show off your characters and enjoy interactions with others.
Happy shopping in Toonydoll Shop
Just play with your characters and get chances of getting diverse items.
Enjoy your shopping with hundreds and thousands of fashion items.
Toonydoll is the best one for anyone who..
want to make own characters.
enjoyed the Unniedoll or Oppadoll.
is interested in fashion.
want to make new friends and play with them.
Toonydoll user reviews :
This game concept is really cute, and I quite enjoy it. My problem, however, and this might just be my phone, is how it runs. First time I opened it up, I didn't get past a google play games sign In screen. A little while after trying, I couldn't get past the startup screen, so I gave up. The next day I was able to play, though I could not open world mode or do many things at one time without the game crashing, and loading takes forever.
The game is fine. I got an ad for it on Instagram so I thought I would check it out. It works perfectly, but kind of boring. You aren't able to get some outfits or items unless you watch an ad. The problem is, after watching the ad 2 times it still didn't give me the item. All I wanted was so black socks, smh. The world was pretty cool, but there wasn't that many people there. The chat works perfectly, and it tags out swear words and stuff. Overall, this game is pretty good but very boring.
The game is fun and cute ,not much to do though I also have a problem any time I get a add it brings me to the play store even if I don't tap it and when I get back into (toonydoll) the app it doesn't give me the thing I watched the add for.
It's an okay game. Just like you dress up OC's, which is cool and all. Now I'm not trying to say it's a horrible game. Just at least every 9-10 minutes of playing, it crashes. It could be my internet connection or it's lagging. Also, there is nothing really to do. There is Minigames to get Coins. (I don't really understand one of them ) There is a world so you can make friends over the internet! But it's a okay game, so about the crashing… if a developer is reading, what should I do?
The game is okayish, I wish there was more to do and stuff. Like I wish we can have our own little house area just in case we don't want to go to the plaza, or like more world naps and maybe have mini games you can actually play with other people. Just more stuff in general. I mean it's a cute interactive game but other than that it's boring.
I personally really like this game. There is not a lot of ads. Plus most of the ads are optional anyways. I like that there is other things to do other then just make new charcters. Although I have a slight problem. When I am in the world I can't type anything in the chat. I am also hoping that there will be more mini games to do though. Otherwise I generlly really enjoy this game. And it is also not a pay to win game either.
I love this game and been playing for the past few days. But it had an update today 4/27/2021 and my character looks like a block, no features, no face it looks like a minecraft person. Is there any help for this? Thank you
Hi i love this game it's fun and plenty of good people on the server, but if i may suggest can you put a contest daily? Like theme : School , Princess , Halloween. And stuff you can put the genre like : Cute , Simple , Elegant and so That's all thank you for giving me such wonderful dress up game. Oh and i love the daily store it's wonderful. Another thing you should out more world to make it more fun
The game is great except after the recent update it began to kick me out after attempting to get into the game . UPDATE: I can play again, but…if I'm in world for a while, it does get laggy and have to exit and rejoin. Wasn't an issue before update.
Contact developer :
Download Toonydoll from Play Store
Leave your feedback regarding Toonydoll
Get more android apps/games/updates
Subscribe to our mailing list and get new android apps / games and updates to your email inbox.
Thank you for subscribing.
Something went wrong.