[Game] Triangle Tangram
 creative destruction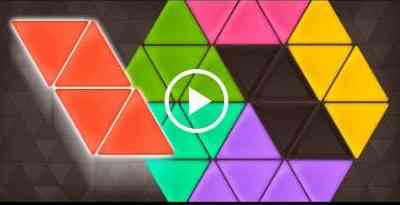 Triangle Tangram is a tangram style puzzle game with simple and addictive gameplay.
Completely free with multiple unique levels.
Suitable for all ages – intersting & challenging gameplay in best puzzle traditions. No hidden in-apps or donuts.
The Rules of "Triangle Blocks Tangram" game are simple:
Form a given shape without overlapping the pieces!
Aim to fit all tangram bricks into the frame!
Tangram bricks can`t be rotated!
Tap on bricks to remove them from thу field!
TriangleBlocks Tangram Features:
Thousands of unique tangram style levels!
Worldwide Highscores – You can compare your result with other players!
No time pressure or any rush – take your time & think enough to complete the best brick puzzle challenge ever!
Easy to play – for all ages!
TriangleBlocks Tangram – is the newest puzzle that will help develop mindfulness, awareness, logic and patience – Enjoy & Thank You for Playing our games!
Thanks for playing!
Triangle Tangram user reviews :
The tangrams r really fun & colorful. I always turn off sound. But ads r really intrusive. It seems as if after 2 stages, sometimes 1, an add pops up. It's expected but it's too many too soon, can't mute, many can't be shut down or skipped; really annoying. Some of the adds are for interesting games, but after you've seen the add dozens of times, it's a real pain to have to watch it again, & again. After level 1,000 u do get some new shapes but you also still get 3 & 4 piece puzzles. Boring.
Never thought I would be able to do such a game, have a space perception problem. I love that I not only succeeded in solving the puzzles, it makes me think! That is a good thing for an elderly (79) person to be doing!
I would like this game more is there wasnt an add after every level. Otherwise its fun and makes ya think.
Excellent time passer Minimal ads and it is a game that takes some thought. Download you won't be disappointed
Fun, relaxing, can be easy for some but I don't mind. It's colorful.
I personally found this game not challenging. Maybe if the levels were categorized as easy, hard, etc that would help. I deleted this app after flying thru 53 levels. I believe that is a fair number to base a decision on.
It is NOT true that this gets harder after level 1000. I stuck with it, even past 1200, but it is still easy, with no more than 7 tiles, and sometimes still only 3 or 4. I like it, just wish it actually got more challenging.
Love it! Peaceful game and you get to use logic
I like this. Some puzzles are harder than others. Hopefully as I progress through the levels some harder ones will be scattered in. I like the variety of easy and difficult.
As this game is new to me cause I have to make sure that I got the right shapes of each frame and it looks like that I'm doing it and it is very challenging for me indeed
I like it sooooo much…It has so beautiful shapes (i mean shapes with triangles). It is easy (for me). I love it
It takes a long time to get hard and needs more colors.
Fairly new for me. Love the challenge it presents. So far I am not uninstalling this. It is way to much fun. Thank You
Game starts out slow. It would be nice if the player could choose the level of game. Thanks
So easy to play…good graphics, Fun when you are chilling!!!!
Very relaxing game. Really sharpens your mind.
Just started and on Level 57. Seems to be interesting and calming while waiting to get car repaired.
Very engaging and challenging! No major ads!
I love Triangle Tangram very much and this is my first to play this wonderful game.
Keeps you thinking. But two reasons for the 4 stars; 1. Playing an ad after every single round is annoying, but I get it I guess. 2. What I don't get is the point system?? There doesn't seem to be rhyme or reason. Super easy levels give me 7 points while difficult levels give 3 or 1??
CASUAL AZUR GAMES

Hello. The points amount for level depends on number of pieces on the level only. Thank you!
SO MUCH FUN!!! This puzzle game is tricky, but if you are patient, you can figure out where the shapes go. A very good game to curl up and relax with. Great graphics too! Mastering the global leaderboard is tough, but the game itself is awesome! I recommend this puzzle game to anyone who enjoys a challenge…Cheers!
Contact developer :
Video :
Download Triangle Tangram from Play Store
Leave your feedback regarding Triangle Tangram
Get more android apps/games/updates
Subscribe to our mailing list and get new android apps / games and updates to your email inbox.
Thank you for subscribing.
Something went wrong.