[Game] TriPeaks Solitaire Mobile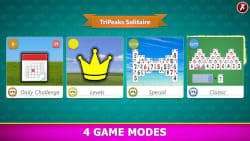 You start with a board of face-down cards that form three peaks.
Over these three peaks you will a row of ten exposed cards and at the bottom you will find a deck of cards and a waste pile. Tap cards one higher or lower to clear cards off the board. The game is won if all three peaks are cleared.
You can compete with people around the world. Check the online leaderboards after each game to see your global standing.
FEATURES
4 Game Modes: Classic, 290 Special Maps, 100.000 Levels and Daily Challenges
Complete personalization options: card fronts, card backs and backgrounds
Advanced Hint option
Unlimited Undo
Easy to play and simple to use
Designed for both Tablets and Phones
Beautiful and simple graphics
Smart In-Game Help
Statistics and many achievements to unlock
Saves your progress to the cloud. Play across multiple devices.
Online leaderboards to compete with people everywhere
TIPS
Match the top card from the waste pile with a card from the board that is one lower or one higher. Match as many as you can to clear the board.
You can match a queen with a king or jack, or you can match a 2 with an ace or a 3.The king can be matched with an ace or a queen and so on. A jack matches with a 10 or a queen.
If there are no matches available you can draw a new card from the stack. You can only make matches with the cards that are exposed.
Once you draw all the cards and no matches are available you are dealt a new deck.
You are dealt cards only 2 times and after that the game ends. If you clear a board you receive a free deal.
Support and Feedback
If you have any technical problems or suggestions please email us directly at support[at]gsoftteam.com. Please, don't leave support problems in our comments – we don't check those regularly and it will take longer to fix any issues that you might encounter.
TriPeaks Solitaire Mobile user reviews :
Very relaxing for me. Can play for hours. Ads are too long, though. Otherwise, I enjoy the themes, the different styles of cards, etc. No tournaments or feeling pressured to buy anything. I like single player mode (it is Solitaire, afterall), and I can just keep playing for as long as I want.
Finally a decent game without a lot of ads!! really fun and very addicting!! love this game 10/10
My favorite TriPeaks game but they took away the confetti and added a bunch of stuff. I used to like it because it wasn't cluttered but now it's kind of funky and when you click on a card, it goes swinging all over the place instead of just going to the pile like it used to. Down to four stars for the moment.
I like playing a game that isn't hounding you every minute to buy something, and this is that game. It's relaxing and fun. Only one thing about the cards and that is they are so small and I have to strain my senior eyes to make sure I'm picking the right card to make my play. Hope that can become fixed. Good game though.
I simply love every bit of this Tripeaks, in particular the frequency of Advertisment which is at its minimum
A tad slow and ads between every card deal but otherwise good.
Very relaxing, but ads seem very long.
Love the game but it often has ads in middle of game that freeze it
Love the game. Not to many ads
I like a little bit of a challenge and this one is too easy to get out
fun, easy to play,you can play against the computer and still win! great to have an android with you to play when just marking time if you were on a family vacation!
Used to like it. Fortunately I am using three versions ago, before they RUINED IT WITH ADDS. Naturally they do NOT respond to emails or reviews. It is the NORM now for vendors to ignore and be rude to customers.
Very challenging..releases stress
Good game I enjoy playing very good for all ages
I love it…fast easy…but I wish a few jokers.
I love this game because its just a very simple, no fuss tripeak solitaire. No nonsense or gimmicks.
only thing stopping me giving it a 5 is the size of the numbers, I have numerical dyslexia and it hurts to not fully enjoy the game
I like the landscape design. I like to use my tablet rather than my smart phone.
good game. would be nice if the card backing could be changed. I've rated this game quit asking to rate. Thank you!
Contact developer :
Download TriPeaks Solitaire Mobile from Play Store
Leave your feedback regarding TriPeaks Solitaire Mobile
Get more android apps/games/updates
Subscribe to our mailing list and get new android apps / games and updates to your email inbox.
Thank you for subscribing.
Something went wrong.