[Game] Truck Simulator USA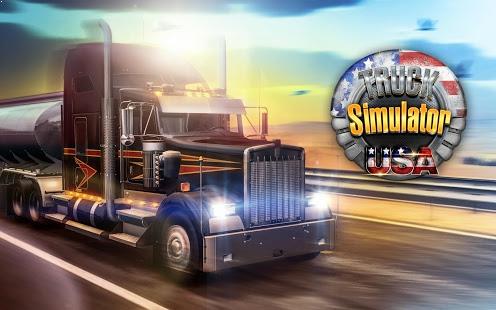 Want to know what driving an 18 Wheeler feels like?
TruckSimulator USA offers a real trucking experience that will let you explore amazing locations.
This American Truck Simulator features many semi truck brands, with realistic engine sounds and detailed interiors! Drive across America, transport cool stuff such as vehicles, gasoline, gravel, food, and many more…
Become a professional truck driver and enjoy the career and the online multiplayer mode!
Drive Across American, play Truck Simulator USA!
The best Truck Simulator 2017!
Features:
Many American Truck brands
USA, Canada and Mexico
Different climate locations: desert, snow, mountain, city
Improved Controls (tilt steering, buttons or virtual steering wheel)
Manual Transmission with H-Shifter and Clutch
Realistic Engine Sounds (V8, Cummins, etc..)
Lots of trailers to transport
Multiplayer Mode and Career Mode
Visual and mechanical damage on vehicles
New weather system (snow, rain, sun…)
Request new trucks or features on our Social Pages!
Truck Simulator USA user reviews :
Needs more settings… like for controllers. Maybe button size, button layout, as well. It need audio setting too 100%. Maybe tune it down on the adds during the driving part because sometimes it lags and I crash. But other than those I think it is a great game. Really fun. 100% recommend.
my trailer gets stuck to the walls or rocks just making a fast turn and I have to restart all my progress..it has too many bugs . Today I was making a 2,000 mile job and I got stuck on a rock about 30 miles away from destination just by touching in it with the trailer. It's not fair that I spend my time on this game and I'm not having what I as a player deserve. Please fix the game.
It's a good game,though I think more challenging tasks are to be added.. And looking at the roads and city the game seem to have few locations that makes it more simple and direct,add exciting challenging like tire burst,muddy roads and break down.
Why am I been forced to turn on internet connection even when I'm not playing multiplayer mode? Also the game has bugs that hasn't been attended to. Invisible speed limit, trailer getting stuck at the weight station, AI drivers stops for no reason and many more.
I liked the recent upgrades 2021 but this recent upgrade isn't my liking because I can't play the game offline. I like playing the game offline for many bothering reasons. Everyttime I try playing it off-line now it requires me to turn on my wifi, can this be fixed.
Great game, but couple things I don't like, 1 the npc's are terrible at driving and i crash into them. 2 the truck gets damaged to easily and the the sleep meter goes down to quick *it should go down faster when its night time*
It has improved since the the last game, tho it still has a few bugs. Mirrors have improved, but the ai of the traffic is annoying. I get back checked at every turn, and when I try to turn, a car will pull up beside me and block my path(and I get the fine if we collide, includingif I get rear ended). One addition I would love to see is ice roads in Canada, like long frozen lakes, and maybe the mountains too, WI it's sharp turns and steep cliffs. Overall though, it's a good game.
It's the best truck simulator ever. Please make it possible for our truck to hit each other when driving through each other. Real music should be played in the stereo. Hello, I need an upgrade to a wonderful grade. Can you make it possible that we can come down from our trucks and discuss issues. You know what I mean! The drives should be visible. We control them into the truck etc
This game is awesome, good graphics and good controls, and it will be even more awesome if there would be people walking around on the sidewalk, so everytime u crash a person u get charged, and if the states would be bigger, with more roads,i would give 5 stars if it had all that, but for now i give 3, maybe in the next update the creator of this game would put all does things i said
This is a very cool game espically the fact its no longer loading maps unlike the others i drive between 70 and 80 Km and it takes about 30 minutes for the longest job which makes it a beautiful long haul i wish that u would add more controls thank you
Its pretty good Game,l love Ovidiu Games especially this 1 'cause its no longer loading Maps giving a pretty drive all along..
Latest Update :
new tuning available!
new wheels available!
bug fixing!
new trailer!
multiplayer messages!
more updates coming soon!
Contact developer :
Video:
Download Truck Simulator USA from Play Store
Leave your feedback regarding Truck Simulator USA
Get more android apps/games/updates
Subscribe to our mailing list and get new android apps / games and updates to your email inbox.
Thank you for subscribing.
Something went wrong.