[Game] Truckers of Europe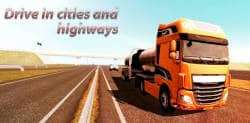 If you are tired of parking games this game is for you.
Drive your truck between cities and highways!
Select your job and deliver your cargo in an open world.
Complete the jobs , become a real trucker!
You can change position of camera by clicking camera button and change angle of view by swiping on the center of screen.
Features:
Realistic truck physics
10 different trucks to drive
11 different trailers
Day & night cycle
Damage and fuel
Tilting, buttons and steering wheel controls
Manual & Automatic gears
Interior Camera
Excellent HD graphics
Have a good drive!
Also see our list
Truckers of Europe user reviews :
It's a good game. It is very smooth to drive it. Some things need to be improved like the way is very long. But its not a problem. The main problems are add more locations to drive there are only four places to go. Also solve a big problem when the map is loading the game is lacking it's a very big problem. The truck is out of control and struck and damaged plz solve the problem. Also Improve the graphics.
It's a good simulator for begainers. Graphics are below par but gameplay is engaging and controls are good. Only things which I hate in this game is stupid traffic AI and no real time progress on map. Some cars and trucks deliberately tailgate the cargo which results in damage of cargo and loss of money. Also there are a few glitches in navigation system and it stops working sometimes. Please makes these corrections.
This game is not good. We cannot call it as Europe, because it doesn't have buildings. How can you even call it Truckers of 'Europe', when there are American Trucks? Also, the job lengths are also 'Super-Lengthy'. The interiors of the trucks are very basic. If you have changed the name of the game 2 years after, please change all the problems told above…
The game is good but i got some issues. First my trucks didn't have the right side side mirror which is awful when you want to change the lane on the road.Secondly there is an often reminder of where you're delivering your cargo even when you're driving, this is causing loose of control and damage of the cargo.Thirdly the map is like lagging behide.You'll notice you used the wrong highway afterwards and the map didn't show, the map shows where the highway branches after you've already passed!
just started playing this game. I noticed a few things the Ai cars are horriable will hit u from behind on highways and cause damage to the load and your truck and when i get my truck into a middle lane it slides into the right or left lane and also the steering with the arrows is very sensitiveplease makeit to where it tells us how far we have to go and there is a lotof lag Andalsoremove ads i get maybe 20ft up the road its ad after ad there is no need for ads while driving to deliver theload
Game is ok. But distance of straight road is tooo much.it is useless. Another big problem is "cruise control " cc is not working as its original functionality. It is working as accelerator limiter.(throttle limiter) it is to be improved
well this game is awesome , but the problem is traffic where other vehicles damage your cargo and the day and night cycle is pretty awful the night cycle is pretty long and all the cities are exactly the same . please improve on that.
I would have rated 5 stars but the graphics should be improved and the distances are too far and you shaould add pedestrians and more cities and when you pick up a car trailer there is this crane ontop of you please fix these. Thanks .
The game is pretty cool but the cities are too few, please upgrade your game and bring something new in it. Make sure you also introduce steering sensitivity, too much bambing in things.
Game is very good and controls of this game is best comperitively other simulation games. Gameplay is very good and light syst is very good. Mirror system is good. The main thing that makes this game wrost is the map and cities are so minimum and between path villages are absent.
Nice game, very easy and enjoyable. The problem is that when you drive on your way the other cars they just hit my truck unreasonable even if I put indication, hazard or side indication. Please improve on that.
Iam busy driving and when i reach my destination on my way to turn im giving a signal to turn but I'll here another truck have bumped me after it will Tell me to pay for the damage which is not good please improve . graphics are good . I'll give it 4stars .the other issues is that I'm following a car and im in a high speed suddenly the car or the truck it will stop in a high way and cum crush on the vehicle please emprove.otherwise the game is perfect
Contact developer :
Leave your feedback regarding Truckers of Europe
Get more android apps/games/updates
Subscribe to our mailing list and get new android apps / games and updates to your email inbox.
Thank you for subscribing.
Something went wrong.