[Game] Viking Clan
 free android apps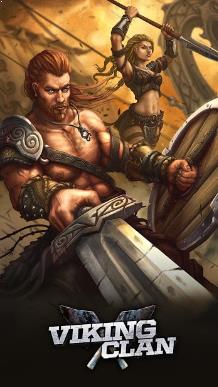 THE BEST FREE ONLINE VIKING MMO!
Grab Thor's Hammer and confront the giants, gods and monsters of the 9 Realms! With hundreds of adventures and thousands of achievements to collect, raiding and pillaging has never been more exciting!
Wage war in real-time against +3 million other players in this online Viking multiplayer game.
GAME FEATURES:
Hundreds of adventures across the 9 Realms of Norse Mythology!
Battle dozens of bosses, from mythical beasts to Norse Gods!
Level up, choose your skills and customize your Warrior!
Play with friends and form Clans!
Fight and raid against MILLIONS of real players!
Collect 1000s of weapons and warriors
Grow and manage your Viking Empire!
Purchase property and grow your income with idle game play!
Rank on leaderboards across multiple categories!
Beautiful artwork!
New content weekly!
FREE TO PLAY and no ads!
Build an empire that will ring through time. Prove yourself worthy of Asgard in Viking Clan, dethrone and clash against the Gods themselves!
More ways to play:
Play on Facebook: apps.facebook.com/vikingclan/
Play on Web: www.kanoplay.com/vikingclan
SUPPORT:
Support: support.kanoapps.com/
Community Forum: forums.kanoapps.com/
Note: this game can only be played while online.
Viking Clan user reviews :
Good game love it!!!everything's nice But I have one problem kano??when I click bounty it says refresh all the time I have tried it in many ways so plz give me a solution to that
KANO/APPS

Thank you so much for playing Viking Clan and leaving a review for us! We'd be happy to help with your issue, please get in touch with us in support – vikingclan.support[at]kanoapps.com
Just passed my 200+ day streak recently, it's a good game. I do wish for some sort of offline Support even if it's just receiving income and doing objectives etc. It's difficult playing this game in my area (Northern Scotland) at times but I understand it's an online game with servers etc. Still, it's a really addictive game that keeps the community connected.
KANO/APPS

Hello PlayTrailers, Sorry to hear about the sound scare! That may have happened due to a recent update resetting you sound options! We'll make sure to avoid that in the future, and hopefully earn back those 2 stars!
Game play is ok just out dated battle drops and adventure drops stats are so low they are useless for us higher level players am not even there yet but my lowest items used in battles are far better stats and getting billions in gold where our income is in trillions isn't much help either support isn't the best either at the best of times they can't fix your issues
KANO/APPS

We're sorry you feel that way, Kenneth. We appreciate the feedback, around Battle drops, as they can be a tricky part of the game to balance. Please feel free to get in touch with us and we'd be happy to try and help resolve any issues you have. – vikingclan.support[at]kanoapps.com
So far it's good it's a good RPG 55000 levels to go through Just takes a bit of time to recharge the skills
KANO/APPS

Hi George Nell, We're greatly appreciative of your 5 star rating, thank you so much! If you need some tips on how to get stronger, make sure to visit kano.helpshift.com , and please reach out to us if you have any questions at vikingclan.support[at]kanoapps.com
I'm not into Viking theme, sorry:/ But that's me before playing Assassin Creed vahaha. I haven't watch Viking series too
KANO/APPS

That's understandable, thank you Thurein! We appreciate your honesty and we hope that our improvements can lead to a 4 or 5 star rating. Please let us know if we can change up the game to improve it for you at vikingclan.support[at]kanoapps.com
I love, i widh there were more to do like build a ship and travel by sea
KANO/APPS

Hello David, Thanks for the 5-stars, we hope you enjoy the new Pirate Clan locations as they continue to come out!
Awesome
KANO/APPS

We're glad you think so, thank you for your awesome rating, Alton!
Easy to learn, various styles of play possible. Lots of tournies and Battles. Tonnes of Fun!
KANO/APPS

Thanks for leaving us a review Doug! We're glad to hear that you've been enjoying the game
The only thing I have a problem with us that it won't let me change my load out . Other than that I love it! Thanks Kano!
KANO/APPS

Hello Brenda, Thanks for the great rating, we really appreciate it! I'd be happy to help you out with changing your load out – if you want to drop us a ticket at support.kanoapps.com, we'll take care of that for you. Have a great day.
Contact developer :
Video :
Download Viking Clan from Play Store
Leave your feedback regarding Viking Clan
Get more android apps/games/updates
Subscribe to our mailing list and get new android apps / games and updates to your email inbox.
Thank you for subscribing.
Something went wrong.