[Game] Vlinder Story
 gacha life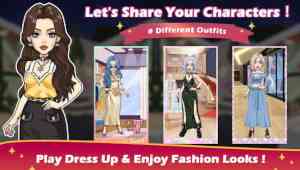 Gorgeous dresses are waiting for u!
As a character avatar maker/creator, put on different make up for your fashion charactors and participate in our beauty party! Enjoy the "funny anime" party!
What's more, enjoy the Water-Park Time in our Vlinder club! You can do a SPA! Relax your skin. Put on the beautiful makeups, dressing super wonderful dresses! Let's enjoy it!
Vlinder Features
A international fashion hair stylist & dress up games for girls.
More than 1000 items can be choosed.
Party/Salon/Water park are all in Vlinder games.
Tons of different chic styles makeup with creative beauties on eyes, faces, lips and hair to create your own characters.
Stylized fabulous beautiful dresses to wear for your fashion idol.
Various trendy and thematic accessories in Vlinder club.
How to Play
Open game and create your own characters to dress up.
First, put on a beautiful makeup: You can choose a favorite eyes, fashion hairing, different colorful and fashionable Lipstick in our beauty shop!
Second, there is a fashion salon in our Vlinder club! Welcome to enjoy the SPA! After finishing the SPA skin, it is really enviable! Your character must be the most beautiful in the party!
Nextly, there are so many gorgeous and fashionable dressing! Come and choose a super beautiful dress for your girl!
Finnally, you can use your talent and aesthetics to dress up the best-looking and most fashionable super idol!
You can decide everything! It's up to u! In the Vlinder club, you can dress up them as you like. Come and release your imagination to create your own character!
Wanna learn more? Are u instrested? Having problems or suggestions? We would love to hear from you! Sincerely!
Contact Us
FB group:www.facebook.com/groups/1050741318721305
Feedback email:support[at]31gamestudio.com
Instagram:vlinder__life
Tiktok:vlindergames_tiktok
Vlinder Story user reviews :
I love it so much it's cute but I wish we had more options for make up, clothing, and hair. I also wish more than half of the items to clothe my character wouldn't be locked with an ad which brings me to my next complaint the ads are too much I could just click on the free items and an ad comes up. Yes you need funding but you do not need to hide ads everywhere in the game. One last thing I chose the black girl but it shows a white girl when dressing up, I only see the black girl for texting tf.
Far too many ads, cant play for even a few seconds without getting one. I don't necessarily mind having to watch ads for more options, but there are so many more beyond that. Also i initially chose the character with the darkest skin (which is super grey anyway) but when actually playing, the character was white with no option to change the skintone. Which is awful, why bother offering players this choice when it doesnt matter.
It was very fun to play and you can dress people up as they are the games I like the only problem is that the dresses on it most of them you have to watch a video for it and most of the socks are to but over all it's a fun game and I recommend it for ages 4-8
This game is the best ever it helps me with styling and design skills but you should give your gamers some more of the dresses and accseories also its way too long to send messages or to take pics but its still mega awsome. #Thisgameisfire #Fourstars #Vlinderstory #Thisgameisfire #Downloaditnow!
It's not like any other dress up games that's why I have it a five but I'd appreciate it if you could make it so the player can change the size of the lips! (A bot did not make this lol)
Its very nice. So far, nothing has been bothering me. Ads are okay. Overall, everything seems great! I recommend you download this game if you like dress up games.
I love thos app it's super fun and cool. I love the clothes and the makeup. playing this game is soooooooo fun. I hope you like it too.The only problem I don't like is the adds it comes on like every 6 minutes.
The only reason I gave this five stars you're so I can get good clothing actually three Stars it's fun they only give you like one outfit but you have to watch ads get all the other the only reason I give it three but game
This game is really nice and fun but it would be better if there wasn't as many ads because it gets annoying but its still a good game
I'm pretty sure it said that if I rate highly I can get better fun. Idk what the actual quality of the game is but im in my bag. Can't blame a mf for trying.
Amazing! Just Amazing! The only problem is ads. A little too many ads but still florless
Contact developer :
Download Vlinder Story from Play Store
Leave your feedback regarding Vlinder Story
Get more android apps/games/updates
Subscribe to our mailing list and get new android apps / games and updates to your email inbox.
Thank you for subscribing.
Something went wrong.