[Game] War Dogs – Air Combat Flight Simulator WW II
 free apps android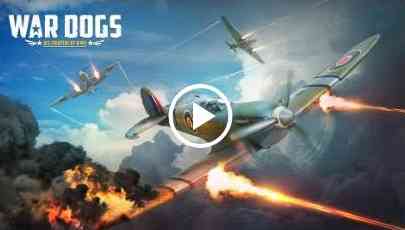 War Dogs is a world war 2 era air combat flight simulator game featuring 24 warplanes from the five major powers of the time- USA, Germany, UK, Japan and Russia.
The game features the full diverse range of airplane that were used in the great war- dog fighters, dive-bombers, torpedo-bombers and long range heavy-bombers. The game has both single player campaigns and multiplayer arena battles spread across five major theaters of war ranging from the deserts of North Africa to the shores of Japanese isles
War Dogs is built from ground-up as a flight simulator to offer the most immersive air combat experience, and unlike most WW II aircraft games on Mobile, War Dogs has both Arcade and Simulation grade controls for both rookies and experienced Ace Fighters. Take control of all three controls(pitch, roll and yaw) to pull off basic and advanced air combat manoeuvres like Barrel roll, Pitchback, Wingover and others like an ace fighter
Features like Cockpit mode and War Emergency power will offer immersive Flight Simulator experience on par with PC/Console air combat games/simulators
Take off and land on Aircraft carriers. Torpedo enemy warships, Dive bomb enemy installations and destroy their airfields
For King and Country(British Campaign): Defend the British shores from German Luftwaffe using the battle tested Supermarine Spitfire. Beat back the Kriegsmarine using biplane torpedo bombers like Fairey Swordfish
Always in Action(German Campaign): Dominate the sun-scorched deserts of north africa for the Luftwaffe using the menacing Stuka Dive bombers and light and nimble Focke-Wulf FW 190s. Hold the relentless British Allied advance with surgical strikes
Beneath the Rising Sun(Japanese Campaign): Spearhead the historic assault on pearl harbor that pushed USA into the World War 2. Decimate the American pacific fleet with air-strikes on their warships, aircraft carriers using Mitsubishi A6M Zero, Nakajima B5N and others airplanes
The Motherland Calls(Russian Campaign): Witness an entire nation mobilized to defend their motherland from the German blitzkrieg. Use the crippling winter in Russia to immobilize the German Wehrmacht and disrupt their supply lines. Deploy Iconic Russian airplanes like Ilyushin IL-2, Yakovlev Yak-3 and Petyakov PE2
Remember Pearl Harbor(American Campaign): Take the fight with the Imperial Japanese Navy to their shores. Use the full might of American Naval air power and avenge the attack on Pearl harbor. Deploy superior American aircraft like P-51 Mustang, F4U Corsair, P-47 Thunderbolt, SBD Dauntless, TBF Avenger, and the fittingly named Boeing B17 Flying Fortress
Multiplayer: Invite your friends and Battle out with them in Arena style Team battles. Choose your squad (2 Fighters, 1 Dive bomber, 1 Torpedo Bomber, 1 Heavy Bomber), and deploy them. Face off against Anti-aircraft Guns or Fleet of Battleships in Land and Sea battles while defending your own assets. Play either in flight simulator mode or arcade mode depending on your style. Become a Ace fighter by leveling up and upgrade your warplanes
List of Warplanes :
Fighter: Warplanes that excel in dog-fighting with superior speed,
and maneuverability compared to other warplanes
Supermarine Spitfire
P-51 Mustang
FW-190 Wulf
Messerschmitt Bf-109
Mitsubishi a6m zero
Ilyushin-2 Shturmovik
Vought F4U Corsair
Messerschmitt 262
Thunderbolt P-47
Yakovlev Yak-3
Nakajima Ki-84
Hawker Hurricane
Torpedo Bomber: Torpedo enemy warships as you dodge AA flak gun fire
Fairey Swordfish
Nakajima-B5N
Grumman TBF Avenger
Junkers Ju 88
Dive Bomber: Dive and launch surgical strikes on enemy assets
Junkers 87 Stuka
Douglas SBD Dauntless
Fairey Barracuda
Petlyakov Pe-2
Heavy Bomber: Carpet bomb enemy targets using the devastating but vulnerable heavy bomber
Boeing B-17 Flying Fortress
Heinkel He 111
Avro Lancaster
Mitsubishi G4M
Music By: Anup Jampala(Delta Four Soundtracks)
War Dogs user reviews :
This game is overall well made. It has a near perfect balance of challenge and fun, and has a very casual feel when playing. It is also a plus that there is no pay to win mechanics, just pure free to play progression. Overall a very good game for people to pull out and have a relaxed gaming session.
Single player is good to learn how to play the game and use different types of planes. If you like games strictly for single player this game is not for you, as the campaigns are too short. I really enjoy the multiplayer, however I would like a way to play with friends who also have the game. It would also be good to be able to see statistics for my planes (how many planes I've shot down with my spitfire or my hurricane, kills per game, times I've been shot down, etc.
For an 'offline' game, campaign missions are WAY to short. Shoot a plane. Land the plane. Take off shoot a plane. Those are 3 separate missions (each faction has only 7 missions, so thats half a campaign). Actually stuck on a bombing mission, where I'm unable to even hit ONE (and you need to sink two) destroyers with A (singular) bomb before being destroyed by AA guns. Online action seems to have one mode, and your planes require energy recharge time after each battle.
Very good game. Graphic is all right and controls are kind of similar to real simulator ones. So if somebody know how to fly aircraft he will find this game close to simulator. Good to have decent plane at start like spitfire and you can enjoy simple missions to get some experience in flying and using guns. An adventage would be to have expert control mode for future. But all on all one of the best games on smartphone I ever played of this kind. Recommend to all simulator fans.
Contact developer :
Video :
Download War Dogs from Play Store
Leave your feedback regarding War Dogs
Get more android apps/games/updates
Subscribe to our mailing list and get new android apps / games and updates to your email inbox.
Thank you for subscribing.
Something went wrong.
Sponsored Links
If you like our content Buy Us a Coffee
Bitcoin
Ethereum
Tether
Tether
Cardano
Xrp
Polkadot
Binance coin
Stellar
Dogecoin
Tron
Elrond
Vechain
Digibyte
Polygon matic
Donate Bitcoin to this address
Scan the QR code or copy the address below into your wallet to send some Bitcoin
Donate Ethereum to this address
Scan the QR code or copy the address below into your wallet to send some Ethereum
Donate Tether to this address
Scan the QR code or copy the address below into your wallet to send some Tether
Donate Tether to this address
Scan the QR code or copy the address below into your wallet to send some Tether
Donate Cardano to this address
Scan the QR code or copy the address below into your wallet to send some Cardano
Donate Xrp to this address
Scan the QR code or copy the address below into your wallet to send some Xrp
Donate Polkadot to this address
Scan the QR code or copy the address below into your wallet to send some Polkadot
Donate Binance coin to this address
Scan the QR code or copy the address below into your wallet to send some Binance coin
Donate Stellar to this address
Scan the QR code or copy the address below into your wallet to send some Stellar
Donate Dogecoin to this address
Scan the QR code or copy the address below into your wallet to send some Dogecoin
Donate Tron to this address
Scan the QR code or copy the address below into your wallet to send some Tron
Donate Elrond to this address
Scan the QR code or copy the address below into your wallet to send some Elrond
Donate Vechain to this address
Scan the QR code or copy the address below into your wallet to send some Vechain
Donate Digibyte to this address
Scan the QR code or copy the address below into your wallet to send some Digibyte
Donate Polygon matic to this address
Scan the QR code or copy the address below into your wallet to send some Polygon matic