[Game] Warpath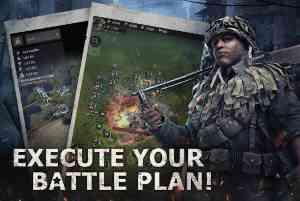 A pungent stench surfaces as a powerful force takes control… Evil incarnate.
Their obsessive training rituals and sickening brainwashing practices have become aggravated. They chant "Purge the scum! Crush the weak!" until daylight. Innocent lives are taken at a frightening pace and once-loyal soldiers turn to the dark as a barbaric army quickly gains power.
Only a brave Commander can forge a unique Warpath to freedom and justice! Train your soldiers and equip your army with powerful units fit to take on Raven. It's your call—you're in command. Strategy is key.
Features
Your Own Army#
Max out your units! Lock and load your favorite WW2 arsenal and establish an army ready to wage war on a global battlefield. Customize your units by assembling, disassembling, modifying and upgrading weapons of your choice. Select your infantry, tanks, artillery, tank hunters and rocket launchers…. endless battle arrays unite with each battle.
Global Alliances
Join warriors around the world! Unleash your strategy targeting enemies. Move your bases to build, occupy strategic places, and expand your territory. Reign supreme over the battlefield so you can gain strength and mount more forces against hostile targets.
Seamless PVP Combat
Non-stop action! Interact with smooth mechanics and gestures, sending each of your units in independent directions, attacking adversaries with maximum force. Join your allies and target enemies with suppressive fire.
Historic Campaigns
Authentic campaigns brought to life! This time you command your units, sending them through rugged terrain and urban landscapes to track down and defeat the enemy. You'll meet allies along the way who make the interaction more dynamic as you complete objectives and move on to more challenging missions.
Engaging Storyline
Tantalizing plot! Each chapter takes a different direction, with an enticing plot coupled with cinematic gameplay. As you unlock new features, you get to see more dialogues along the way.
Charming Characters
Each role adds a personal touch! The beautiful Adjutant Percy, the seasoned Jack Spanner, fierce White Wolf, seductive spy Bloody Mary, muscular Artillery Commander The Eruptor, the caring Angel of Light and dignified Guardian of Truth—they're all here for you to lead units of your choice. Don't forget to visit battle-hardened Aussie Sergeant Ned Taylor, to open chests and acquire new units.
Breathtaking Landscapes
Exquisite and diverse maps! Explore the terrain and use it to your advantage, whether it's snowfields in a blizzard, mountains glistening in the sun, or river crossings and bridges, choose your path and enjoy fresh scenery. Zoom in and out quickly and teleport to different cities around the world with your allies.
Have you got what it takes to fight Raven and liberate nations around the world? Will your army overcome and will your tactics work? Each day brings new campaigns, Officers, allies, units and combat objectives. Massive Rewards are earned and your base buildings stand taller and gain durability. Scout the territory, harvest resources, unlock more tanks, interact with more allies, move to new cities around the world and call on covert experts and arms professionals to support your calling.
Commander! Your soldiers await their orders!
Facebook: www.facebook.com/PlayWarpath/
Discord: discord.com/invite/playwarpath
YouTube: www.youtube.com/channel/UCHX2nNL33q24VrJdGFwjTgw
Warpath user reviews :
It was fun until I have realized that the community has changed. Pay to win players have made the game unenjoyable. The only reason I don't think I want to play this is because an enemy play to win alliance has enough power to enough power to conquer the server 3 times over and want absolute monopoly over it. Its discussing and has shattered my will to play the game. I'm sorry for all those who have suffered against them.
LilithGames

Hi Commander, thanks for contacting us. We will try to narrow the gap between each other. If there is any update, please pay attention to the game announcement.
Been playing for a week now and seems good. if you get destroyed by a higher player you don't really loose anything except having to train more troops. building upgrades are instant, I was expecting them to take a long time the further you get but it doesn't. the only thing that takes a long time is research upgrades. overall I'd recommend
Warpath. Most of my friends in this game have invested alot . But the new version kinda ruin the game . People are starting to delete the game . And few other feel it's kinda pay to win . You have to change back to the old version or people will walk away . Do something about it . And also . I got stuck in lvl 2 city and have not enough tickets to get back . Im short of 32 tickets. Just to get back to my alliance . Alliance store only provides 3 tickets per week . Do something.
LilithGames

Hi Commander, thank you very much for giving us a try. Please rest assured that we will continue optimizing and updating the game to bring better gameplay experience. Please share with us if you have any problems or suggestions, we would like to hear them. Sincerely,
Seems like an interesting and fun game, but I am unable to play it now after playing just once. The app will open, bring up the splash screen, then Chinese text will appear that I think translates to "Click to log in again". I do so, the screen goes black for a moment, but still fails after retrying, and gives the "Click to log in again" text again. I'd like to keep playing and give this game a chance, so please fix this.
It is a very good game that has potential for being a popular pick for a strategy game. I have a few problems though. First, the officers seem a little powerful. Second, sometimes the buttons dont work even though the game isnt frozen. Third, the alliance system needs to be better in every way. And fourth, there needs to be more objectives to complete WITHOUT alliance members. Overall, this is a good game that needs improving. But you should give it a chance.
The game is very good and definitely held up to my expectations. The graphics are pretty good, story is interesting, and game play is very good. As unlike other RTS games like this you can actually move units around and not have to go back to base after every battle. But if I had any gripes about the game, it would be the glitch if you spend gold to speed up your research to buy speed ups. It takes all your gold jo mater how much your have nor how much the speed up costed.
Latest Update :
I. New Officers
II. Anniversary Jubilee Events [Desperate Counterattack]
III. Further Optimizations
Contact developer :
Video :
Download Warpath from play store
Leave your feedback regarding Warpath
If you like the content that we provide since 2012, put a smile on our face and give us a like or share this with your friends on any social platform. If you want to support this project, any crypto donation of $0.5, $1, $2, $3 is welcome!
You can find our crypto wallets on https://free-apps-android.com/buy-us-a-coffe/
Sponsored Links