[Game] Warriors io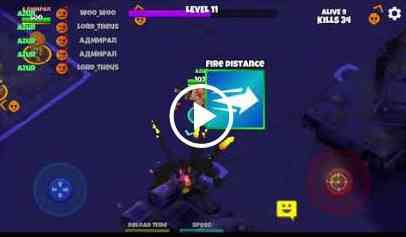 Warriors io is a thrilling multiplayer battle royale with beloved tiny troopers fighting for victory!
Battle for survival using different weapons and win the match!
Reasons to enjoy Warriors.io:
Nimble mini warriors
Quick & exciting game sessions
68 brawlers to unlock
Up to 50 weapons: guns, axes and more
Nice boosts: collect them on the battlefield
Cool skins
Solo PvE battles & other modes
Authentic map & graphics
Pocket format of mobile multiplayer action
Climb to the top of the leaderboard.
Create your own tiny army – and win in Warriors.io!
COMPANY COMMUNITY:
Facebook: www.facebook.com/AzurGamesOfficial
Instagram: www.instagram.com/azur_games
YouTube: www.youtube.com/AzurInteractiveGames
Warriors io user reviews :
Really great game.To those who hate ads just turn off your wifi or cellular data. I also discovered a bug .The bug is that when you play on campaign and your stage one of that level just keep leveling up and if your on stage two just keep leveling up too and after you finish stage two dont go to stage tree go home and go too that level again and you start with some of your levels and skills from the previous match instead of starting from level one again . This bug can be used multiple times .
its a simple game but thats whats so appealing about it. Its straight forward so what you see is what you get, and its got soo much to see! fell in love with it right away and doubt i could ever grow tired of it plus its user friendly for all ages. I would reccomend this game for any and everyone
Liked it. Though the daily rewards becoming accessible, along with a toggle static joystick to. And also being able to upgrade the firing rate in the weapons section would be nice, along with the range.
Extremely p2w and luck based, so much of both of them, that aiming is automatic (and shooting can be too!) and the characters/ weapons you get for a big amount of money outclass the default ones by 9 times, making some of them literally a one hit kill to anyone not using a premium character. You dont get healed between games, upgrades do practically nothing and you can gain abilities that last until you die, making you severely outclass the ai after a few games.
The game is great, but i hope you can fix the game hackers. You cannot enjoy the game fully because of the hackers. Imagine i'm buying using real money and the hackers just have unlimited of it, you cannot beat them because they have 20,000 or 17,500 lives compare to my 2,700 life bar. I hope you can fix this for us to be able to enjoy the game.
Fix your game because I am still at level six and I have gotten multiple wins and it has not went up fix your game please or get it off of the app
Its nice but the joystick is not fixed and so so sooooooooo many ads like every time the game ends an ad appears so annoying
Good game but would be better with less ads as well as ads not ending game on me to restart the app
This is a game that could be great but it's not good enough. The aggressive in game ads is a turn-off for sure, it gives me option to respawn, i decline but the ads showed up anyway forcefully without option to skip. The rest part of the game feels okay but lacking something to be the game that I keep in my phone
I kinda like this game, and I still have it but the thing is it's sometimes really laggy. when I am about to win a game. and I don't like how the game needs internet and the game is really trash and when you have no internet it says oh you can't get any reawards and there won't be real players. AND IT IS SO ANOYING IT LAGGES SO MUCH AND IT IS TRASH AND I DONT KNOW WHY the creator made a really bad game I just hope he makes a little more updates and makes the game not need internet bad game :(
Great and fun to play!!!! But now the control is malfunctioning, it stuck sometimes,, the bot are much agrresive to kill than the player… The leveling is not consistent, sometimes its lessen , if i want to revive using the adds the game stop, and i cant back to the game..please help
CASUAL AZUR GAMES

Glad to help! Thanks!
+ 1. Very good concept 2. Addicting……. just before u realize other problems – 1. Very greedy, too much ads. Please guys, ads its okay, but its VERY ANNOYING that you put ads in every match 2. play to win, oh god!, hundred times im facing that have damage and health much more than me
IT'S a really great game and I how can get characters by leveling up the game.
Contact developer :
Video :
Download Warriors io from Play Store
Leave your feedback regarding Warriors io
Get more android apps/games/updates
Subscribe to our mailing list and get new android apps / games and updates to your email inbox.
Thank you for subscribing.
Something went wrong.