[Game] Warship Fleet Command – WW2 Naval War
 free android apps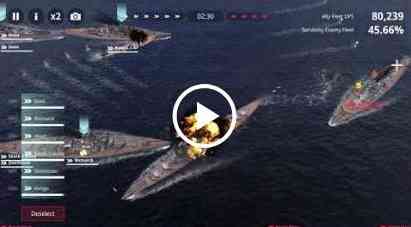 Warship Fleet Command is game with realization of naval battles and strategies from WW1 and WW2.
You can be a commander, form the fleet and set strategies on your own.
 Get 5-star HMS Hood, just with your attendance check for 7 days!
Sign in and get support for new commanders for free!
High-end warship mobile graphic
Warships from WW2 have been perfectly realized
True history based battleships, destroyers and cruisers from WW1 & WW2
Build legendary warships from Japan, the US, the Soviet Union and Germany for free!
Wide range of ship collection
Thorough research made this possible
Build,scrap and calibrate to customize!
Develop to Unbeatable fleet
Torpedo, gun, hull equipment to enhance as fleets develop
Hire sailors with different expertise on warships!
Realtime battlefield
Majestic battlefield visualized in exquisite Full 3D as if restored
Naval battles realized with realtime torpedo firing simulation style on your finger tips!
Command fleets
Give out elaborate strategies to fleets!
Be a commander, choose formations, set individual strategies for warships and direct them!
Inquiries
CS email : help.mastgames[at]gmail.com
Official community : moot.us/lounges/184
Configuring Permissions
1. Storage, Photos, Media, Files
Required for game installation and run.
2. Audio
Required for recording gameplay video.
3. Device information
Required for game notification, device identification, and customer support for specification issues.
If the permission is denied, it is impossible to read and run our game.
Warship Fleet Command user reviews :
Love the game, adding the aircraft carrier is definitely a plus and I know y'all are working on the timer issues. There's one thing I can't figure out, when I play the Pl vs PL, I somehow get 3 different ratings. One in the fleet assignment & strategy, one(lower rating from PL vs PL), and then another one(way lower than the first original rating) in the match beginning. I went from 367 to 352 then way down to 302, completely changing as the match is starting. This is unfair, wrong & needs fixing
MASTGames

Hey Dustin Walker Sorry for the inconvenience. Your feedback will be taken further to be fixed / improved. Please write to us if you would like to inform us of any other issues. Stay safe and take care
best naval strategy game so far, I've reached 66 level account to give a fair review. 1.) auto battle movement sometime are so weird, do a straight move, leave the battle zone for no reason, run out of time and get tactical failure. 2.) just unlocked bogue tier2 cv, 1 flight group is cute enough to fought in battle, 2 flight group is more reasonable, because it spent 15-30 sec for every 1x strike animation. 3.) cruiser so underpower, she cant fight battleship, and so useless against destroyer.
MASTGames

Hi ritz Jr! Thank you for sharing your thoughts. We're doing our best to make improvements and hope you like it better. Take care and stay safe!
This game is one of the best naval warfare game i had played so far especially with the new carriers. However, the issue that i dont want to give this game 4 star and above is how grindy it is when it comes to getting some materials and resources, which is the only resources that i felt it needs to be able to get more on higher level maps (now im at world 2-5) So overall i would give this game 3.5/5. I might change it if the game gets better as time goes on.
MASTGames

Hi Takimara! Thank you for sharing your thoughts. We're doing our best to make improvements and hope you like it better. Take care and stay safe!
Finally, aircraft carriers arrived. It will be another level to play. Wish also to add submarines for more fun and better strategy. Overall, it is a great game and gets even better. Keep up the goodwork. :-)
MASTGames

Thank you for the review. We hope that this aircraft carrier update will bring you pleasure. We are looking forward to your next update with a 'Special' Battleship ready.
Contact developer :
Video :
Download Warship Fleet Command from Play Store
Leave your feedback regarding Warship Fleet Command
Get more android apps/games/updates
Subscribe to our mailing list and get new android apps / games and updates to your email inbox.
Thank you for subscribing.
Something went wrong.