[Game] Warships Naval Empires changed to Battle Warship: Naval Empire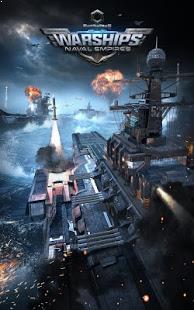 Labour's Gift event in progress!
Become an admiral of invincible navy fleets in the amazing 3D interactive strategy game of naval warfare. Build your naval base and lead your powerful fleet into countless epic sea battles. Grow stronger by forging alliances and building an empire together with friends. Wage war against pirates, sea monsters, and players around the global world! Fighting for world domination now in a mobile MMO!
Enter a post-apocalyptic world engulfed by the ocean and thrived with pirate activities. Command powerful iconic battleship, destroyer and aircraft to destroy your enemies in all naval warfare! Why not join an alliance for true MMO glory and battle in the ultimate naval showdown – The Bermuda? Hunt the pirates and sea monsters wherever you may find! The high seas are yours waiting to be taken over. They need a ruler!
We are in a new era of war game, where your strategy matters as much as the size of your base and power of your Armada. The game challenges you to become a strong and talented navy commander. You must have a keen eye on the battlefield to give the right instructions to your soldiers to spot, scout and sink enemy ships!
World war is only the beginning – Devote yourself into endless and fierce sea battles now!
Features:
1.Build your own empire
Base: Build and develop your own navy base
Carrier: More than 100 kinds of carriers around the world
Aircraft: 200 advanced helicopters, fighters, and bombers
Warship: Exclusive performance for each destroyer, cruiser, and battleship
2.Build a strong fleet of the ocean
Carrier: Enhance and upgrade carriers, build a strong core of fleets
Aircraft: Enhance and upgrade aircrafts to unlock fighting skills
Warship: Unlock more advanced warship with higher combat effectiveness
Technology: Supply your commander with superior resources and power
3.Create unbeatable alliance and rule the world
Join an alliance where you can get help from members, and obtain exclusive gifts
Participate in alliance interaction; raise your rank up to commander
Alliance war on weekend, winner will be the king of the ocean
Cross servers battle, all players fight for the great honor once a week
4.Play with global commanders
Play with millions of players from around the world
Text translator and Emoji are available
Customize your avatar
Choose the flag of your own country, find more allies and fight for your nation!
5.A surprising strategy naval war beyond mobile
Beat pirates with variety of strategies for the rewards
Against sea monsters with alliance members for the higher rewards
Massive PVP&GVG war, destroy and grab the resources of the enemy
Challenge World Boss 3 times a day
6.Unstoppable game experience
Great Post-Apocalyptic sea world with authentic 3D graphics
Wage epic war on the interactive world map
Fast paced battles will keep you awake 24/7
Check out the this 3D navy strategy game -Battle Warship:Naval Empire now! A war game to end them all!
You may also like our list
Visit our Facebook Page at: www.facebook.com/warshipsNE
Attention! Battle Warship:Naval Empire is a free to play navy themed war game, but some items and features can also be accessed using real money. If you do not wish to use these features, please configure your settings in your Google Play Store app and set up password protection for purchases.
NOTE: A network connection is required to play.
Warships Naval Empires user reviews :
Game needs to level out the playing field. Stop merging servers and add servers for elitist players. Power level brackets need revamping. Once a players level reaches a certain point,they should be transferred to a elitist server to compete with players of their own level. Not having a 200 million power player raping a 20 million player for resources all the time. Let the money players stick it to each other instead of the little guy.
I've been playing the game for a while now. Great graphics. You can meet some good players and some jerks. It's also a premium piece money game. And people with money advance through more quickly. Time and patience is what this game requires. The devs might consider an algorithm that separates the credit card junkies from those that don't pay to play so much. You meet people from around the world, which is pretty cool
While the game itself is fun and addictive, the customer service is nearly nonexistent and the developer is greedy as they come. Very much a money suck and if something goes wrong they won't help you. Repeated maintenance because they won't test their patches, that costs you points for awards programs you pay for, with compensation that doesn't compensate. Pay, pay and pay more is their outlook. They just want as much money as they can squeeze from you. Unfortunately there are people out there that spend a lot of money on their gaming so they get the money they want.
Great time once you figure out how the strategic game is played, and once you find yourself in a capable and helpful Alliance with players that are from all around the globe. Also, whenever there is a problem or if you have a good idea for the adminstration people they actually take your idea seriously and sometimes will upgrade the game with a part or all of your ideas. I genuinely like playing this game and it doesn't get old because there's always something new coming with frequent updates.
Overall the game concept is cool, but unless you're willing to break the bank you're not going to be able to compete much. The devs are making some noticeable changes but none that are closing the gap between non spenders and spenders. Like I should be able to evolve as B2 as I want, that's what would help me compete as a not so big spender. Help the little guys more devs!!!
've played game for over 4 years. Now I can't play for more than 5 minutes without being disconnected. Help line is a joke and they won't do anything about it. All I have done is wasted money for all those years cause the game creators will not fix the problem. I'd rather play Tic Tac Toe. Then watch a screen load up every 5 min. Step your game up battle warship. Or you will be old news
nice strategy warship game so far. so cool, i love it.
Something is wrong with the ranking. Its messed up on my end. Fix it please. II was massively upgrading y aircrafts the. The rank system seem to crash
Hi Thanks for your concern and support! We wonder if you could send all the screenshots in game that are messed. We welcome any feedback and suggestion to optimize game! Official Email: xinqi_service@163.com
Latest Update :
1. New function: CIWS System
2. New CIWS System Pass in the Naval Battle Pass, and new CIWS Device Supply in the Supply Depot.
3. New aircraft with four evolution forms – F-15EX, skills: EMI, Flare, Electronic Jamming
4. New aircraft with three evolution forms: Sagittarius, skills: Bulletproof Coating, Last Stand, Urgent Support
5. New 6-star submarine for Halloween: Permit-class, skills: Reflection Coating, Last Stand, Shield
For more details, please see the New Version notice in the game.
Video :
Contact developer :
Download Warships Naval Empires from Play Store
Leave your feedback regarding Warships Naval Empires
Get more android apps/games/updates
Subscribe to our mailing list and get new android apps / games and updates to your email inbox.
Thank you for subscribing.
Something went wrong.
Sponsored Links
If you like our content Buy Us a Coffee
Bitcoin
Ethereum
Tether
Tether
Cardano
Xrp
Polkadot
Binance coin
Stellar
Dogecoin
Tron
Elrond
Vechain
Digibyte
Polygon matic
Donate Bitcoin to this address
Scan the QR code or copy the address below into your wallet to send some Bitcoin
Donate Ethereum to this address
Scan the QR code or copy the address below into your wallet to send some Ethereum
Donate Tether to this address
Scan the QR code or copy the address below into your wallet to send some Tether
Donate Tether to this address
Scan the QR code or copy the address below into your wallet to send some Tether
Donate Cardano to this address
Scan the QR code or copy the address below into your wallet to send some Cardano
Donate Xrp to this address
Scan the QR code or copy the address below into your wallet to send some Xrp
Donate Polkadot to this address
Scan the QR code or copy the address below into your wallet to send some Polkadot
Donate Binance coin to this address
Scan the QR code or copy the address below into your wallet to send some Binance coin
Donate Stellar to this address
Scan the QR code or copy the address below into your wallet to send some Stellar
Donate Dogecoin to this address
Scan the QR code or copy the address below into your wallet to send some Dogecoin
Donate Tron to this address
Scan the QR code or copy the address below into your wallet to send some Tron
Donate Elrond to this address
Scan the QR code or copy the address below into your wallet to send some Elrond
Donate Vechain to this address
Scan the QR code or copy the address below into your wallet to send some Vechain
Donate Digibyte to this address
Scan the QR code or copy the address below into your wallet to send some Digibyte
Donate Polygon matic to this address
Scan the QR code or copy the address below into your wallet to send some Polygon matic