[Game] World Beast War – Destroy the World in an Idle RPG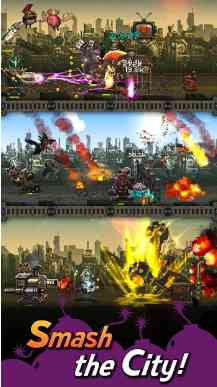 World Beast War : Rampage through a destroyed world and create the ultimate team of beasts!
World Beast War is an idle RPG where your monsters are created, merged, evolved and sent to battle in a war to reclaim the Earth. Merge monsters to build the ultimate rampaging team!
Beasts rage and battle across the screen, including classic monsters like King Gorilla, Lizard God and more! Tap your beast to send it into battle or drag it onto another to combine them into a new, unique monster. Collect monsters and their lost articles to upgrade your beasts and defeat stronger foes.
Idle RPG mechanics let your beasts battle and level up even when you're away, and auto-battle features allow you to manage the team while the monsters fight. Merge monsters to create powerful beasts, then merge those to create the ultimate monster! Pixel graphics create a retro gaming atmosphere with all new gameplay and clicker game mechanics.
Beast battles and apocalyptic action await in World Beast War! Download now!
WORLD BEAST WAR FEATURES:
Monster Game – Beasts Battle!
Battle monsters throughout the ruined city
Combine beasts into new, powerful monsters
Evolution Game of epic proportions! Evolve & upgrade to become more fearsome
Level up your beasts by feeding them tasty meat (just don't ask where it comes from)
Collect monsters, including rare mutant beasts with special powers!
Idle RPG with Monster Merge Mechanics
Level up your beasts, even when you're not rampaging
Destroy the city with your beasts – you choose the formation, they do the smashing!
Idle clicker mechanics use simple drag-and-drop tools to create and upgrade your team of beasts
Merge dragons, krakens, robots & raccoons – has science gone too far?!
Beastly Buffs – Powerups & Upgrades!
Power up your beasts with diabolical inventions, epic equipment and rare relics!
Attack Activation Drinks
Mutated DNA
Iron Fists
Muscle Rebuilding Vitamins
Wreak havoc to find more!
Monster Simulator – Be the Beast!
Beasts from film and game history unite with unique creatures of carnage!
Lizard Gods
King Gorillas
Rampaging Robots
Battle Toads
Metal Dragons
Boxing Werewolves
Flying Manta Rays
Locomotives of Doom
And TONS more!
Destroy the World, City by City!
Rampage through an apocalyptic world
Battle monsters and defeat your foes
Pulverize 8-bit cities across different landscapes into pixel powder!
Beat em up with your Monster team and take back the Earth!
Battle monsters, collect beasts and upgrade your team in an idle game of epic proportions. Download World Beast War today!
Contact us
clegames.freshdesk.com/ko/support/tickets/new
World Beast War user reviews :
Game is AWESOME, 5 stars… But Magic the Gathering AD always locks my phone… Tested on GFs phone, same. As ADs are essential to this game, currently unplayable. 3 stars until fix
The game is fun and all, I got to round 400 and equipped a new monster I had recently unlocked that was more powerful than the one before it. Ever since I did that, my monsters have been losing every round and have been pushed back as far as round 300 where I am now stuck at. I've been upgrading my monsters and everything relentlessly, cooking and equipping relics ever since but nothing is working. I can't get past round 302 without all my monsters being defeated and being pushed back to 300.
The game is super addictive given by how simple it is, but I do have one problem; my La Raie won't upgrade to its subspecies no matter how much I try and how high I have level it up (right now at level 502 for my La Raie).
Contact developer :
Video :
Download World Beast War from Play Store
Leave your feedback regarding World Beast War
Get more android apps/games/updates
Subscribe to our mailing list and get new android apps / games and updates to your email inbox.
Thank you for subscribing.
Something went wrong.