[Game] Zentris
 creative destruction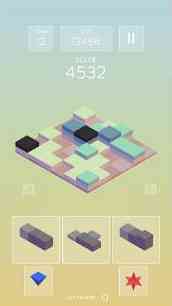 Don't miss out on Zentris, a fun, free to play puzzle hit game.
Easy to pick up but hard to let go once you experience its relaxing and addictive zen vibe. Place block shapes to create and clear full vertically and horizontally lines on the game board in an infinite race for a better High Score. Keep your board clear and take your time. Stay focused as blocks start to stack up and use your boosters strategically.
Compete and show off your skills for the top spot within the leaderboard. Challenge yourself and beat your friends Scores.
Unlock achievements to win cool and exciting skins, to add a splash of style to your game.
Don't forget to collect your daily gift reward to push your game to the next level with the Accelerator.
Zentris user reviews :
I'd love to love this game. I absolutely love playing it, but the ad integration is total balls. I'm fine with lots of ads, especially for cheap games, but it appears there have been the same issues for months with no indication that any changes are coming. Some ads have sound even after muting, but the worst is that after every game it plays the sounds from an ad, without the visual and without an option to skip. Yes I can mute the media on my phone, but then I can't use my phone to play music
Relaxing and easy game to calm your mind. There are different color schemes you can unlock through achievements or actions. Music is calming and the game itself is nice. There are ads between game resets (only on WiFi though), but other than that, the app is great. Never experienced any glitches or problems.
Fun, but doesn't feel very balanced, and good runs feel very random and dependent on the pieces you get. If it always showed you the next three pieces it'd be good. 3/5 stars is more for ads that always play with sounds (pausing whatever I have playing on my device). These always come back with sound even if you mute them. Also the in game sounds and music will randomly start playing again even though they're muted in the settings. You need to unmute, then mute them again to stop playing.
The game itself is great, I had given it 5 stars. But if you play it for long enough (as in trying to break your record), it is not reliable when you close it and open again. Some of the times it returns to where you were when you left, but more often than acceptable you go back and it just starts a new game, losing all your progress. I tried contacting the support a while ago, no response. It got to a point where it's so frustrating to start over half of the times that I've basically given up.
I really enjoy this game! Its super simple to understand and really fun to play while listening to music or watching TV. The ads are short and able to be skipped so they don't really bother me especially bc they appear after you lose a round. Super fun game!
The game is great and a cool idea, just not so original. Clearly in the title it shows that it is a tetris game, but it gets quite boring after a while and the ads are quite crazy. Doesn't feel like a very interesting game to me. Check it out if you have nothing to do but it isn't really a gem of an app.
Love the game. Having trouble logging in to Facebook though, I get an error message. Also, why Facebook and not Google Play Games for the login features? It's much easier because we're already logged in to Google.
I'm having fun – the music is great, it's a nice twist on a basic woodblock puzzle game, my only complaint is that you can only view the board from 4 positions as opposed to a free spin with a snap point for placing pieces. I just feel like it would help me see the board better.
This is a really nice game offering a mental challenge involving spatial skills.and planning. I would give it a 5 IF it enabled my galaxy note type stylus for the controls, but it does not. I have had to fat finger the tiles onto the board a d nothing is more frustrating than dropping g a piece in the wrong place when you are doing really well.
I want to give 5 stars but you made it a bit to difficult to get new styles… Or i just suck at the game but otherwise I love it and won't change a thing… Hope you can change the challenges for styles as bit
Contact developer :
Video :
Download Zentris from Play Store
Leave your feedback regarding Zentris
Get more android apps/games/updates
Subscribe to our mailing list and get new android apps / games and updates to your email inbox.
Thank you for subscribing.
Something went wrong.