[Game] Zombie Attack Survival
 i am innocent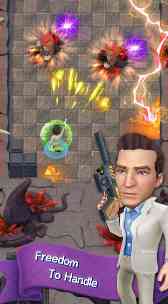 Here comes the zombies!
Wave after wave, the zombies never stop!
As a survivor, you need to defeat endless zombies, challenge the Ultimate King of zombies, and gain valuable living space.
Each level in the level can acquire a skill. Choose carefully. A good skill combination can help you survive longer.
Remember, you only have one life. If you fail, you will start again!
Game Features:
Super casual shooting Roguelike game with hundreds of random maps
One-handed operation; Relieve stress; One shot one kill.
Smooth operation experience; full of barrage strike.
Hundreds of skills, thousands of combinations, random skills, each play have new start
Abundant equipment and barrage effects make the battle no longer boring.
Extreme moves, single combat boss. Can you pass without injury!
Pick up your weapon and summon your courage! Challenge yourself and survival in the ultimate action shooting game "Zombie Attack: Survival"!
Zombie Attack Survival user reviews :
Awesome game but can not purchase special offers. Please fix for 5 star review.
Fun game but I don't get how to get the breakthrough tokens or what ever to lvl up my character
Stage 3 becomes exponentially hard from stage 2 why is so mich difference in hardness from 2 to 3 ,please test the map before release ,the game is nice n have much more variation and potential ,but if we get stuck in same level then its become boring to play
An okay type of game. Vip is glitched, can't be purchased. That or cut down on the ads.
Open the ap and all I get is a black screen. Nothing else at all.
why cant it bind with google or fb? when uninstall and install back, all data gone!
It's a pretty fun game got different creature different board design graphics
Very fun and fast paced game
Not thing special, copy of archero with left4death character
Gunchero i like it much , keep it up and hoping for the next patch to be more exciting surprise us i will load later
Could be a decent game if it didn't get so difficult so early in the game…like it's sister game…too much grind…later!
Its a fun game with easy gameplay but the zombie ahooter game types have been over played way too much and its now juat no fun theres a no zombie game almost every week
Awesome, except for the fact that there's no option to login with either Google Play or even Facebook. Because of this I cannot play this game across multiple devices and so my progress is only saved locally. Fix this please, I really like the game. Also, add holiday (Christmas) skins/cosmetics please.
Reminds me of archero with guns, I love it
Contact developer :
Download Zombie Attack Survival from Play Store
Leave your feedback regarding Zombie Attack Survival
Get more android apps/games/updates
Subscribe to our mailing list and get new android apps / games and updates to your email inbox.
Thank you for subscribing.
Something went wrong.