[Game] Zombie Offroad Safari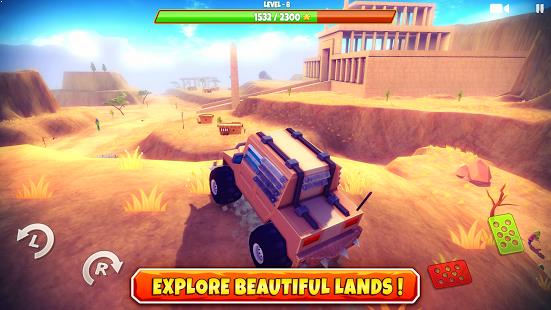 Leave the urban area behind and explore a dangerous world packed with zombies, challenges and loot!
Take the wheel of 4×4 off-roaders, Monster Trucks, Six Wheeled Gas-Guzzlers and climb the
highest mountains where no man has gone before! Deadly weapons await you in this post-apocalyptic open world off-road sandbox game.
Do what you please: explore massive landscapes, complete challenges, smash zombies, find secret locations, unlock and upgrade cars and weapons, it's up to you!
Features:
6 regions to explore, filled with zombies and fun!
12 vehicles to unlock and drive, each with unique abilities. Police car, fire truck, APC, monster truck and much more.
Machine-gun, shotgun, rocket launcher, electric gun to unlock and use against the dead
Many challenges to complete: checkpoint hunt, path finding, boss fight and much more!
Find hidden treasure chests scattered around the world
Find "explorer flags" sitting on the highest mountains
Awesome power-ups to use to your advantage
Various zombie types to fight
Fun driving simulator model
Moon map with low gravity fun!
Open World design, drive freely anywhere
All-terrain vehicles are going to be your key tool to survival and progress, upgrade them to be more durable and fast!
Take control! Tackle the challenges laid before you as you choose!
Start Driving! Welcome to Zombie Safari!
list
Zombie Offroad Safari user reviews :
This game is so fun. I like the graphic style and the gameplay. Simple and neither too short or too slow to progress
This game is really good for a mobile game. I wish the developer would update and improve it. The snow level for instance is great, but far smaller than the canyon level. Could be an easy 5 star game.
This game hasn't been updated since 2017 and it doesn't need to be! That gives some idea of how good these developers really are, while most games are under constant development because they're so buggy and glitchy, this one proves it's reliability through long-standing compatibility & stability. I wish the design was more realistic, like their other games but it doesn't detract from the fun level. The only negative is the fact that it's so old the ad analytics are outdated so no ad rewards
I love zombie,driving and action games! But i like this game more then others! Can you add some new updates to the game? I can give you some ideas! 1. Add new vehicles like a ramp buggy! 2. Add a safe zone like at a city or at a underground base and add a enemy/danger zone! 3. Add some new places! 4. Extend some maps bigger! 5. Revamp the repair stations! 6. Add new places like a prison! 7. Add some new challenges! 8. Revamp the health bar for character and vehicle! Thats all! i wish u add them!
Pretty fun. not optimise for my phone but it works great and the ads are not bad. Also you can play off line.
Hey developerz this game is freaking awesome..my request to u guyz are,can u update and add a few new featurez,like whenever we are walking,can we pick up handgunz/machine gunz/sniperz/swordz/machete etc..that will make the game even more challenging an fun..adding a ATV or motorcycle will be awesome..can u also add a custom paint job/graphicz design for the vehiclez an avatar..
I like it, but there is a little problem.You guys need to add more cars .But l like it.
Just like dead venture. But free roam. Awesome game whatsoever.
I like the graphics this is all wanted to play with high graphics…car…fighting zombies…a lot of challenges…but the flag is on the mountains and idk where to go up but i appreciate it. I hope theres an sign up
Fun & Simple. Easy game play and plenty to explore.
Great openworld game i gotta admit im impreseed a 60mb game like this with high graphics its great keep up the good work
Ive never played a game thats so good at being a game XD well my point is the game is so much fun and adventure it might be a small world but its very fun to just do stuff but indo wish there was some updates like bigger worlds and new cars
Ok this game is so good i just had to rate it so here it goes. first of all the graphics it's pretty good for a phone game. secondly, the gameplay having the ability to unlock new weapons and places the further you progress. thirdly, the game in general. though the blood is a bit… "purplish" and the soundtrack is amazing. oh, and one more thing, is there by any chance if theres gonna be a handbrake/e-brake? so we could turn faster, maybe?
Game is awesome. can u create more sports cars
Amazing game easy and boss and good graphics
It's awesome . Update a new world citi types
I loved the idea you got in this. It's impressive just like a GTA 6 that beautiful the graphics is. And the one thing I'm asking developers that to add shooting with weapons while walking. Overall it's awesome! Looking forward for reply… Yours lovely, Joel Joy.
Contact developer :
Download Zombie Offroad Safari from Play Store
Leave your feedback regarding Zombie Offroad Safari
Get more android apps/games/updates
Subscribe to our mailing list and get new android apps / games and updates to your email inbox.
Thank you for subscribing.
Something went wrong.