[Game] AFK Heroes
 free android apps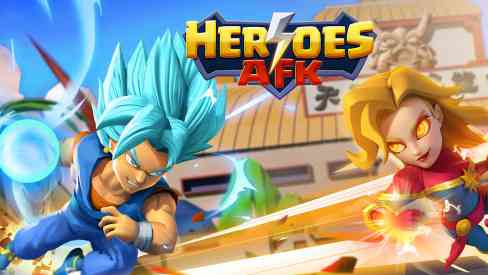 AFK Heroes : The unique superhero-themed IDLE RPG on Google Play.
Join millions of players around the world and start your journey in AFK Heroes!
Game Features
BATTLE WITH GLOBAL PLAYERS, TO BE TOP1
Assemble a powerful team of superheroes and go to battle in the Global Peak Arena. Fight together with players all around the world for the Legendary Championship.
RECRUIT 100+ EPIC HEROES, CREATE LEGENDARY TEAM
More than 100 epic heroes in different factions with specific skills and talents. Summon your heroes, train them to be powerful, and outfit your team for victory!
SUPERHEROES ASSEMBLE, DEFEAT THE ULTIMATE BOSS
Use your strategy and change hero formation, challenge and defeat the BOSS for the great bonus.
IDLE AUTO-BATTLE, WORRY FREE RPG
You can set your heroes training automatically while you're away. Your army of heroes will amass riches for you. When you return, you can get generous rewards.
The demon invasion looms. Form your superheroes team and battle for victory!
Contact Us
Feedback by Email: loudgamestudios[at]gmail.com
AFK Heroes user reviews :
This game is great. There's an extremely active community, on social media and other places along with in game. Tons to do in the game, and while it can seem like it's pay-to-win, it's not. The only thing you can get by spending tons of money, and I mean tons, (the prices in this game are insanity) is faster progress. You don't have a better chance at receiving anything certain thing, and you can't directly purchase specific hero copies that you want, it's all still just chance. You can spend money for more opportunities to get better hero's, but being free-to-play is just fine. You'll never be above the guy on the leader board who spent $25k building his team, but that doesn't make it any less fun. AFK Heroes is more interesting than AFK Arena.
This game is great overall, but when there are special events, and you receive currency to buy other characters or "heroes" that only from that event…. but when the event is done, you lose all the currency you had and don't get to use it. This needs to be fixed. Maybe like close the event from receiving more currency like the previous one "mooncakes" but then have a post-event period where you can use what you have. Because some of us are trying to get as much as we can before buying something. Just frustrating as a whole. But everything else is great. AFK Heroes is as great as idle heroes.
I can't even play the game! I've tried for days to play this game yet it just kept saying that it can't connect! My Wi-Fi never acts up and not only that, I kept getting logged out the game each time I click retry for it to log me in! I would've given it a great review if I could play it. Is this game even for Android!? I guess not because it won't let me log in! Please fix this issue and I might change my review.
Good game Unfortunately every game has a bad side,summoning is very important and hard and leveling up your heroes is toughest thing.. Events are good but as i said before high level heroes are required and leveling up is not easy. Still addicted game love it i hope summoning is become more easy than it will be easy to play.
I love this game very much. It's honestly pretty fun and good for killing a little time. However, a problem I have is with the account leveling system and how many campaign missions you can complete. Right now I have to wait about 12 hours and then collect exp to even continue and do the next 4-5 missions and then I have to wait again for rewards to level up. I feel the leveling system is too restricted on how you get exp and that the campaign should not be level restricted. This is just my opinion and if something is done based off of this, no matter how little, I'd be very happy and I believe many others would too.
Great game with much to offer. The one thing I would love to see implemented is a chat system meant for adults. Every time I open chat, I see children saying the most BS and dumb stuff. The only time I see any conversations or thoughts of the game is in my guild chat. That's the one thing the game needs and it would be near perfect. If you are bored with idle heroes, you can try AFK Heroes for fun.
Contact developer :
Download AFK Heroes from Play Store
Leave your feedback regarding AFK Heroes
Get more android apps/games/updates
Subscribe to our mailing list and get new android apps / games and updates to your email inbox.
Thank you for subscribing.
Something went wrong.