[Game] Angry Birds Legends
 free android apps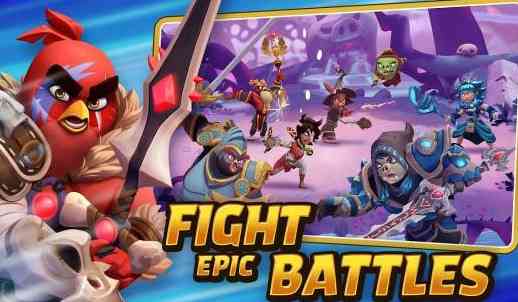 The land of the Angry Birds and their piggy nemeses has never been a peaceful one – their legendarily bitter feud carrying on for generations, while the human newcomers were happy to capitalize on their bickering.
However, when egg-stealing dragons and mysterious dark forces toss their world into chaos, it is up to the strongest Heroes of all factions to band together and defeat the threat – before it is too late!
Assemble an unstoppable team of heroes from all races to take down the evil forces that are threatening life as they know it! Collect a huge roster of Angry Birds characters and new faces as well. Earn treasures and level up your Heroes to make your team even more powerful. Get your team ready, restore peace, and save the planet!
ASSEMBLE YOUR TEAM OF HEROES. Recruit Angry Birds, pigs and humans to form powerful squads and outsmart your foes.
EVOLVE YOUR HEROES. Ascend your heroes and upgrade their abilities as you play to become stronger than ever before.
NEW STRATEGIC COMBAT SYSTEM. Pick teammates with complementary abilities, choose the right team for every battle, and decide which skills to unleash or merge during the mayhem. Merging abilities during combat will increase their power or let you cast an ultimate ability!
PARTICIPATE IN EVENTS. Build and power up specific teams to win epic and legendary heroes in limited-time hero recruitment events.
For fans of turn-based RPGs or fantasy adventure, Angry Birds Legends delivers tons of characters to collect, unique hero classes to master, and a variety of campaigns to battle through!
The game is currently in Beta and we are extremely happy and thankful to receive all of your feedback regarding how the game feels, what you enjoy most and what you struggle with.
Angry Birds Legends user reviews :
Wow you guys learned nothing from the beta a few months ago. The progress is so unbelievably slow and boring now. You get to play about 10 levels and hit a wall that you can't progress. You can't upgrade you heros levels past your players level so you can't get stronger. All you do is open the game, loot 4 previous stages, get barely any coins so you can't buy anything from the store, and then quit the game. Can't believe you guys messed up the game this bad. The previous beta was way better
This game is great! It feels like a second / sequel to angry birds epic which rovio for some reason decided to take off the app store well it's never going to be as good as angry birds epic I highly recommend giving it a try because it feels similar and I feel like it's the spirit sequel to if you're like me and think rovia was stupid for taking down games likeif you're like me and think rovia was stupid for taking down games like the original angry birds angry and angry birds epic play this
Rovio Entertainment Corporation

Thanks for the awesome review, Taliesin! We're thrilled to hear you're enjoying Angry Birds Legends
its pretty fun ngl. but besides the glitches, it has a really weird art style. guess i'll just have to work with it, though
This game is so fun and addictive. Each Chaaracter is unique and fun. I honestly cannot wait for more new Characters to get added to the game. If your a fan of Angry Birds and RPG games, then this is the perfect one for you. Just as it was for me.
Over all this game looks really good only problem so far no way to save your progress. So as its a new game bet i start getting into the game and something will go wrong and i will have start back at level 1
Game is great fun. It freezes at least every 20 minutes and quite often doesnt respond when cards are selected. With fixes it will be much better.
Needs more diverse enemies. The card merge is of seven deadly sins. Also looks need to be Sharper and clearer.
Rovio Entertainment Corporation

Thanks for all your feedback, William! Our team will definitely consider your opinion and make the game better!
FINALLY! An angry birds game I'll actually play! The game needs a lot of balancing and tweeking though as early in the game, enemies can easily kick your ass. Energy is spent way too fast using autoloot and chances of aquiring character shards is so low it's asinine
Rovio Entertainment Corporation

Thanks for your review and for the feedback! We are tweaking the game constantly and this kind of feedback is key for us to improve. If you want to share more with us, please join os on Discord — the link is in the game settings!
Contact developer :
Video :
Download Angry Birds Legends from Play Store
Leave your feedback regarding Angry Birds Legends
Get more android apps/games/updates
Subscribe to our mailing list and get new android apps / games and updates to your email inbox.
Thank you for subscribing.
Something went wrong.