[App] Argent – DeFi in a tap
 criptext secure email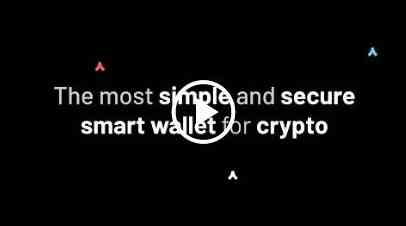 The most simple and secure smart wallet for crypto.
Earn interest, invest and borrow. All in a tap.
Beautiful design. Bulletproof security. A breakthrough for crypto.
Here's more on why Argent's unique:
DEFI & DAPPS
The easiest way to explore DeFi and Ethereum Dapps like Maker, Compound and Uniswap. Exchange over 60 ERC20 tokens in-app.
SECURITY & NO SEED PHRASE
Enjoy unprecedented protection: auto block large transfers, lock & unlock your wallet, and recover without a seed phrase. Simply regain access using trusted friends, MetaMask, Ledger or Trezor.
CONTROL
Only you can access your assets. Not us. Not anyone else. Non-custodial crypto as it should be.
SIMPLE
Buy crypto with Apple Pay and debit card. Smoothly set up your account with no seed, no gas and no long address. In short, no nonsense.
Argent user reviews :
Cannot add a hardware wallet as Guardian directly from this Android app (EDIT: it is only possible using the desktop app to enable it) Do not show the current interest rate for Aave assets inside this App No FIDO2 authentification support
Argent Labs

Hi Samuel, you're right adding a hardware wallet is via desktop. We hope we've made the interface very easy to use but let us know if you have feedback on it at support[at]argent.xyz. Aave rates are coming very soon.
Very cool. Lots of room for growth if it integrates more tokens within defi apps and more defi apps. Hopefully gas fees will drop in the future.
Argent Labs

Hi there, if you tap the asset you want to send, then press send, you'll see an option to type an address, scan it, or choose from your contact list.
This app is EXACTLY WHAT DEFI NEEDED. One of the best apps of any type to come out in the past few years. Absolutely brilliant.
This is a great ETH wallet and a very simple Defi app. Eas able to set it up within minutes and immediately put my funds into a savings account with pretry high interest. The only real issues I have is that I can't really see how much I've earned with Aave, and that I cant export my wallet seed. Once those features get addded, this app will definetly get 5 stars. Other than that, it's probably one of the best ETH wallet apps period. A desktop version would also be nice.
Argent Labs

Thanks for the review. We're soon adding some performance tracking for DeFi integrations, including Aave, which we hope you'll like. On the other point, to be transparent it's worth saying that we think exporting the seed is a big security risk, which is why we don't enable it. Thanks again and hope you enjoy the DeFi tracking.
One of the best wallets for me but has a few problems. I did an invest in compound and the amount is giving me interests but the app still says "Topping up" so I can't add more founds to invest or withdraw. My tokens are stuck in the invest. I found the "refresh data" option and it worked.
Best defi wallet. Easy, simple to use. Wish there was more token pairs besides eth pair on the kyber exchange, would make it more easier to swap between tokens. Besides that, good app to use, especially the guardian system. Your keys, your coins. Fully decentralized wallet. Just don't use compound, cause #deletecoinbase. If you want interest, use dai with aave. chill and stack sats.
Update: No bank-statement! So, you claim to have "Everything you'd expect from a bank (and more). Without the bank." but what I find essential in financial app is a possibility to export a list of transactions. You don't have it! Please point me right direction if I'm wrong, or please add it. I have switched from Uphold, which generated simple yet elegant summary with which I could work further as a spreadsheet. After initial applause for Argent, now I'm truly disappointed :( — Sweet wallet for exploring benefits of the DeFi ecosystem. I now store here all my ERC-20 tokens. Looking forward to the updates with expanded stats of the investments performance.
Great wallet but desperately needs the ability to set your own gas price. It's literally cheaper and almost as fast to go through an external exchange to exchange tokens. Good user experience though. Could always use more customization!
Takes to long to recover an account or it's not working. Also had issues adding a Guardian. However, the features are good and I would continue to use once I know I can recover my account with ease.
Argent Labs

Sorry about the issues adding a Guardian – please email support[at]argent.xyz. For the recovery, the security period is 36 hours. This gives you time to cancel if needed and enhances the protection of your wallet.
Great app! Awesome options and settings. Investment, savings, pool. Guardian system. However, in android there seems to be a bug. When using USDT to buy ETH it is not possible unless one sets the ETH in advance.
Contact developer :
Video :
Download Argent from Play Store
Leave your feedback regarding Argent
Get more android apps/games/updates
Subscribe to our mailing list and get new android apps / games and updates to your email inbox.
Thank you for subscribing.
Something went wrong.