[App] CoinTracker – Cryptocurrency Portfolio & Taxes
 criptext secure email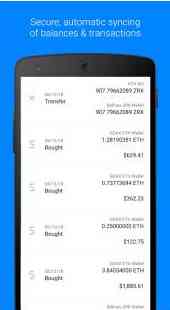 CoinTracker is a cryptocurrency portfolio tracker & tax calculator.
It seamlessly integrates your existing cryptocurrency exchanges and wallets. CoinTracker is the most trusted place to monitor your cryptocurrency portfolio and calculate your taxes.
Easily track your portfolio in one place, view your return on investment, your unified transaction history, crypto balances, and much more. CoinTracker supports all the top exchanges, wallets, and over 2,500 cryptocurrencies.
CRYPTO TAXES MADE EASY
CoinTracker calculates your cost basis and capital gains. Save hours of work with one of our tax plans, or download your transaction history for free.
SECURE, AUTOMATIC SYNCING
CoinTracker synchronizes balances, transactions, and ERC20 tokens from your local wallets and exchange accounts. We have read-only access to your accounts, so rest assured your funds are safe.
TRACK PERFORMANCE
Get a clear picture of your crypto investments, including the current portfolio, your return on investment over time, and more.
TRACK EVERY TRANSACTION
Visualize how your cryptocurrency moves between wallets and exchanges and see every transaction in one place.
SUPPORTED CRYPTO WALLETS
Bitcoin (BTC)
Ripple (XRP)
Ethereum (ETH) including ERC20 transactions
Stellar (XLM)
Litecoin (LTC)
Cardano (ADA)
DASH (DASH)
NEO (NEO)
Dogecoin (DOGE)
and more!
SUPPORTED EXCHANGES
Bibox
Binance
Bitfinex
BitMEX
Bittrex
BTC Markets
CEX.IO
Coinbase
Coinbase Pro
CoinSpot
Cryptopia
Gate.io
Gemini
HitBTC
Huobi
Kraken
Kucoin
Liqui
Poloniex
QuadrigaCX
and more!
CoinTracker  user reviews :
This app is the real deal. With any new tool there is always a learning curve. I have found this tool comparable to a reporting program that layered over ADP. If there were problems with the reporting, 99.9% of the time it was the user. I'm running 4 accounts through this program. CoinTracker stands to make alot of money from me because of one thing; HIFO, FIFO and LIFO methodology. The time this app saves makes it worth every dime. Being cheap we need to talk about fees. Staking is an issue.
CoinTracker

Thank you for the amazing review! Please shoot over any additional feedback you have to our support team so we can improve the product for you: www.cointracker.io/contact-us
Recently had a very nice update, UI is really clean, overall a very nice app and service they provide. Taxes worked well. My accountant requested a different form than CoinTracker provided, but that could've been confusion on the accountant's part too. Them calculating my cost basis and capital gains was very easy and helped a lot.
CoinTracker

Thanks for the positive feedback! If there is anything else we can do to improve your experience, please let us know at feedback [at] cointracker.io
Edit: leaving in the old review for posterity. All fixed! (after this is the old review, no longer accurate) Oof, the new interface update is rough. What does "13,56." mean in terms of performance? I sent an email to provide feedback, but haven't received any response.
CoinTracker

Awesome, glad to hear that this is resolved! If there is anything else we can help with, please let us know at feedback[at]cointracker.io
I have tried to sign in on my android but when I go to messenger to get my verification code and return to the page to type it in your site has gone back to the beginning page and I am unable to put the code in to continue signing in. Any suggestions on how to fix this? Update: They returned back to me within 24 hours and my phone is now working well.
CoinTracker

Thank you for the updated review Jay! If you run into any problems in the future, please let us know at feedback[at]cointracker.io
So far the best web based portfolio tracker and a very decent phone app too. Best free option and visibility also. Will be looking to upgrade once my portfolio grows, so I can see my profits and losses more clearly. Very nice app and easy to use and set up.
CoinTracker

Thanks for the feedback Wesley! We just pushed a number of updates to the Android app, but please let us know how we could improve to get a 5 star review from you
Great tracker does everything you need and more. Devs actually listened to customer feedback and improved on the app. Super impressed. Don't hesitate download now
CoinTracker

Thank you Johnny!
This is an excellent app!! Recently had an issue and the developers responded super fast to help. Cleared my cache and solved my own problem. Nice to know the help is there quickly should I need it.
CoinTracker

Thanks for the kind words Jason!
It's a good app but, in the portfolio section I wish I could tap on a token and see its individual performance over time
CoinTracker

Thanks for the feedback! We'll work on adding this and let you know once it is available
I had this app out a few weeks and used it to get current and past crypto rates. It worked ok up until yesterday. Now when I click on "Current Prices" I get error message, "error getting latest data". Hopefully someone out there can help me fix. I uninstalled it once and reinstall but it is still not working, getting error message.
CoinTracker

Thanks for this feedback Mark — we've resolved the issue. Please let us know how we can get your 5 star support!
Don`t forget…. Not your keys, not your coins. Get your hardware wallet from Ledger and secure your crypto (aff link)
Contact developer :
Download CoinTracker from Play Store
Leave your feedback regarding CoinTracker
Get more android apps/games/updates
Subscribe to our mailing list and get new android apps / games and updates to your email inbox.
Thank you for subscribing.
Something went wrong.