[App] Bass Guitar Tutor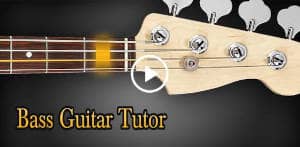 Learn effectively to play your favourite bass lines on the bass guitar.
Learn scales and chords quickly and improvise with perfect timing with a click.
Study efficiently the most common patterns from all genres ands styles (e.g. reggae, walking bass, hard rock).
Highly configurable. Resizeable fretboard suitable for all devices and tablets. There's an essential range of guitars to choose from: Precision bass picked, jazz bass fingered, slap bass with all 4 or 5 strings.
For beginners to top musicians, this app has both a high simulator quality and is quick and responsive.
Features
The fingered bass sound has professionally recorded digitised Fender Jazz Bass and Precision Bass guitar sounds for each separate note.
Master those bass lines, patterns and scales by focusing on sections of the songs.
Make learning easier by adjusting the speed and volume for playing along.
This educational app is ideal for ear training or visualising the patterns with the highlighting notes option.
Bass Lines
Songs cover all genres: Rock, Indie, 60s, 70s, 80s, 90s, Naughties, Modern, Latin, Classical, Film Themes, TV Themes, Traditional. The pro version has ever expanding catalog of bass lines which include:
ACDC, Aerosmith, Alice Cooper, Axel F…and more
Scales
There are 100s of scales to learn with all patterns and positions over the fretboard available.
You can learn interactively working your way through the levels or use the app as a reference.
Improvise
Learn effectively which notes work well in any key was the fretboard lights up to guide you.
Feel the groove with the metronome click and record and save your improvisations.
Bass Patterns
Expand impressively your repetoire for playing in any genre as patterns include Alternative Rock, Barrelhouse, Blues Boogie Woogie and more.
Notes Game
Interactive exercise to learn well the notes on the fretboard and focus on strings, frets and keys.
See how you are progressing over time.
Learn Chords
Learn quickly all the essential chords and how to position your fingers.
You may also like
Bass Guitar Tutor user reviews :
Very good. Highly recomend. Try for yourself and see all the helpfull features.
Learn To Master

Thanks for recommending. We hope your bass playing improves quickly.
Really good app but one thing that is the sound is bit delayed. When the a string is plugged, it sounded after a second that makes me hard to sing.
Learn To Master

This is strange as we use low level audio libraries to get latency down to an absolute minimum. Nevertheless we will look into it. Could you let us know at LearnToMasterLtd[at]gmail.com which particular exercise you are referring to and we will resolve asap.
Very good app for beginners like me
Learn To Master

Thanks. We hope your bass playing quickly improves with this app.
how do l get chords to play lower on thr fretboard , like starting on the 3rd fret
Learn To Master

Thanks. The chords are from the 12 fret upwards at the moment. We will consider putting chords lower on the fretboard for a future update.
Ripe age of 41 and I choose to learn an Instrument, bass, cause it's awesome! This app is helping more then I thought!, but I'd like a simple drum set to record my own short beats, double pedals on the big guy, snare, cowbell gotta have one of those haha, idk what ever you can fit, jam room or something. Some songs I'd like, Black sabbath, the warning, has a killer bass to Ti. Primus, my name is mud, Gwar, war ghoul, just like it, sure there is better Motorhead!! Ace of spades and more songs
Learn To Master

Thanks for the suggestions for more bass lines. Regards to drums. We have a drums app, Learn To Master Drums where you can record. Would that be of help? Let us know at LearnToMasterLtd[at]gmail.com
I would give it 5 stars, but every time I close I it then reopen it the sound of gone. I have hit the reload sound button, but it doesn't do anything. I've had to uninstall the app and reinstall it to get the sound back. Otherwise, it would be probably my favorite app. I it just doesn't work quite right.
Learn To Master

Sorry you get this experience and thanks for letting us know. It's strange because in all our test devices, it's working fine. Nevertheless, we will investigate and make a fix asap… We have made a fix. Please download the latest version.
Good app like all the things you can to learn how to play but unless I'm missing it there should be a feature where you can play your actual guitar with the tune to play to get to the next song instead of on the app. Reason why I think it will help the person even to see if they on the right note or hitting the scale right where it need to be something like a tuner app but good app though I like it
Learn To Master

Thanks for the suggestion. We will consider implementing the option.
Contact developer :
Video :
Download Bass Guitar Tutor from Play Store
Leave your feedback regarding Bass Guitar Tutor
Get more android apps/games/updates
Subscribe to our mailing list and get new android apps / games and updates to your email inbox.
Thank you for subscribing.
Something went wrong.