[Game] Castle Crush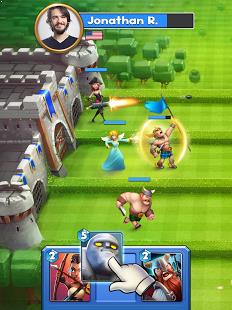 Castle Crush : Duel players from all around the world in the best real-time game! Collect and upgrade 40+ troops and spells: from the lovely Dryad to the tremendous Dragon! Play now, for free!
Lead your army to victory! Build a strong deck and crush your enemy's castle deploying your troops! Earn trophies and climb the global ranking! Open your chests to discover and unlock new powerful warriors and spells! Will you get one of the magic legendary cards?
Define your strategy and choose your warriors carefully. Archers to kill from a distance? A Golem to break through the defense? Or a heal spell to give a boost to your troops? Your decision will make the difference between victory and defeat!
FEATURES
Duel other players in epic battles
Collect new powerful troops
Destroy opponent's castles to unlock new cards
Progress through multiple levels all the way to the top
Learn different battle tactics and become the ultimate champion
Free Daily cards
Open magical chests
Earn trophies
Join a legendary clan
Fun, intuitive mechanics
Real-time duelling game
Play for free!
Ideal for all types of players – kids and adults, girls and boys…
Get into the arena and clash against other players on epic battles! The combat may be hard, prepare your strategy to win this pvp war game!
One of the best multiplayer strategy games! Join now this epic card game and have fun fighting your enemies.
Join the Castle Crush community:
Facebook Page
Forums
You may also like
Castle Crush user reviews :
This the most unbalanced game I've ever played in my life, trust me guys, it's not worth to play.I couldn't put a card down cuz I had no card in my hand and I had to wait untill the game draws me a card, my opponent kept spamming cards and I couldn't do anything cause I couldn't put a card down cuz the game didn't drew me a card. This game is so sad. Not worth it.
Greedy developers, not a fair game for all players, you always get beat up by bigger guys it's rather bulling and the developers don't answer to mails, support doesn't exist, lots of hacked accounts but they don't care only because some pay and they don't do nothing no upgrades nu better experience with in game glitches like cancel button that doesn't work…. It's the most disgusting experience you'll ever have… waste of time writing this when only their pockets matter…
A good game but sadly 80% of games you play against AI and they have all time cards against you. I tested a combination without defence cards and every time I get opponents with reaper, moment I change combination no more opponents with reaper and viceverca… Sadly you want players to invest money in your game without to offer a fair competition
i liked this game when I installed it but now after playing for 1 week i realized that out of 5-6 battles the chances of winning is 1 or sometimes 2 times, and when we lose if end up losing 30+ points but when we win we get 30- points (rarely we get 30). Also there is only 4 chest slots and it takes them 3/8/12 hrs to open one chest. This game need some improvements.
Good Experience with this game, well strategic game, but there should be some Unique features like sharing of Cards(Epic and legendary) gems,Coins and crystals. And Reduce chest Open time.. As I am playing from 4 years ago, still I am lv 12. And there are too many lv 14 players…. I am thinking of to leave because no Progress of mine. Even never won a giveaway….. I am collecting gems from beginning but still 1697gems only
No adds and fun to Play. Been playing for years and still play everyday. It does get frustrating playing against money players but I haven't spent a dime and have been able to more than hold my own.
I really really like this game but I just hate how I lost 1,000 and something. BECAUSE the game puts me up agents people how have the best cards in the darn game! And it's so annoying. And I broke me new phone cause of a stupid game. ): Please fix that this is why I stopped playing this a long time ago.
Very good game I would recommend but there are still some bites /glitches like how there is a short delay when playing a card. Or how sometimes the card is not on cool down but I don't have enough mama to place it. Lastly it is very hard to earn gems can you make it so that some games can spawn in chests please?Fix these and you deserve a 5 star
Very nice game, much more fun than the famous CR ! Hope you make it better !
It is a very good game but they should include freindly battles
I love the game but we need friendly battles
Latest Update :
Fix facebook login.
Contact developer :
Video :
Download Castle Crush from Play Store
Leave your feedback regarding Castle Crush
Get more android apps/games/updates
Subscribe to our mailing list and get new android apps / games and updates to your email inbox.
Thank you for subscribing.
Something went wrong.