[Game] Chess Stars
 jw library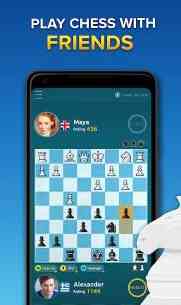 You can play this classic chess with friends, family – simply with everyone / or anyone you want!!
With in-game chat and Facebook integration, experience social Chess with friends & players around the world. With a simple layout and 3 exciting game modes, Chess Stars is the way to play social Chess for players of all levels, from kids & beginners to chess lovers.
Learn how to play Social Chess. Discover classic chess tactics and strategy to win with a satisfying checkmate.
Game Modes include Quick Matches, Slow Chess, and play against the computer. You can personalize the game with our beautiful themes, sets & boards that include Dracula, Under the Sea, and Indiana.
Playing this classic board game is a great way to increase your IQ soyou can become a real Multiplayer Chess Grandmaster just like Magnus Carlsen. Whether you call it Chess, Ajedrez, شطرنج, Шахматы, Xiangqi, Shatranj or Shogi, Chess Stars is the place to learn Chess and play it!
Game Features
Multiplayer Chess: play with friends, family & players around the world
Quick 1v1 speed and fast matches
Play long Multiplayer Chess where players take turns in their own time.
Play against com (computer) with 10 difficulty levels.
Chat with emojis
View in-game stats
Make new friends
CONTACT & SUPPORT
For support, please contact us at chess-stars@huuugegames.com
To stay updated about new features in our classic Chess game, follow us on social media.
Facebook: www.facebook.com/chessstarapp
Twitter: www.twitter.com/chessstarapp
Instagram: www.instagram.com/chessstarapp
Chess Stars user reviews :
Game designing is well. The application is perfect. Really awesome. But one biggest mistake. Many more advertisement in this app. You can just started the game. One add will be come. You come out of the game. One add will be come. It's irritating our mindset. But otherwise the application is amazing. I really like it.
Really enjoy the game. Only problem is that some people just decide to not finish a game. It's not really fun when you have 3 games ongoing and each opponent just decides to stop playing. Really discourages me from starting another game. Maybe it'll be better if it's made necessary to finish one ongoing game before starting another game or logging off. Or make it a loss if you logged out while playing a game and it's your turn.
Great game. Your ads are so annoying though. I am getting ads that are not closable. It is just stuck on morgages, clicking on it does not work, i have pressed in all the dead space for an invisible X, it just sits there. Longest wait time was 5 minutes waiting for it to go away so I can play the game
The game is very good. My 5 yr old enjoys playing chess stars. However the ads that we get in there is extremely annoying.. its not something that a kid should be seeing. If the age mentioned for this app is 3+ then its contents also should be age appropriate.
Could be a good app, but it's let down by some irritating things. Being able to confirm your move would be a good start as it's too easy to move the wrong piece, so you can end up making a move not to where you want. Also just lately adverts are so excessive, and no way am i paying an extortionate premium to remove them. Also the disconnecting and reconnecting glitch can be irritating. A good app which could be great.
I loved chess stars… Please input the win loss records or the history of the game so we can view it whether we won or lose. There are some who knows how to hacked the game when they are losing. Please fix this issue.
I like the setup of this version very much. The board is easy to see to keep track of my moves. And I like the timed games also because that keeps some players from just sitting and waiting for you to get bored. The only thing I would change is the Facebook sign in requirement. Not all of us want Facebook so that's no so great. I don't know why that would be the only way.
Excellent real time chess with real people from around the world. The latest update fixed some annoying bugs, making connections faster. They also added 1 minute games. If you are a daily chess player, it is well worth it to get a yearly subscription. I love it.
Really enjoy it, i don't know why I can't challenge my friends to a 30 minute game which is the standard classic time, yet you have an option of 2,5,10 or 48 hours, but no 30 minutes
Contact developer :
Video :
Download Chess Stars from Play Store
Leave your feedback regarding Chess Stars
Get more android apps/games/updates
Subscribe to our mailing list and get new android apps / games and updates to your email inbox.
Thank you for subscribing.
Something went wrong.