[Game] Chibi Island
 gacha life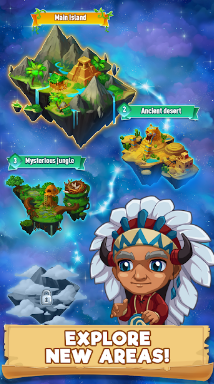 Join a group of brave explorers and help uncover the mystery of the Pyramid, a mystical artifact from ages past!
You'll need to settle in first, though. Explore the island, find hidden treasure, and don't forget to upgrade and decorate your farm! Be sure to befriend the island residents so they can help you in your adventures!
Game Features
A dynamic story. Complete quests and let the story unfold before you!
A farm with a huge variety of structures. Build everything you need to survive!
Hidden treasures all over the island. Try to find them all!
A wide selection of decorations for your farm. Stand out from the crowd!
Deliveries for island residents. Trade resources and lend a helping hand!
Frequent updates with special events. Don't miss out on the fun!
Colorful graphics and pleasant visual effects. Your adventure will be breathtaking!
Everything you find on the island is yours for the taking! Enjoy complete freedom of exploration!
The island awaits! The Pyramid will only unveil its secrets to the most inquisitive and persevering explorers!
Chibi Island user reviews :
The energy use is stupid and does not replish fast enough to really get anywhere. Hardly anyway to make coin except the deliveries and that's only a couple of hundred and the cost to plant and repair the places that you use to make the stuff for the deliveries is more than you get in from them. The cost to buy and build the buildings you need to get the materials you need is way to dang high so unless you just use it to kill time at work or something like that I wouldn't download it at all.
NEXTERS GLOBAL LTD

Hello! That's really sad, that you did not like our game. We will do our best to make it much better! Developers will continue working on the game and we hope that you'll enjoy our future updates.
I love that this kind of game is played online but doesn't need a connection to my socmed friends. I can build my own island without asking for help or gift. It doesn't even have ads during play. Im so very happy and peaceful playing. Good game for when I'm having a break from my tasks. Just enough relaxing moment while accomplishing another task from the game.
I really enjoy the game so far I like to animation because it's a very specific style not something in between it's good blend of a lot of different games that are out there right now along these lines however as always earning energy is a problem especially if you are unwilling to pay for gems or pay out of pocket in general.
Would not even bother downloading. Energy which is what you need in the game to do anything. 1 task using 30% of it and takes about 30 seconds to deplete. Then you sit around waiting for things to do. Sure you can make energy to but not even a decent amount. The amount you make does not even cover some of the tasks. Now willing to spent 1,000s of dollars then this game is for you.
NEXTERS GLOBAL LTD

Hi there! You can get extra energy: – when leveling up (on some levels) – for completing some tasks; – when obtaining some achievements; – in the Fruit Bar and other special buildings (Sugar Factory, Wigwam, etc.); – when completing orders in the Trade Harbor.
the game is excellent, just I think that you could change the delivery board, it should be able to ask for any of the products and vegetables, not just pumpkin, strawberry, pie, bean, carrot, pankakes, sugar. I have never been asked for wheat, cookies, milk, eggs ect…I realy hope that you will change this with next update
NEXTERS GLOBAL LTD

Hello! Thank you for your feedback! We carefully analyze reviews from all our players and taking them into account while preparing future updates! Stay with us and next updates will contain mechanics that you'll like.
The app is fun and well done. There have been some improvements to ways to get energy :) My only issue is how long it takes to get more energy when things keep costing more and more. I can spend it all on a few things and then have to come back to the game later once it fills up again.
I love this game and games like this the map is huge and there is so much too it but the energy is so little and you get to do 3 things and its gone and ur waiting hours for it to replenish again so it takes days even weeks to complete tasks to even get 15 more energy when most tasks take between 5-30 of it in one go and recently the game has been crashing and sometimes won't even open
Contact developer :
Download Chibi Island from Play Store
Leave your feedback regarding Chibi Island
Get more android apps/games/updates
Subscribe to our mailing list and get new android apps / games and updates to your email inbox.
Thank you for subscribing.
Something went wrong.