[App] Death Incoming
 1v1 lol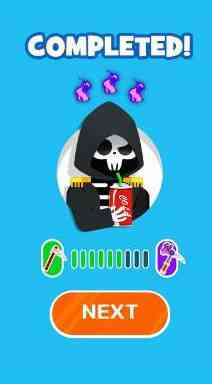 Are you a fan of watching people die in horrifically entertaining ways?
Do you enjoy watching folks get exactly what they deserve? Or is it just another day, another death for you? It's time to grab your cloak and scythe and get ready to harvest some souls while solving these deadly brain puzzles.
Did someone get the bright idea to hop on a trampoline next to an open construction site? Or maybe someone decided to get a little too close to the tiger pit at the local zoo. Each new chapter of Death Coming introduces you to all kinds of fun scenarios where you; The Grim Reaper, A.K.A. Death Himself, must test your smarts and bring these wretched souls to a deserving end!
Game Features:
1. Fun and unique scenarios
Each chapter brings you to hilarious and interactive scenes where you must figure out how to take your victims out of their wreckless misery!
2. Test you brain power
Use the items available to you in each episode to craft the fun and unique deaths of your victims
3. Customize your reaper
Tons of fun skins and customization options. Decorate your Grim Reaper in your own unique way.
4. Relax and enjoy
They say not to fear the reaper and that's never been more true because this time, you ARE the reaper!
Visit https://lionstudios.cc/contact-us/ if have any feedback, need help on beating a level or have any awesome ideas you would like to see in the game!
From the Studio that brought you Mr. Bullet, Happy Glass, Ink Inc and Love Balls!
Follow us to get news and updates on our other Award Winning titles;

Facebook.com/LionStudios.cc
Instagram.com/LionStudioscc
Twitter.com/LionStudiosCC
Youtube.com/c/LionStudiosCC
Death Incoming user reviews :
Many problems. The main core of the game, the puzzles, are barely hard and looks like the developers put barely any thought into them. So they end up lasting about 1 or 2 seconds only. Then one is forced to watch ads that are 15 times longer. You will also get ads in between menu options! Everything is ads, and the game isn't worth spending the time to watch them to be able to play it. Better skip this game. I've uninstalled after the first 5 minutes.
This game is soo addicting ! I love how this tests IQ and it's like a puzzle! The only thing about this game is the amount of ads…. You do one kill and in-between going to the next area where the next person you have to kill, is an ad. There are more random times too. Just get rid of some of the ads and I'll make his a five star. I still love this game and won't delete it!
Too many ads. Nuff said, even though the game itself is interesting, the ads don't stop coming and they don't stop coming and they don't stop Coming. The game just wants to make you mad and want to take all your money. I have made it to level 60 and now, its very repetitive with very little scenario. Don't install this unless if you want to be mad for the rest of the day. 3/5 Stars.
The gameplay is boring, and the "puzzles" could be solved by a toddler. I've never played any game that threw this many ads at me. There's probably 30 seconds worth of ads for every 20 seconds of gameplay. Even when it gives you the option to watch an ad for a reward, skipping this will still result in an ad. This is simply an awful cash grab made by terrible people.
I love it! I enjoy playing this game, good to pass the time and relieve some stress. Easy to play and not too stressful in trying to figure out which item to tap. In the Death Tycoon, it shows up on the right bottom corner, above the reaper's profile icon. The Death Tycoon looks like a Mayan temple with a skull ontop. You can get free coins if you tap a treasure chest, but you would have to keep playing the game to earn coins in order to open a treasure chest.
Such a cool concept, until you realize there are only two or three objects you can interact with on the screen at a time and only one will work to actually kill the poor fool. It tells you how to kill them to proceed. So yup, 13 levels in and it's boring.
I like this game so muchhh! It is really cool and some people are saying there are so many ads- If u turn of the Wi-Fi or mobile data you are using there will be literally no ads and u can play it with fun-!
Contact developer :
Download Death Incoming from Play Store
Leave your feedback regarding Death Incoming
Get more android apps/games/updates
Subscribe to our mailing list and get new android apps / games and updates to your email inbox.
Thank you for subscribing.
Something went wrong.